After he was unable to get his hands on Popeyes' new fried chicken sandwich, Craig Barr filed suit against the company for compensation for his wasted time and emotional damages.
Barr, of East Ridge, told the Times Free Press: "I can't get happy; I have this sandwich on my mind. I can't think straight. It just consumes you."
The civil summons filed by Barr outlines his attempts to get one of the popular sandwiches by visiting multiple Tennessee Popeyes locations on Broad Street, Highway 58, Brainerd Road and Ringgold Road. He claimed that at each location, employees told him they were sold out and he should try another store.
In his complaint, Barr says that he answered an ad on Craigslist by a purported employee of the Broad Street location who was charging $25 to set aside sandwiches for customers in the walk-in freezer. He claims to have paid the money to a man behind the restaurant, who then disappeared inside. When he did not come back out, Barr went inside and learned that a man matching that description, who was not an employee, had purchased a meal for himself and left.
He also stated that repeated trips to the restaurants resulted in the tire and $1500 rim of his car being damaged.
Craig Barr's civil summons accuses the company of false advertising and deceptive business practices by entity to public. He is asking for $5,000 in damages. An October 28 court date has been set for the case.
"It's totally deceptive," he told WTVC. "Who runs out of chicken? It's a big fiasco. Someone has to stand up to big corporate."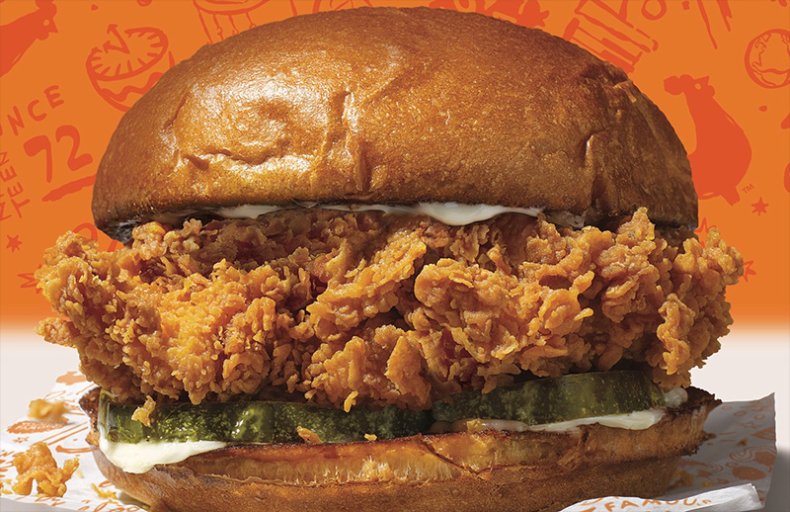 Popeyes introduced their fried chicken sandwich on August 12th. Selling for $3.99, it features a crispy chicken breast on a brioche roll with mayonnaise and pickles. It was originally intended to be a limited time menu item.
After the company began sparring on social media with competitors Chick-fil-A and Wendy's, franchises quickly became unable to keep up with the demand for sandwiches.
The company issued a press release to explain the shortages, reading in part: "Popeyes aggressively forecasted demand through the end of September and has already sold through that inventory. As a result, Popeyes restaurants across the country are expected to sell out of the Chicken Sandwich by the end of this week. We, along with our suppliers, are working tirelessly to bring the new sandwich back to guests as soon as possible."
Popeyes has declined to comment on the lawsuit.