Man Surprises Halftime Dancer With Proposal on Basketball Court in Viral Video
Danielle Bush knew the routine by heart, until the music changed.
In a video that has now been seen millions of times, Bush, a dancer for the Utah Jazz basketball team, was on the court Monday when the team played the Charlotte Hornets.
While going through her usual motions, her fellow dancers flipped the script and she tried to follow but looked surprised. Bruno Mars' song "Marry You" then came on over the loudspeakers.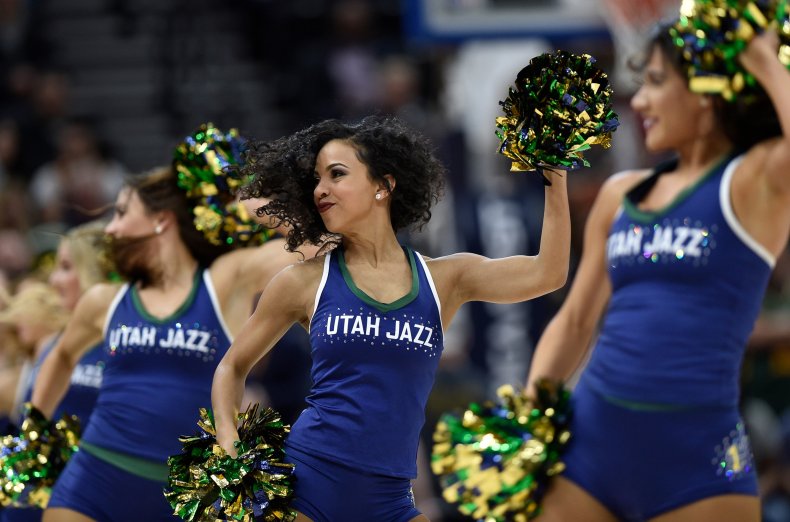 That was when her boyfriend, Brandon, snuck onto the court and shocked Danielle. She held her hands over her mouth as he got down on one knee with a small box in hand, removed an engagement ring and proposed.
The two shared some words in secret as the dancers and crowd looked on. Brandon received the OK to put on the ring, followed by an embrace and joy from the dance squad.
Originally, Bush said, she thought she was losing her job. Little did she know that the moment was planned weeks in advance by Brandon and the Utah Jazz dance coach, Ashley Kelson.
"I wanted to make it big and special for her for sure," Kelson said. "Making it a part of the routine was so much fun."
"In an arena full of thousands, all I see is you," Bush posted today on her Instagram page. "It was absolutely love at first sight the night I met you and almost 3 years later, I still feel those butterflies every time I come home from practice or work."
She also thanked her coach and fellow dancers "for making this the most epic night of my life."
On the Jazz Dancers' Instagram page, they posted a video of the proposal with the comment: "What a night! Congratulations Danielle and Brandon! We loved sharing this moment with you."
Frank Zang, spokesperson for the Utah Jazz, told Newsweek, "The proposal was not only a surprise, but turned into a moment of pure joy that we were thrilled to share in front of a sellout Jazz crowd and beyond during this holiday season."
One Twitter user who identified herself as a former dancer, teacher and choreographer said the change of music was likely an "absolute nightmare" for Bush because dancers are "supposed to go with the flow" and stick with the routine and what they remember.
"Something falls off ur costume, keep going," the user said. "But this?! Hilarious & sweet rolled into one."
User MissTGoldie echoed those words, saying, "Love it! She was like? What is happening? She was really into her steps and trying to appear as if nothing was wrong!!!"
Bush, on her own Instagram account in early July, posted a video that included Brandon with the caption, "Life wouldn't be the same without you and I can't wait for what life has to offer us in the years to come."
Little did she know that would include an on-court wedding proposal for the whole world to see.