Shark Attacks Man Swimming in the Great Barrier Reef
A man has survived a shark attack while swimming in the Great Barrier Reef in Australia, escaping with only minor injuries.
Authorities said the man, who is in his 30s, was bitten on the leg while in waters off the coast of North West Island in Queensland on Monday afternoon.
He was bitten by a shovelnose shark while swimming in shallow waters, but managed to avoid being seriously injured, the Australian Associated Press reported.
"Initial reports were there was a middle-aged male who had suffered a shark attack and was requiring (medical assistance)," Queensland Ambulance Service spokesman Alistair Vagg told the Australian Associated Press.
"The patient was bitten by a shovelnose shark and suffered minor lacerations to his lower limbs and hand."
In a post on Twitter, the ambulance service said they were notified about the incident just before 1 p.m. They added the man was airlifted back to the Australian mainland and transported to Gladstone Hospital in West Gladstone, Queensland, in a stable condition.
Video footage captured by 7News showed the man was able to walk from the helicopter to the hospital for treatment.
"A male in his 30s has reportedly sustained minor injuries after being bitten by a shark in waters off of North West Island, Central Queensland. Patient is stable with a rescue chopper on scene. QAS was notified at 12.58pm," the ambulance service wrote on Twitter.
In an update, they added: "A patient is being airlifted to Gladstone Hospital in a stable condition after sustaining a minor shark bite injury to the leg. The incident occurred near #NorthWestIsland."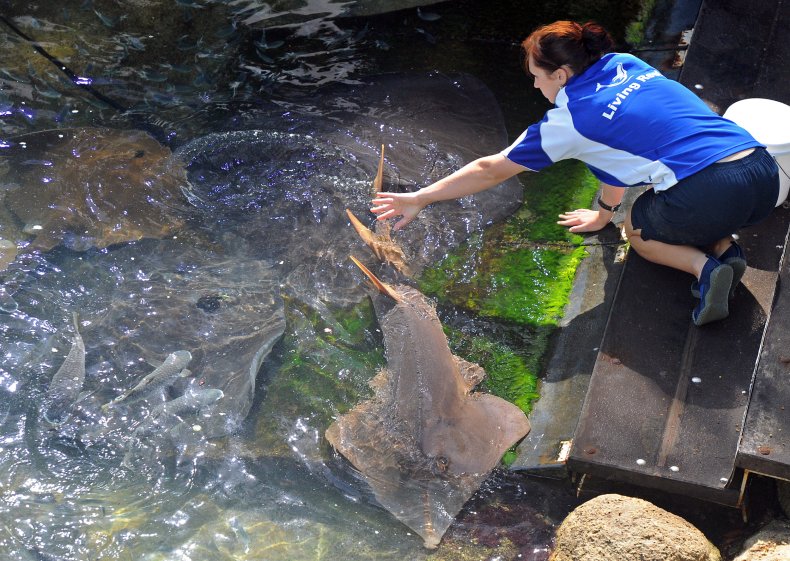 According to the Queensland government's Department of Agriculture and Fisheries website, the shovelnose shark is also known as an eatern or banks shovelnose ray. They commonly grow to around 47 inches in length and are found off the east coast of Queensland, mainly inshore in lower estuaries and off beaches but also in deeper waters.
The incident comes after two British backpackers were seriously injured in a shark attack while snorkeling off the coast of North Queensland in October.
A 22-year-old man was swimming near a snorkeling boat near Airlie Beach in the Whitsunday Islands when a shark, believed to be a bull shark, attacked him, leaving him with a calf injury. The other backpacker, a 28-year-old, suffered injuries that were so severe that his foot had to be amputated.