A man in Washington state lunged at an Applebee's employee with a meat cleaver after being asked to provide proof of COVID-19 vaccination.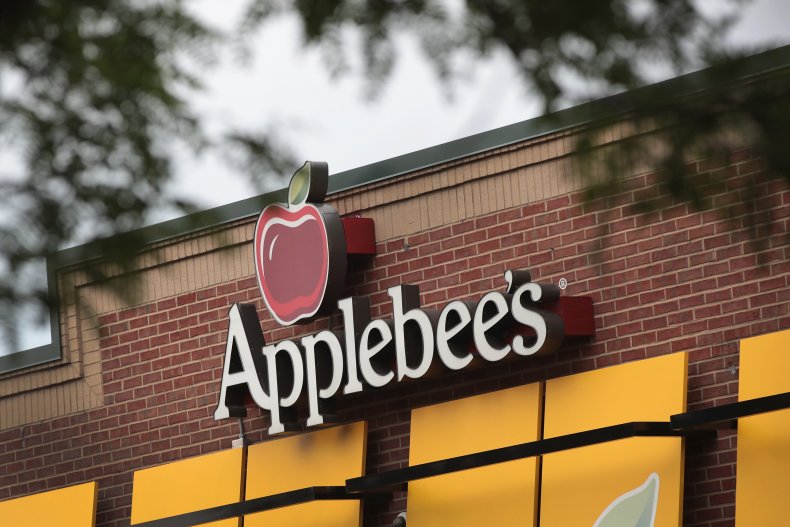 Michael Dousa, 58, was asked to leave the Bellevue, Washington, restaurant on February 6 after being unable to provide documentation of his vaccination status. Instead of quietly complying with the bartender's request, he became enraged, according to KOMO News in Seattle. Once outside, he began yelling and waving a meat cleaver above his head. At one point during the incident, Dousa lunged at the bartender with the knife.
The bartender was not injured as the door to the restaurant was closed before Dousa was able to connect.
Dousa was taken into custody and placed in the King County Jail where he is currently being held on $75,000 bail. He has been charged with one count of assault in the second degree for assaulting the employee with a deadly weapon, according to documents provided by the prosecutor's office.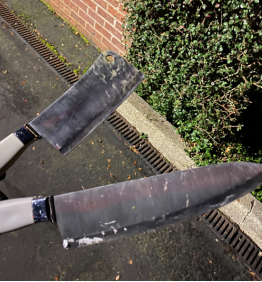 Court document photo of the meat cleaver used in an assault that occurred at an Applebee's in Bellevue, Washington, on February 6, 2022.
King County, Washington Prosecutor's Office/King County Prosecutor's Office
Prosecutors in King County say Dousa has third- and fourth-degree assault charges pending from a July 2021 incident in a case from another county. Additionally, court documents show prior convictions for theft and harassment in 2016.
This isn't the first incident of violence in response to the pandemic measures in Bellevue. Late last month, 33-year-old Angela Nommensen was recorded getting into a physical confrontation before pulling a gun on a gas station attendant, WEAU reported. The incident began when the clerk asked the woman to put on a face mask.
When she refused, the clerk asked Nommensen to leave the store, eventually physically removing her. Once outside, the woman struck the employee several times, trying to regain entry into the building to no avail. At this point Nommensen allegedly pulled a gun out on the clerk.
Although no shots were fired, the suspect is now facing felony charges for the incident. Casey McNerthney, the director of communications for the King County Prosecutor's Office, said that despite the ongoing pandemic and the continued rules and regulations that have accompanied it, violence is never the answer.
"Maybe it's because people are so close to being at the end of the pandemic or they're getting so frustrated and we're not done," McNerthney said to KOMO News, "but either way when you pull a meat cleaver on somebody when you pull a gun at a gas station and we can prove that case, you're going to get charged for it."
The state of Washington still has an indoor and outdoor mask mandate in place for large outdoor gatherings, but Governor Jay Inslee recently announced the outdoor mandate would come to an end on February 18. While an end date has not been set for the indoor mandate, KREM 2 reports that Inslee has said, "the day is coming."