Man Taking First Aid Class to Learn CPR Has Heart Attack
A first aid instructor got to practice what he preached when one of his students he was teaching cardiopulmonary resuscitation (CPR) went into cardiac arrest during his class.
Earl Morris had been shown how to administer CPR during a first aid class with St John's Ambulance when he blacked out.
"We were taking a break, sat in a chair, I dropped my exercise book and that's the last thing I remember on that day until I woke up in the hospital," he told Canada's Global News.
Call it fate, but the man from Nanaimo, near Vancouver, could not have been in a better place and his instructor Paul McCoy, a first responder with the St John Ambulance Brigade, was able to give his students an unexpected practical demonstration.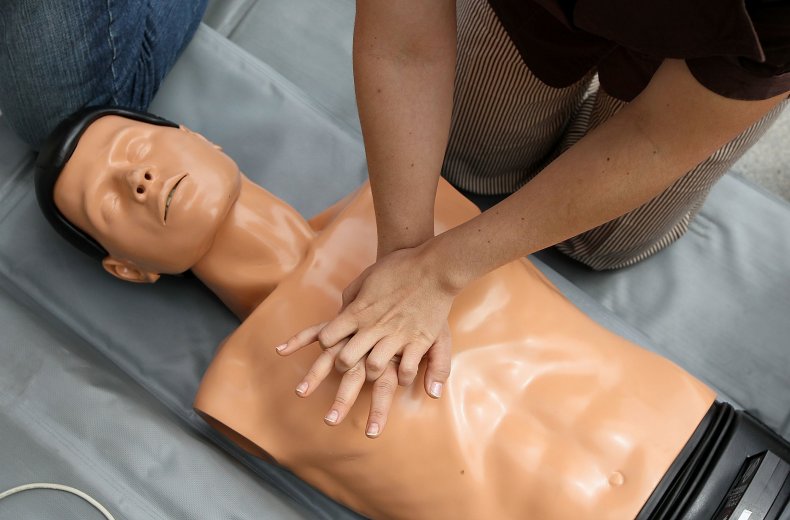 McCoy teamed up with a student to give chest compressions to Morris while another person fetched the a defibrillator and an oxygen and bag-valve mask.
Shocked three times on site and then a further six times by paramedics on his way hospital, Morris said he would not have survived if he had been anywhere else.
"I was extremely fortunate because it's likely I would not be talking to you now without the help of these people," Morris told the Oak Bay News.
"I could have been alone at the time or, even worse, driving down the road so it was unbelievably good luck that it happened where it did. The first-aid people were terrific, as were the staff at the Cowichan District Hospital."
He had never heart problems before and said that his company has since installed automated external defibrillators in all its eight branches.
Ann Saele, a spokeswoman for the Cowhichan Valley Training Center in Duncan, where the incident took place said it showed how important defibrilators were.
"AEDs save lives, and more businesses and organizations are acquiring them," she said.
Morris is now fitted with a pacemaker and insists everyone should take a first-aid course, reflecting on how he happened to be at the right place at the right time.
"I'm extremely fortunate to be here," he said.