Man Tased 43-Year-Old Mom on Mother's Day 'Because He Could Not Find His Phone': Police
A 22-year-old Wisconsin man named Andrew Peterson was arrested for allegedly attacking his mother with a stun gun on Mother's Day. Peterson reportedly got upset after he couldn't locate his phone, according to police reports.
The alleged incident occurred at the unnamed woman's Lone Rock city residence where her son, his 20-year-old girlfriend, Colleen Parker, and their child had been living for the past few months.
Peterson allegedly held his stun gun against his mother's neck and then activated it. Stun guns deliver anywhere between 20,000 and 150,000 volts to victims. The guns temporarily weaken and paralyze victims by shooting electricity into their nervous and muscular systems.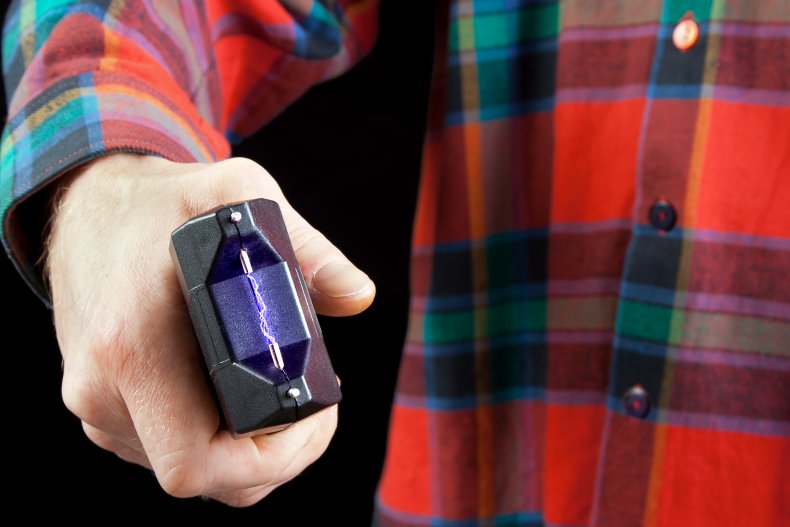 After the alleged attack, the son, his girlfriend and their child departed in a vehicle. The mother contacted the sheriff's department to report the attack. A police officer found the group at Richland Center, a city 16 miles north of his mother's residence. There, Peterson admitted to the attack, police said.
Police arrested Peterson and Parker. Parker admitted to allegedly punching Peterson's mother in the face on May 6, three days before Mother's Day.
Peterson and Parker were charged with battery and domestic abuse-related disorderly conduct. Peterson was additionally charged with bail jumping and possession of an electronic weapon. Peterson's bail jumping charge was connected to a separate domestic battery case pending in Iowa County. Both have been booked into Richland County jail.
Many people commonly associate domestic violence with partner or child abuse. However, a 2017 literature review found that 5 to 22 percent of the population has experienced the abuse of parents by their children. Researchers speculate that even those percentages are an underestimate.
Many parents may not report such abuse out of shame, self-blame or fear of retaliation, according to NPR. The assaults typically happen at home, away from public view, making the problem less visible and survivors less capable of finding nearby community support.
Police can lack standardized protocols and social workers lack evidence-based approaches for addressing the issue, the researchers who conducted the 2017 literature review wrote. This is especially true when the abuser is a minor.
Childhood trauma, chemical imbalance and mental illness can all cause people to attack their parents. In addition to physical abuse, adult children can also emotionally abuse their parents.
The most common forms of emotional abuse involve an adult child unjustifiably blaming their parents for all of their problems, threatening to harm themselves in order to manipulate parents into supporting them or relentlessly criticizing a parent's past or current behaviors, according to psychologists Jeffrey Bernstein.
Newsweek contacted the Richland Center Police Department for comment.