Man Tasered, Removed From Flight in Miami After Allegedly Touching Passenger Inappropriately
Authorities tasered and forcibly removed a man from a flight in Miami on Sunday after a confrontation broke out over allegations that he was acting inappropriately toward a woman on the plane, according to multiple reports.
Before the American Airlines Chicago-bound flight was due to take off, a man contacted authorities claiming another man, later named as Jacob A. Garcia, was touching his girlfriend inappropriately, a representative for Miami-Dade police told NBC News.
The plane's crew asked the man to leave the aircraft when the confrontation among passengers broke out. When Garcia asked why he had to leave, an officer told him, "You just assaulted a lady," according to ABC News.
Passenger Adisak Pochanayon told local news station WPLG that the man also shouted racial slurs. "He screamed, 'My people were building civilization while you monkeys were still in trees,' and that really upset a couple other passengers," Pochanayon told WPLG. "And there were a couple of passengers, one of them standing in front of me saying, 'Well, we want to get off the plane. We don't want to be on the plane with this racist.'"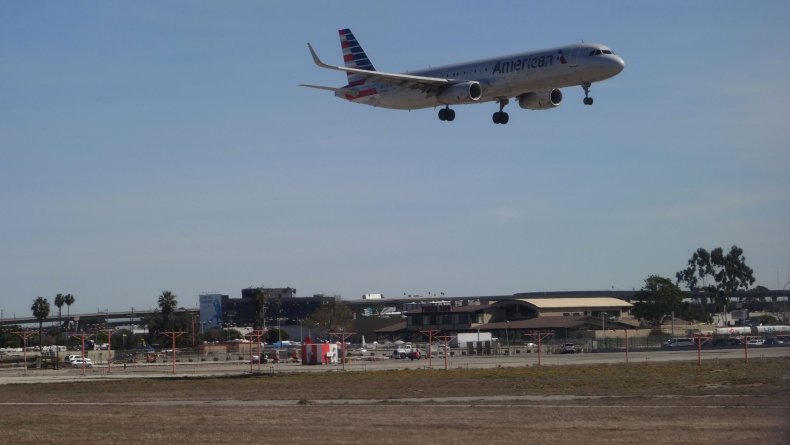 American started to deplane the passengers on the aircraft. "During that process, a physical altercation between the same two passengers took place," American Airlines said in a statement. "Once law enforcement was on the aircraft, the passenger then became combative with the officers from the Miami-Dade Police Department." Cellphone video of the incident shows the man getting tasered multiple times before being taken off the plane.
The incident reportedly delayed the flight by about an hour. The Associated Press reported Garcia faces disorderly conduct and other charges.
According to WPLG, Garcia attempted to reach for an officer's gun at one point and also kicked the window of a police car.