Man Threatened to 'Shoot All the Rich White Kids' at the University of Texas in Austin
A man who threatened to shoot "rich white" students at the University of Texas in Austin has been arrested and charged with making a terroristic threat.
Dakota Carl Blakely, 25, is reportedly a homeless man who wound up in an Austin emergency room Sunday and became belligerent with the medical staff and security. Blakely bit a thumb of one security guard as he was handcuffed, the Austin American-Statesman reported.
When an officer from the UT Police Department showed up at the Dell Seton Medical Center to assist in the arrest, Blakely fled on foot while his wrists were still cuffed, KXAN reported. The officer stopped Blakley and took him to jail.
Police said Blakely first became combative with the ER staff, and then tried to punch the security guard, who then wrestled Blakely to the ground. As the security guard tried handcuffing him, he bit the guard's thumb hard enough to break the skin.
While in a room for medical evaluation at the Travis County Jail facility, Blakely reportedly told a nurse and a UTPD officer he planned to go to the university campus so he could "shoot all the rich white kids at UT."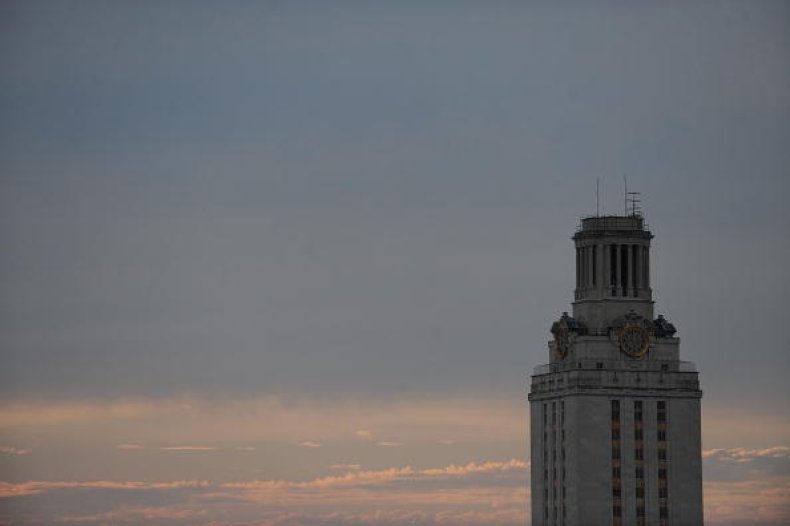 The arrest report states Blakely calmly repeated the phrase of shooting rich white kids at the school, and then turned to the officer and said "I'll shoot you."
The officer said that even after he left and went back to his office, he learned that Blakely continued to make those same threats repeatedly over the course of several hours.
Police discovered Blakely's Facebook page during the investigation, and on it were white supremacist images with guns pointed at the camera.
Blakely was additionally charged with assault on emergency service personnel, and his bond has been set at $65,000. He has also been ordered to stay at least 200 yards from any facility of the university.
Austin is the flagship campus in the University of Texas system. UT-Austin had an enrollment of nearly 52,000 students for the 2018-19 academic year—the second-largest in the state, just behind Texas A&M University.
UT-Austin is the site of an infamous shooting 53 years ago when Charles Whitman went to the top of the tower on campus and shot 43 people, of which 13 died. Whitman, who had served in the United States Marines Corps, climbed the tower with three rifles, two pistols and a sawed-off shotgun to carry out his murders.
Before Whitman carried out his act, he shot and killed both his mother and wife.