Man Threatens to Sue After Flight Attendant Said Pro-Trump Mask Is Offensive
A video has gone viral on TikTok after a man shared that on a recent Spirit Airlines flight he was asked to replace his "Let's Go Brandon" mask.
In a video viewed over 400,000 times @Adamradogna, whose name is Adam Radogna, shares footage from the flight which showed an electronic mask with the words "Let's Go Brandon FJB" panning across the front of the face covering in rainbow letters.
Though it's difficult to make out the flight attendant's initial interaction with the man, he is seen accepting the alternative mask and asking why he has to replace his mask.
"Because it's offensive," she is heard saying off camera.
The phrase "Let's Go Brandon" became a Pro-Trump phrase after an NBC sports reporter was interviewing Brandon Brown, a NASCAR driver after he won an October race.
CNN reported that the interviewer referred to the crowd's cheers which he says is heard as "Let's go Brandon," when in reality, the crowd was saying "F**k Joe Biden."
Though it's not clear if the reporter genuinely misheard the chant or not, Trump supporters took the situation "as evidence of the 'fake news' media and its unwillingness to own up to the anti-Biden sentiment in the country," CNN reported.
"Wow, this is not America anymore," Radogna said after his interaction with the flight attendant as he takes off his mask and places the blue surgical mask over it.
"It was probably her rule too," a passenger is heard telling Radogna offscreen.
"Of course, they make their own rules. It's not America, it's not First Amendment, it's her rule," Radogna responded.
Radogna pointed out in the video that his sweatshirt also donned the same phrase.
"I will be filing a complaint," he said.
Radogna told Newsweek that he began filming after boarding the plane when the flight attendant first pointed out his mask. He said at first she complimented the mask before realizing what it said and then asking him to remove it.
In a follow-up video, Radogna shared that the incident occurred on a flight from Cleveland, Ohio to Tampa, Florida on January 28. He showed footage of himself deplaning and discussing the matter with another flight attendant.
"It's a political stance, you can't wear it..." the flight attendant says to Radogna who asked if there is a supervisor he can speak to.
Radogna is heard asking the flight attendant if his mask was in support of "Black Lives Matter" if it would have been deemed OK.
The flight attendant then asked him what the phrase shown on his mask means.
"Let's Go Brandon, that's my name," he said.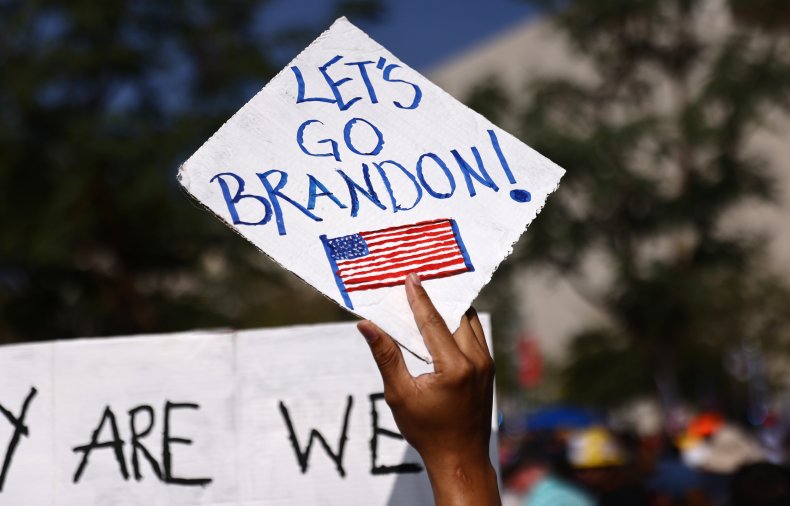 He then appeared to attempt to speak to the original flight attendant again though she continues to ask him to stop recording her.
In a third video, Radogna shared footage of him finding a supervisor to air his grievances to.
"I need to speak to a supervisor immediately, it's a lawsuit," he said after deplaning.
He said the phrase printed on his shirt and mask are not political.
"You made it political," he said.
Once he is greeted by a supervisor, Radogna explained the series of events.
"After leaving the plane, [t]he supervisor from Spirit in Tampa agreed that the mask was OK & compliant since it covers my nose & mouth," Radogna wrote in text overlaid onto the video of his conversation with the supervisor.
"She needs to work for China Airlines, that's what she needs to do," he said in the final video of the series.
The supervisor denies his request to have the flight attendant brought off the plane and corrected but said he will deal with it.
Radogna then asked for a follow-up saying he is going to involve a lawyer.
Radogna told Newsweek that on Sunday night he received a call from Spirit Airlines telling him they were investigating the situation and would get back to him after finding a solution. In addition to the encounter over his mask, he said his return flight was canceled, for unrelated reasons, so he hopes to receive compensation.
He said he did not share his experience looking for anything in return but rather to "get the message out to what's going on."
"What's happening to our freedoms. It's a mask. It's nothing threatening," he said.
"I don't even say she should be fired," he continued. "I just don't want her to do this again to anybody else."
Many commenters supported the man's actions agreeing that his First Amendment rights were compromised though some thought he was starting trouble.
"Dude you knew it would be offensive so that's why you wore it," one commenter wrote. "And, you're on Spirit Airlines."
"Why lie about what it means if you're not ashamed," said another.
"Don't you get it? It's a one way-street!" someone wrote in support of Radogna. "Freedom of speech does not apply to everyone equally."
Rodogna told Newsweek that though many people supported him, some Trump supporters were upset that he complied. He said he did so in order to avoid being removed from the flight.
Newsweek contacted Spirit Airlines and Adam Rodogna for comment.
Updated 01/31/22 1:42 p.m. ET: This story has been updated to include comments from Adam Rodogna as well as the inclusion of his last name throughout the story.