A man in Thailand has been trampled to death by an elephant that had previously been kept in a park closed due to coronavirus.
The animal, which belonged to a camp in Chiang Mai, was foraging for food in a river when it encountered a man from a nearby village, according to police.
"Because there are no tourists due to COVID-19, the elephant was kept near the river and it waded through it for food," Police Captain Suchart Thippayawong told AFP.
"The elephant killed a 69-year-old villager while he was watering his vegetables," he said.
Dozens of elephant camps in Chang Mai, many of which have faced criticism over animal cruelty allegations, were ordered to close by the government to curb the spread of COVID-19.
No charges have yet been brought against the owner of the park, but police are still compiling evidence.
Animal rights activists have expressed concerns that the elephants will starve as a result of the closure of the parks, as the owners do not have the money to feed them.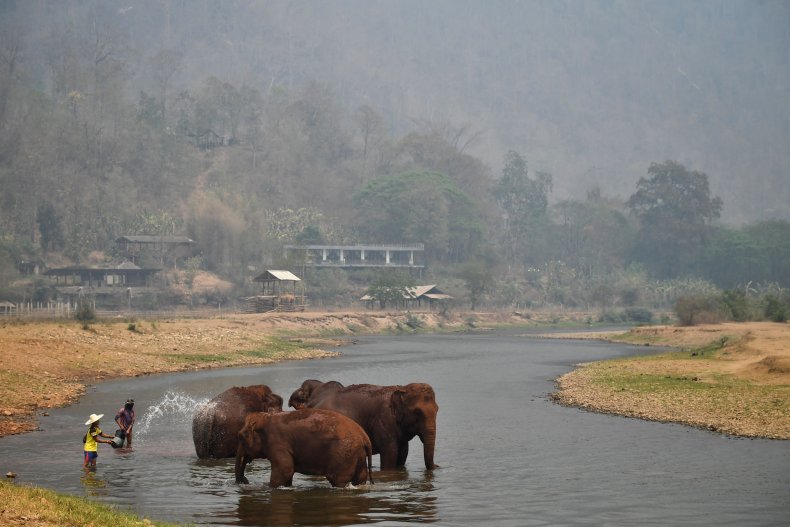 Lek Chailert, founder of the Save Elephant Foundation, told the BBC: "If there is no support forthcoming to keep them safe, these elephants, some of whom are pregnant, will either starve to death or may be put on to the streets to beg."
"It's a very bleak outlook unless some financial help is received immediately," he added.
A city in Thailand was recently overrun by hundreds of monkeys in search of food following a decrease in tourists flocking to the city amid the outbreak.
Lopburi, a city in central Thailand, was terrorized by monkeys who were seen fighting over limited amounts of food. On a normal day in Lopburi, the monkeys would be fed by hundreds of tourists but due to the outbreak of the coronavirus, tourism numbers have seen a drastic decrease, forcing the monkeys to find food on their own.
According to data provided by the World Health Organization (WHO), Thailand has at least 2,700 confirmed cases of the novel coronavirus and 47 people have died so far. While Thailand has fewer cases compared to other areas, the virus as a whole has severely impacted tourism.
According to the Tourism Authority of Thailand, the coronavirus outbreak has sparked a 44 percent decrease in tourism numbers in February 2020 compared to February 2019.