Man Makes 1,200-Mile Round Trip During Lockdown to Donate Stem Cells to Help Cancer Patient
A man from Scotland made a 1,200-mile round trip during the coronavirus pandemic to donate stem cells to a cancer patient.
Rob Slight, 29, who lives in Stromness in Orkney, told Newsweek he had forgotten signing up to the Anthony Nolan stem cell donor register around seven or eight years ago.
But when he recently got a letter telling him he was a potential match, he was determined to help save a life despite the danger of leaving his remote home in the north of Scotland, where coronavirus infection numbers are low.
"I'd forgotten I was on it when I got the letter saying I was a match for someone," he told Newsweek. But he wanted to make the journey, he said, because people still need cancer treatment during a pandemic.
"They must be in a pretty desperate state to need the treatment in the first place and if they had to wait until after all of this was done, then they might not be alive to have the treatment," he said.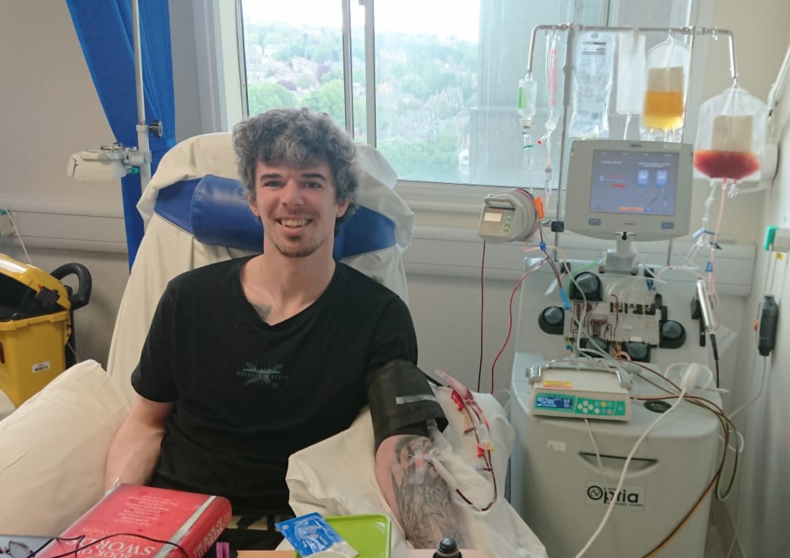 Slight, a part-time diving instructor and barman, added it was great timing because he had been furloughed from his jobs due to the pandemic.
The journey to Sheffield, England, to undergo the procedure required a plane and three trains—and was trickier than it would have been due to travel restrictions put in place to slow the spread of the virus.
He stayed with his parents in Lincolnshire along the way and then spent the night before his operation on May 11 in a hotel in Sheffield.
He described the journey to England as "really quiet," but a "little disturbing."
Up in Orkney, an archipelago off the northeastern coast of Scotland, the rate of coronavirus infections at the time was very low. Slight said residents there "felt very safe and cut off" from the effects of the pandemic.
"We feel kind of cut off from it up here even though we are under lockdown. I was nervous about the journey down, it felt like leaving a safe place and traveling to danger, but the quietness on all the transport methods helped reassure me that I would be OK," he said.
"I hardly saw anyone, but staff at any station or on the trains themselves," he said, adding that it reminded him of the opening scene from the horror film 28 Days Later.
Slight said his procedure was less painful than he had expected and the only side effect he experienced was that he "felt a little sick."
"They give you a couple of tablets to counteract this which helped quickly so just spent the type watching Netflix and reading," he said.
Slight added that he doesn't know much about the recipient of his donation, but hopes that he or she makes a full recovery.
He also urged others to sign up to the Anthony Nolan register. "The process was really easy and the folks I dealt with were all very friendly," he said.
The U.K. went into lockdown to slow the spread of coronavirus on March 23 with people only permitted to leave their homes for certain reasons.
Scotland's First Minister Nicola Sturgeon has laid out plans to ease some restrictions from Friday—more than two weeks after U.K. Prime Minister Boris Johnson relaxed some rules in England.
England has more than 149,000 confirmed cases of COVID-19, the disease caused by the novel coronavirus, and more than 32,864 deaths, according to the latest figures from the U.K. government. Scotland has more than 15,000 cases and 2,270 deaths.
This infographic, provided by Statista, shows the countries with the most COVID-19 cases as of May 26.