Man Hops Barricades to Bathe Feet in Yellowstone Hot Springs
Although geothermal features at Yellowstone National Park are distinctly marked with signs instructing people to stay away, one man disregarded the warnings earlier this month, San Francisco Chronicle reported.
A video from September 14 shows the unidentified man, who hopped over the barriers to bathe his feet in one of the park's hot springs, which average a temperature of 143 degrees Fahrenheit, according to the National Park Service.
"Just as my family and I arrived at the thermal pool, we see this guy cross over the barricades and head straight for the water," the woman who shot the video said. "Everyone around us was yelling for him to get out and to be careful. He did not look up and make eye contact with anyone. At one point, he took his shoes and socks off and attempted to put his feet in the water."
She said the man remained near the springs for about 10 minutes, according to the Chronicle.
While he escaped unscathed, others who previously tried to investigate the national park's hot springs more closely were not as lucky.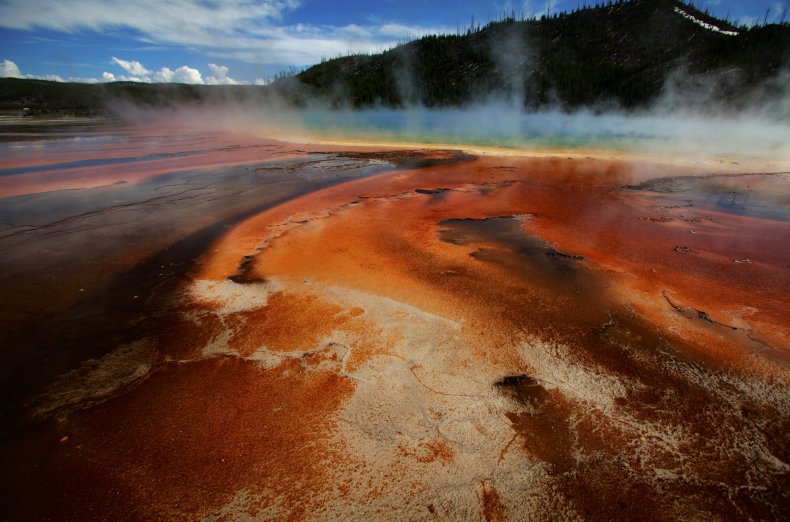 Last summer, a 21-year-old suffered severe burns after falling into the Lower Geyser Basin. Gervais Dylan Gatete was airlifted to a hospital for medical treatment, CNN reported, citing a statement from the park.
"Yellowstone's thermal features are dangerous," Yellowstone Superintendent Dan Wenk said. "We continually stress that people must stay on trails and boardwalks in geyser basins, not only to protect resources but for their own safety."
Two years ago, while attempting to get close to Norris Geyser Basin, Colin Scott hiked 225 yards off the trail.
"Then, somehow, Colin Scott slipped, and as his sister watched, the 23-year-old tumbled into one of the boiling springs. Despite her immediate call for help and the prolonged search efforts by park staff, her brother was never seen again," The Washington Post reported.
Rangers found Scott's body in the park's hottest pool, but weather prevented them from pulling him out. "The parks' geysers and springs are acidic because they are fed by thermal water deep underground that picks up sulfuric acid as it rises to the surface," according to CNN. His body would have dissolved by the time they could extract it, Chicago Tribune reported.
Twenty-two people have died in the parks' thermal pools and geysers since 1870, when the first fatality was documented.