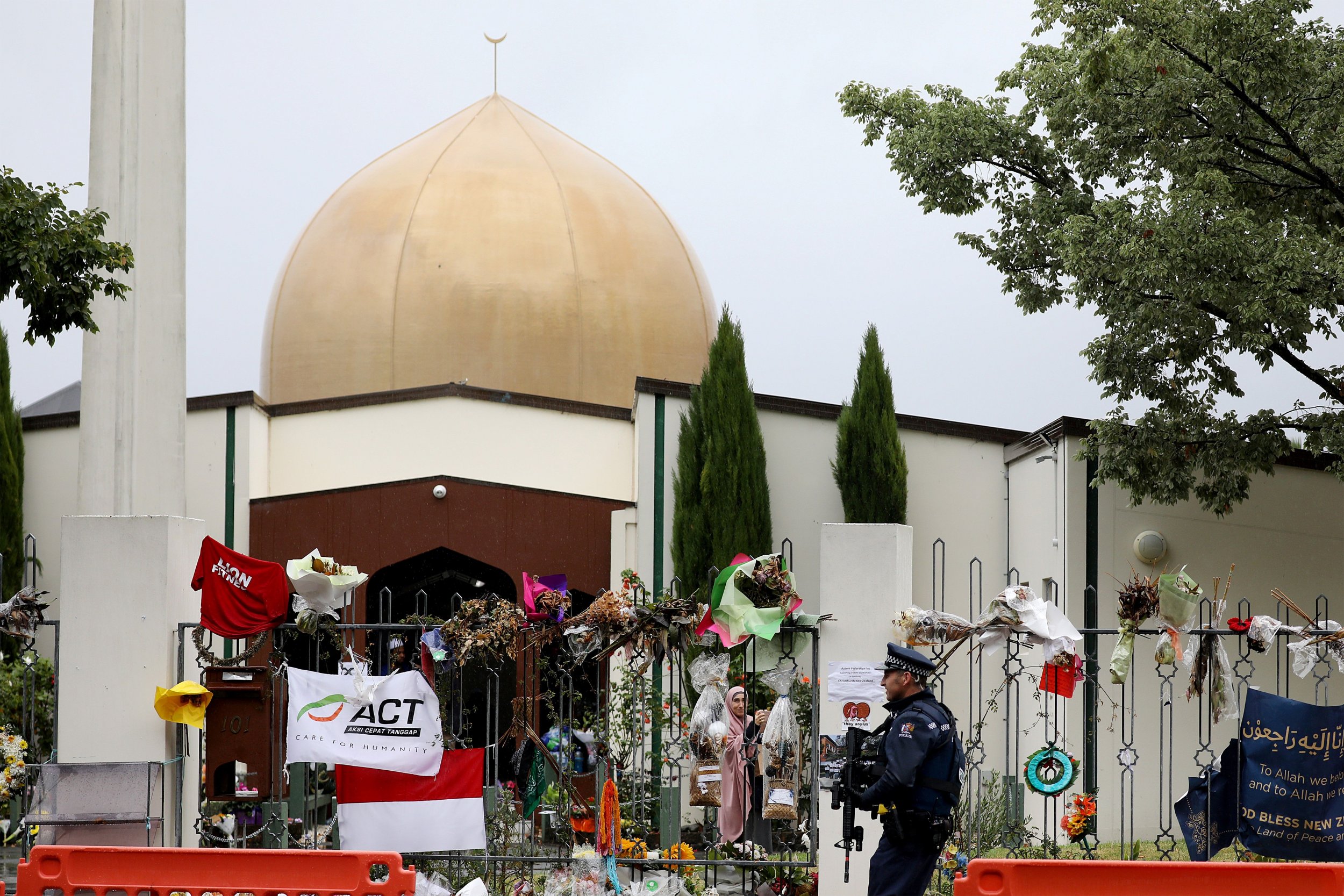 A man wearing a Donald Trump T-shirt allegedly shouted abuse outside the mosque that was the scene of New Zealand's deadliest mass killing.
The incident was detailed on the Facebook page "Muslims in Christchurch and Canterbury," where an image was posted of a man in a black T-shirt with the words "Trump 2020" on it, next to two police officers outside the Masjid Al Noor mosque in Deans Avenue, Christchurch.
That was the mosque where the majority of the people were killed by a self-avowed white supremacist on March 15.
Beneath the post, Adrian Wright wrote that he had seen the man outside the mosque who was "swearing and saying that all Muslims are terrorists and that we hate Jesus- in addition to saying that we all need to leave New Zealand, among other things.
"He was there for about 15 minutes, he also kicked and tried to damage some of the memorial items along Deans Ave in front of the masjid."
"The police officer who was there let him go (claiming that he can't arrest him because he didn't break any laws), and afterward, the superior officer came on the scene and said they were trying to find him to arrest him," the post added.
Christchurch police confirmed that they were looking to speak with the man, who could face a disorderly behavior charge (via TVNZ).
Yasmeenah Safiya, 17, said her friend called her in a distraught state having witnessed the scene.
"She was like, 'a guy just came in wearing a Trump shirt and he was shouting abuse at all of us,'" Stuff reported her as saying.
Earlier on Wednesday, New Zealand's parliament passed a law that bans military-style semi-automatic weapons (MSSAs) and parts that can be used to assemble prohibited firearms.
Prime Minister Jacinda Ardern told lawmakers: "50 people died and they do not have a voice. We in this House are their voice. And today we have used that voice wisely" (via Radio New Zealand).
The bill is expected to be rubber-stamped on Thursday and will come into force on Friday. The penalty for those in possession of the illegal weapons could be up to five years in prison.
Only one lawmaker, David Seymour, opposed the bill. There is still opposition from gun lobby groups that claim the ban is too harsh on law-abiding gun owners.