Man Who Trump Called 'My African-American' Says President Has Done Nothing for Black People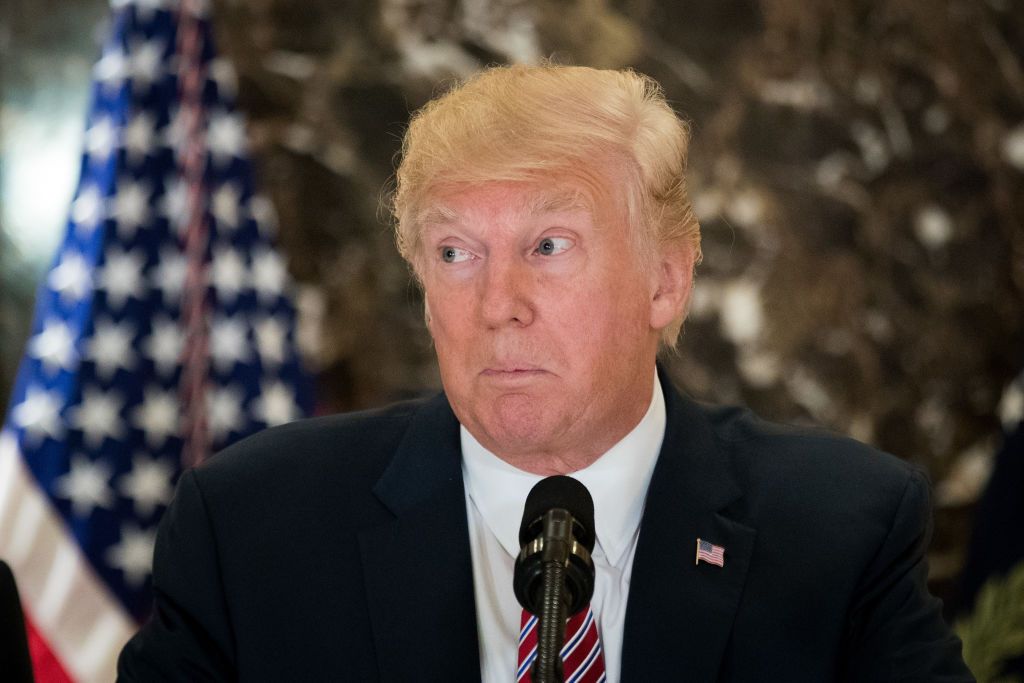 One of the most controversial moments of the bizarre 2016 U.S. presidential campaign was when Donald Trump pointed to a black man at a campaign rally in California and referred to him as "my African-American."
The remark quickly sparked outrage and became a viral topic on the internet.
Trump was accused of racism and the subject of the comment, Greg Cheadle, was lambasted by many for playing along.
Cheadle later downplayed the exchange to NPR, saying during an interview, "I was not offended by it, because he had been speaking positively about black people prior to that statement. People around me were laughing [at the fact] that he noticed me, and everybody was happy. It was a jovial thing."
"I am not a Trump supporter. I went to go hear Donald Trump because I have an open mind," he added.
In a recent interview with the Los Angeles Times, Cheadle reminisced on the famous moment and discussed the ways in which he feels Trump thus far has failed the black community as president.
Cheadle is a Republican who said he ultimately voted for Trump in November—though he's among a cohort of people who claim their votes for the Republican were more about being against Hillary Clinton than being fervent supporters of Trump.
Based on statements he's made, Cheadle may not necessarily be seen as your standard member of the GOP, and his views vary a great deal from issue to issue.
With that said, Cheadle is quite disappointed with the job Trump has done as president.
"I would like for him just to show an interest in black people," Cheadle said. "Why can't he go to a black city? Why can't he trumpet black business? Why can't he have more black people in his administration?"
He contended Trump's call for "law and order" is really "code language for, 'We're going to arrest more black people.'"
Cheadle also isn't a huge fan of former President Barack Obama, telling the Times that Obama "didn't do anything publicly to satisfy me he was for black people."
In Cheadle's view, both of the major parties in the U.S. are guilty of racism. He pointed to policies from President Bill Clinton that landed many people of color behind bars, for example.
Cheadle's sentiments aren't all that surprising in the context of the U.S. public's overall views on race at present.
After Trump's controversial response to the violence in Charlottesville, Virginia, when he blamed "many sides," many have accused the president of enabling white supremacy.
Cheadle recently told The New York Times his backing for the president was "on life support" after Trump's comments on Charlottesville. Interestingly, Cheadle also told the Los Angeles Times he didn't think any response from Trump "would have been perfect for the media," so his views on this are somewhat mixed.
But other black Republicans have expressed similar sentiments, including Shermichael Singleton, who was fired as a senior adviser for the Department of Housing and Urban Development in February after it came to light he'd been critical of the president in past writings.
Even after he was dismissed, however, Singleton continued to support Trump—until he witnessed the president's response to Charlottesville.
Singleton told The New York Times, "It's difficult to continue to have hope for President Trump."
Beyond Trump's response to Charlottesville, a recent Pew Research Center survey showed more Americans (58 percent) view racism as a major problem in the U.S. now than at any point since data began to be collected about the issue more than two decades ago.
Meanwhile, Trump is a historically unpopular president, with an approval rating of 34 percent, according to Gallup.
Newsweek sought comment from the White House on Cheadle's remarks, but it did not respond by the time of publication.