Man Trumpets Ukraine's National Anthem in Metro Station in Viral Video
As darkness fell in the Ukrainian capital of Kyiv on Monday night, thousands of Ukrainians were again crowding into metro stations for shelter while they slept—or tried to.
In the Obolon station, a man played Ukraine's national anthem on a trumpet while people stood stock-still around him, watching. The platform was silent but for the underground echo of his instrument.
Since Russia invaded Ukraine by land, air and sea on February 24, attacks have devastated the country from all sides. Ukrainian and Russian delegates met for the first round of negotiations on Monday and returned to their capitals for consultation.
Journalist Kristina Berdynskykh with the Kyiv-based magazine Novoye Vremya took a video of the unnamed trumpeter. Her clip has reached over 300,000 views on Twitter in the hours since it was posted.
In another tweet, Berdynskykh said that she was sleeping at the metro station for the fifth night in a row. She posted a selfie inside a train car, writing that she had scored a "VIP" seat tonight—Kyiv authorities brought trains into the station so that people could sleep in the cars rather than on the platform floor.
Other reports from basements and metro stations across Ukraine have described music persisting in the makeshift bomb shelters, despite the close sound of explosions and air raid sirens, and despite a lack of food and water in cold, crowded conditions.
Associated Press journalists Yuras Karmanau and Mstyslav Chernov reported that adults sang Ukrainian folk songs to calm their children in Kyiv's Pecherskaya metro station, and African students joined with Ukrainians in singing the national anthem.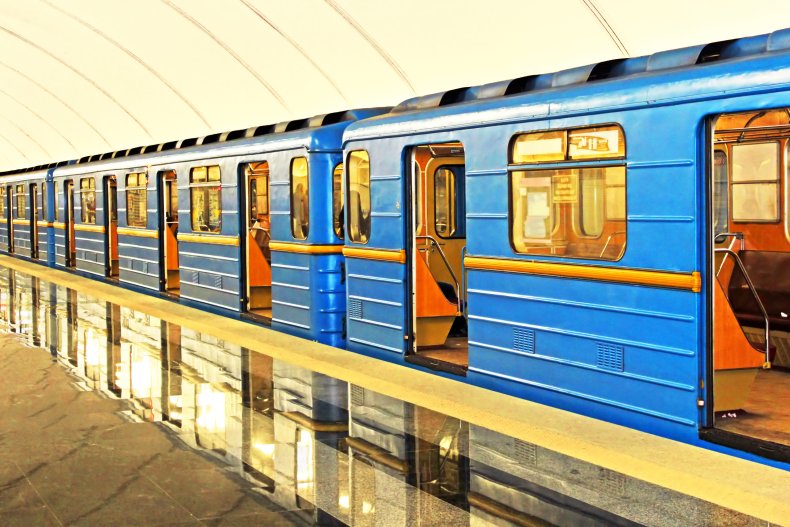 The everyday miracles of life have been crammed underground. On Friday, a 23-year-old woman gave birth in one of Kyiv's metro stations. Ukrainian politician Hannah Hopko posted a photo of the newborn on Facebook, writing: "Mia was born this night in stressful environment—bombing of Kyiv." Police helped deliver the baby.
Hopko also shared photos and video of a birth in the basement of a maternity ward. The boy was born "in conditions far from those that a new life deserves," she wrote.
Yet another woman gave birth in an underground maternity ward near the Hostomel airfield on Thursday night. The baby girl's father, Ivan Korol, cradled his newborn in a photo on Facebook. He wrote that his wife was "like a star in the dark in such a difficult time."
Although the shelters are grim, Berdynskykh told NPR host Rachel Martin that she was luckier than some. "I understand that now I'm in a better position than people who fight with the enemy outside," she said.
Irina, a 74-year old woman who spoke with the Associated Press, agreed: "It's much harder for soldiers at the front. It's embarrassing to complain about the icy floor, drafts and terrible toilets."
Irina's grandson Anton was fighting in eastern Ukraine, according to the AP.