The Man Making Diabetes Unaffordable May Be Put In Charge of America's Health
President Trump's nominee to replace Tom Price as the secretary of the Department of Health and Human Services was also the executive at a pharmaceutical company that raised the price of insulin more than 200 percent in the last 10 years. Alex Azar, whom Trump named as his nominee on November 13, was previously the president of pharmaceutical company Eli Lilly's U.S. division. Before joining Eli Lilly in 2007, Azar was a deputy secretary in Health and Human Services during President George W. Bush's administration.
It's hard to overstate the importance of insulin to people with diabetes. Diabetes is a disease defined by blood sugar. In both type 1 and type 2 diabetes, a person's body has lost the ability to properly produce insulin, a hormone produced in an organ called the pancreas. Insulin helps cells take up the energy from food, which they need to survive; as a result, it also regulates blood sugar levels.
More than 100 million Americans have diabetes or are at risk for developing the condition, according to a recent Centers for Disease Control and Prevention report.
Without insulin, people with diabetes are unable to properly control their blood sugar—which can have fatal consequences. People can slip into a coma if their blood sugar gets too high or too low. Before insulin's discovery, the only treatment was a very strict diet—and even then, the disease was often fatal.
But in 1922, two Canadian researchers, Dr. Frederick Banting and Charles Best, treated the first diabetic person with insulin. Within a year, Banting had won the Nobel Prize and insulin was being commercially produced.
The first company to produce insulin? Eli Lilly.
Lilly is no longer the only company to produce insulin but along with Novo Nordisk and Sanofi, it's still one of the biggest. Insulin used to be produced in animals; now, companies can produce it in bacteria, which is what Lilly does to make an insulin called Humalog. (Specifically, according to the insert for Humalog, the compound is now produced in E. coli bacteria genetically manipulated to produce insulin.)
According to a column in the Los Angeles Times, Lilly began selling Humalog in the mid-1990s at $21 per vial. But since then, the company has substantially raised the price of Humalog, its insulin product. According to The Nation, the price of a vial of this insulin went up to nearly $270 from $74 over the 10 years that Azar worked at Eli Lilly. Two senators announced they were looking into insulin price increases last year, Politico reported.
Diabetes can be an extremely expensive disease to treat; according to the American Diabetes Association, people with diabetes account for 20 percent of American health care expenses; the majority of that amount is directly tied to their diabetes. More than half of the cost of diabetes care is borne by federal health programs like Medicare and Medicaid.
According to the company's 2016 annual report, Humalog brought in nearly $3 billion in worldwide revenue—more than any other drug. And 2016 was a down year; the revenue figures had fallen by 5 percent, the report noted.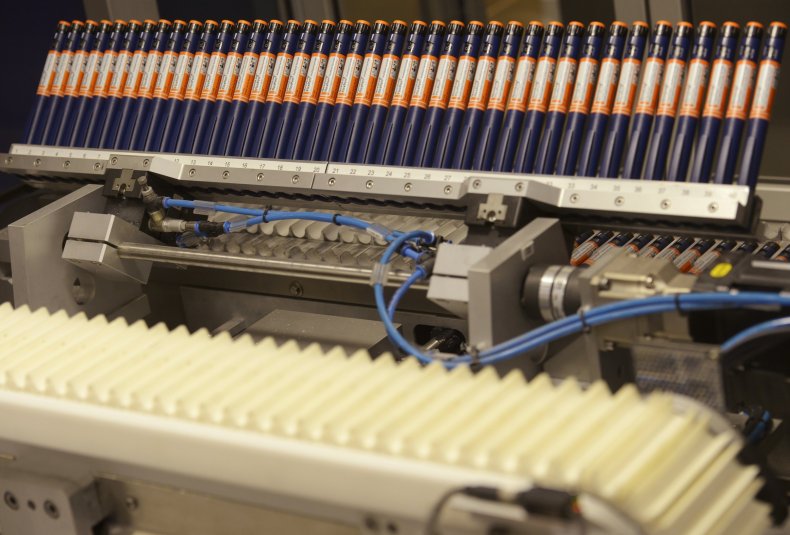 Although Trump has promised that Azar will tackle drug prices, the nominee's track record concerns some.
"As a surgery resident, especially one who has performed amputations in diabetic patients with gangrenous feet and legs, and who watched people die in the intensive care unit from complications of diabetic ketoacidosis, I must disclose that doubling the price of insulin personally outrages me," Dr. Eugene Gu, a resident physician, researcher and outspoken critic of the Trump administration, wrote in an editorial for The Hill.
"Physicians have an incredibly tough time making sure that patients keep their blood sugars under control when they leave the hospital, especially if they cannot afford the price of the drug."