Man in Underwear 'Chillin' Inside Closed Wingstop Leaves Viewers Baffled
A video of a man inside a closed Wingstop restaurant in Chicago with just underwear on left viewers baffled after it went viral on TikTok.
The video, posted by user @brilz_0siris, received more than 8 million views and 16,000 comments since September 4. The video can be found here.
Wingstop is not the only restaurant chain to go viral for shocking customers recently. Subway, a direct competitor of Wingstop, recently made headlines after a customer alleged she discovered feces inside her sandwich.
McDonald's was also recently in the headlines after a customer rode a horse through the drive-thru and ordered 100 Chicken McNuggets. One Zaxby's customer also went viral after claiming on TikTok that she was served fried paper rather than chicken.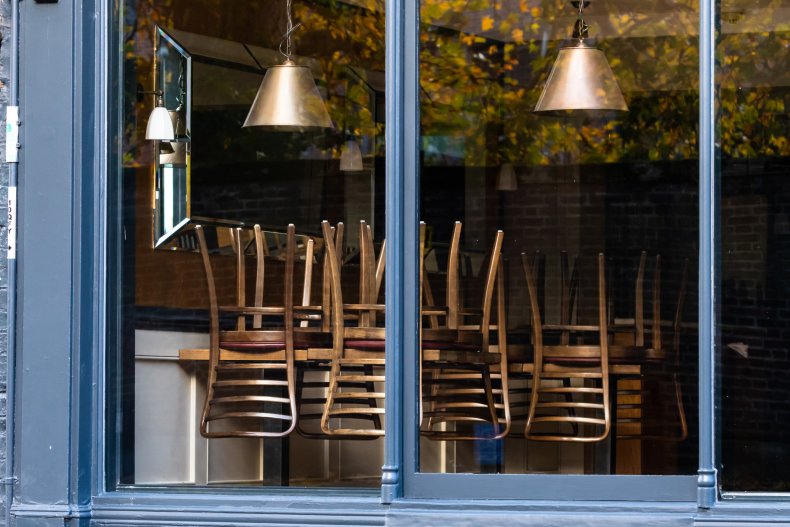 'Buddy Just Chillin'
At one Wingstop restaurant in Chicago, a man said he was shocked when he pulled up to the restaurant at nearly 4 a.m. and discovered a nearly naked employee "chilling" in the dark dining room.
In the video captioned "Buddy just chillin," the TikToker said there was a man standing in the kitchen of the dark restaurant in his underwear.
Although the lights are off inside the restaurant, the TikToker zoomed in to show the kitchen lights on and a man at the back of the restaurant wearing only a pair of blue underwear.
"Why the f**k is this man in here with his drawers?" @brilz_0siris said. "What the f**k is he doing after hours, though?"
The man in the kitchen then grabbed a large piece of plastic and put it over his bare body.
"Why is this man in here with his drawers on?" the TikToker repeated as the man inside shoved each arm through the bag to create a plastic shirt.
In another video, @brilz_0siris showed the man seemingly cleaning in the kitchen.
"He's chilling," the TikToker said laughing.
Viewer Reactions
More than 16,000 users commented on the video, many wondering why the man was wearing a plastic bag.
"It's wing fryer cleaning night. That's grease is serious. I get it," one user commented.
"He's about to go Dexter on somebody," one user commented, referring to the popular television show.
"Only real people know about the garbage bags," another commented. "He's about to get that workout in lol."
"I can tell you he about to do a super clean," another commented.
"Bro I would have tapped on the window just to see his reaction," another user commented.
"Dedicated employee..he's about to clean clean," one user commented.
Newsweek reached out to @brilz_0siris and Wingstop for comment.