Man Uses Dead Body to Warn Against Sex and Drinking in Bizarre Video for Muslims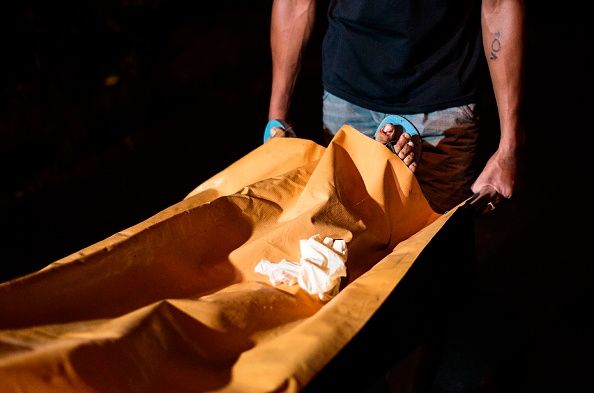 In a bizarre video posted to Facebook, a Muslim undertaker used a corpse to show his Muslim "brothers and sisters" what would happen to them if they ignored the tenets of Islam by drinking and having sex.
Pointing to a dead body lying near a coroner's fridge, Ahmad Hraichie, a Muslim-Australian undertaker, gave a dramatic speech to his viewers about the perils of ignoring religion.
"Anyone who's going to do anything that goes against our religion of Islam—drinking, fornication, Zina—look at this man and this is an example Allah has given us," Hraichie says.
"We're going to put our brother in the fridge... That could have been me. That could have been you. That could have been anybody. I say this with my heart—this brother was alive, now he's not."
The body in the video is covered in a blue plastic body bag and has no noticeable identification. It is unclear who the corpse was or how the person died.
The video appeared to have been timed to warn Muslims about the dangers of partying on New Year's Eve.
Hraichie, who works in a funeral home in Sydney and describes himself as a Muslim Aussie, has a history of making popular social media videos for Muslims.
In November, Hraichie filmed another popular social media message with the father of Jihad Darwiche, a 9-year-old Muslim Australian who was killed when a truck crashed into his primary school classroom during school hours. In the video, Darwiche's father can be heard saying that Muslims responded to traumatic events with forgiveness. The video made Hraichie a temporary media sensation in Australia.
Hraichie, who also is a father of four, has a son who is carrying out a prison sentence in a maximum-security prison for sympathizing with the Islamic State militant group. His son also was charged with carving an Islamic slogan into the forehead of a fellow inmate in prison.
Muslims from countries such as Turkey and Lebanon have been migrating to Australia since the 1960s. In the 1990s, waves of refugees and migrants arrived from Muslim-majority countries like Afghanistan, Iran, Iraq, Bosnia-Herzegovina, Albania, Indonesia and Malaysia.
According to 2016 data from the Australian Census, around 604,200 people in Australia self-identify as Muslim, making up around 2.6 percent of the total population.
In December, the United Nations warned Australia that it should "put an end to racist hate speech" directed against Muslims and aborigines, and recommended that standards be put in place to dictate how the media discusses minorities.