Man With Violin Serenades Traffic Jam of Wildfire Evacuees in Video Viewed 30K Times
As wildfires continue to ravage the western United States, residents across the coast have been forced to evacuate their homes. One of these areas is South Lake Tahoe, California, where the Caldor fire prompted a mandatory evacuation last Monday.
Thousands fled the region, resulting in intense gridlock on the sole route out of the area. Local resident Mel Smothers, however, decided to make the best of the unfortunate situation: in order to pass the hours of standstill traffic, he broke out his violin and played for his fellow motorists. A short clip of the scene, posted to Twitter by photographer Josh Edelson, has reached 29,600 viewers. The clip can be viewed here.
According to an interview with CNN, the Lake Tahoe resident explained that he didn't intend to catch the attention of his fellow drivers. "I couldn't just sit there and waste time," he told the news outlet. "I did feel like people were in their cars listening to me, like I was going to be giving a performance, but that really wasn't the idea."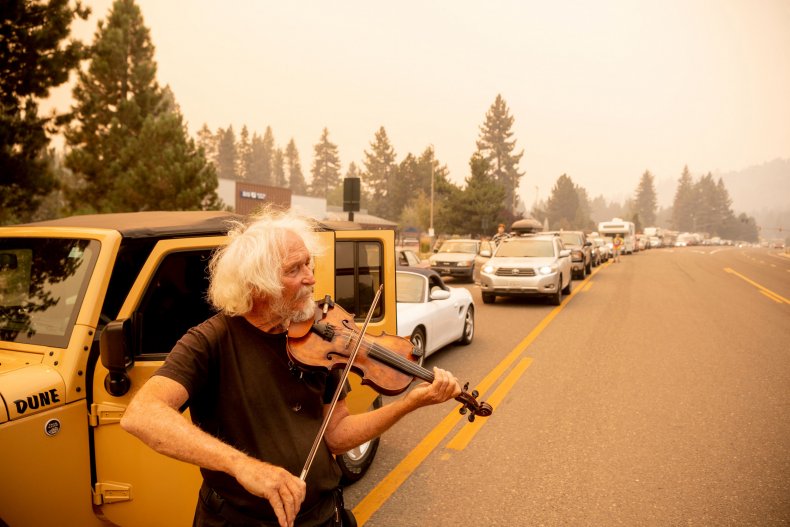 Smothers first began playing violin after studying for a semester at Juilliard, six years ago. He reportedly saw the multi-hour jam—which he described as the "traffic jam of all traffic jams"—as a chance to practice his instrument.
"It was worse than trying to leave a Grateful Dead concert," Smothers added. "We moved along for about half a block and then it was solid."
The Press Democrat, a Santa Rosa, California-based newspaper, noted that Smothers played the "Tennessee Waltz" on his approximately 170-year-old violin. "I like playing a lot, so it didn't take a lot of time for me to decide I didn't want to waste time sitting in my car," explained the 74-year-old.
The music brightened what was a scary and uncertain day for the evacuees. "I was kind of looking around and hoping someone would bring out a guitar or a [mandolin]—the joy of making music just makes me feel really good," Smothers told CNN.
That day, the typically two-and-a-half-hour drive to Sacramento took Smothers, his wife Liz, and their dog, Peak, seven-and-a-half hours. He has lived in the Tahoe area for decades, since the 1970s, reported CNN, and has never before experienced a wildfire evacuation.
"The new reality is, the forests are burning," he said. "There are things we can't control on the planet."
To The Press Democrat, he added: "There was a little bit of anxiety there. Like, is the fire going to catch up to us while we're sitting there?"
As of Tuesday, the Caldor fire, which began August 14, remained less than halfway contained. At its peak, it burned at a rate of 1,000 acres per hour. However, the mandatory evacuation order for South Lake Tahoe residents has since been lifted.
Newsweek has reached out to Smothers for further comment.