Man Wakes Up With Bat on His Neck, Later Dies After Refusing Rabies Vaccine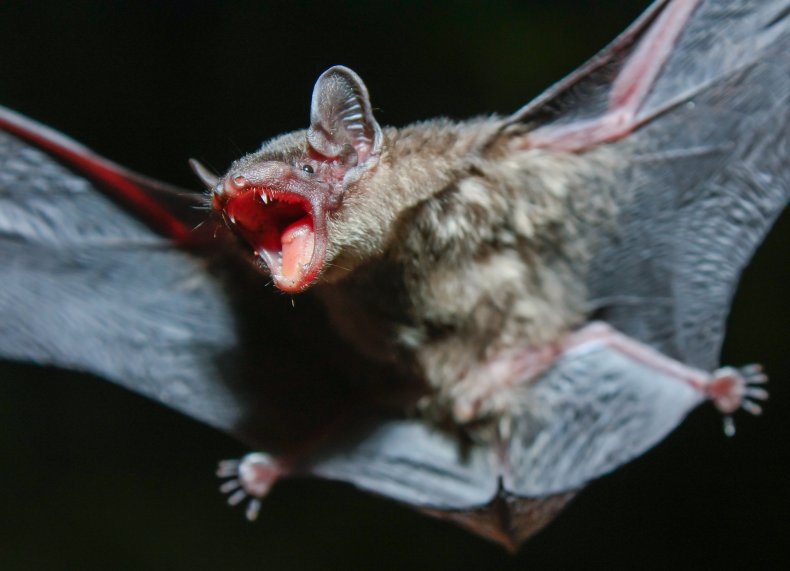 An 80-year-old man became the first person to die from rabies in Illinois since the 1950s about one month after he woke up with a bat on his neck and refused post-exposure treatment.
The Illinois Department of Public Health (IDPH) announced the case, the state's first since 1954, on Tuesday. It is unclear whether the unnamed Lake County man had any obvious bite marks or why he refused treatment for the almost invariably fatal disease. Post-exposure treatment consists of multiple doses of a rabies vaccine, sometimes augmented by a medication containing rabies antibodies. The vaccines are highly effective, even after exposure to rabies, due to the virus having a relatively long incubation period.
"Rabies has the highest mortality rate of any disease," IDPH Director Dr. Ngozi Ezike said in a statement. "However, there is life-saving treatment for individuals who quickly seek care after being exposed to an animal with rabies. If you think you may have been exposed to rabies, immediately seek medical attention and follow the recommendations of health care providers and public health officials."
"Rabies infections in people are rare in the United States," added Lake County Health Department Executive Director Mark Pfister. "However, once symptoms begin, rabies is almost always fatal, making it vital that an exposed person receive appropriate treatment to prevent the onset of rabies as soon as possible."
The man woke up with the bat on his neck in mid-August. The animal was then captured and tested positive for rabies, while a colony of bats was discovered in the man's home. He refused treatment despite officials warning him of the extreme danger posed by the exposure.
The octogenarian began to experience rabies symptoms one month after his encounter with the bat, including neck pain, finger numbness, difficulty speaking, headaches and difficulty controlling his arms. The symptoms progressed and death soon followed.
Due to the availability of rabies vaccines, rabies cases are extremely rare in the U.S.—the number reported each year is usually in the low single digits. However, exposure to the virus is still relatively common, with around 60,000 people receiving post-exposure treatment.
Although bats are not an uncommon source of rabies exposure, the virus infects only a small percentage of bats. Among bats that were captured, only 6 percent test positive for rabies, according to the Centers for Disease Control and Prevention (CDC). IDPH has reported a total of 30 rabies-positive bats this year in Illinois.
Rabies has a much higher death toll outside of the U.S., where approximately 59,000 people die due to the virus each year, mostly in areas where people do not have adequate access to the rabies vaccine.
Amanda MacGurn, a communication specialist with the CDC's Division of High-Consequence Pathogens and Pathology, said in a statement to Newsweek that the rabies diagnosis had been confirmed by the CDC. She noted that "contact with infected bats is the leading cause of rabies deaths in the U.S.," although "only 1-3" human cases occur each year.
"About 60,000 people receive post-exposure prophylaxis (PEP) after coming into contact with a rabid animal," MacGurn said. "Rabies is nearly always fatal if people exposed to rabid animals don't receive PEP before symptoms start. PEP can save lives.
"Any person who comes into direct contact with bats, or has bats in their home, should contact local animal control for bat assessment and testing," she added. "Modern PEP regimens involve rabies immunoglobulin near the wound and four vaccines given in the arm, spread across two weeks."