Man Wanted For Brutally Beating 3 Homeless Men With a Baseball Bat, Leaving Them All Clinging to Life
Authorities are on the hunt for a man who brutally beat three homeless men with a baseball bat in downtown Los Angeles early Sunday morning, leaving them fighting for their lives.
Today, the Los Angeles Police Department shared surveillance images of a man who allegedly approached three homeless men, who were sleeping in stairwells or building alcoves in downtown LA, and bludgeoned them with a baseball bat.
"WANTED for Attempt Murder. This 'violent predator' is responsible for 3 brutal attacks with a baseball bat on homeless people in Downtown LA," they wrote on Twitter. "He's described as a male Hispanic or White, 30-40 years old, with bowed legs. Any info contact Robbery-Homicide Detectives at 213-486-6890."
During a news conference on Monday, Capt. Billy Hayes of the Los Angeles Police Department's Robbery-Homicide Division revealed that the suspect brutally beat the men and rummaged through their pockets before fleeing the scene. Due to this fact, they believe the attacks were motivated by robbery.
"Anytime that there's a predator walking around preying on innocent people like this we want to get them as soon as possible," Hayes said.
The victims, who have not yet been identified, are all being treated in hospital for severe injuries. They are still in critical condition and have not yet regained consciousness from the attack.
Authorities believe the suspect is also homeless based on his physical appearance and surveillance tapes that show him shifting through rubbish bins in the area. According to the LA Times, a few people at homeless encampments in the area also claimed to have recognized the man when questioned by police.
As there were no known witnesses to any of the attacks, authorities only have surveillance footage to identify and locate the suspect. Police are exploring every avenue to catch the culprit, including sifting through similar past assault cases that involve a baseball bat.
Hayes said the man, likely in his 30s or 40s, has dark black hair, is medium built and of medium height. He was last seen sporting a grey sweatshirt, black shorts, blue hat and white shoes.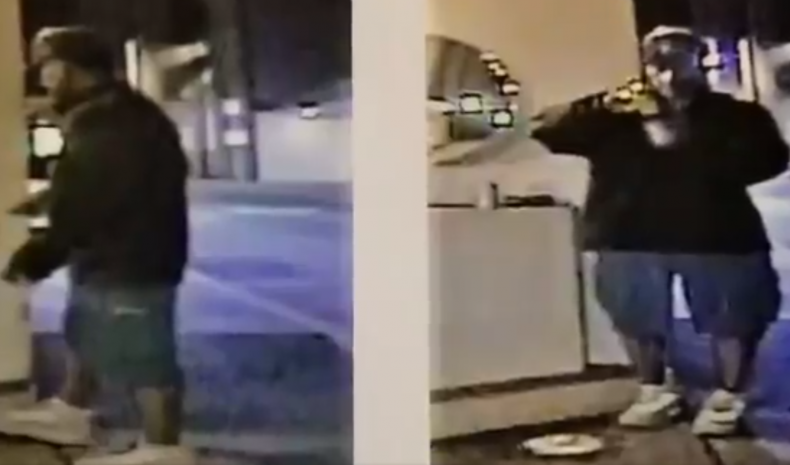 According to Central Division Capt. Marc Reina, the LAPD's homeless outreach program and the RESET Unit have been visiting the area's homeless community to warn them of the suspect and his crimes. Although authorities are not certain that he was specifically targeting homeless people, the notion cannot be ruled out at this stage of the investigation.
The attacks took place only a few blocks away from Skid Row, where 4,300 homeless people reside.