Man's Way of Keeping Cat Occupied While Gaming Melts Hearts: 'So Proud'
A man has left the internet in stitches after a video of him pet-sitting his "lookalike" cat while playing video games went viral on social media.
In a video shared on TikTok in February by his wife, under the username July.all.year, the man can be seen playing video games at his desk while also playing squirrels videos on another screen for his orange cat, who seems to really enjoy the clips.
The heartwarming post, comes with a caption that says: "My family told me I would never meet someone because of how silly I am and now my husband plays his games while putting a squirrel video feed on for our cat. And he's smiling like he's so proud of it too."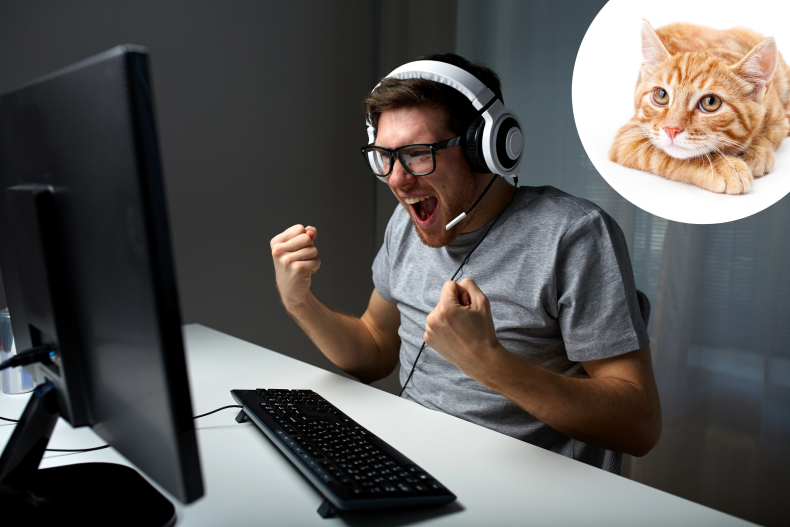 According to Hill's Pet Nutrition, many cats engage with television programs, but they don't watch it with the same perspective as humans do.
The Hill's website says that even though they are very smart creatures, because they don't have the capabilities to process images and sounds from the TV as we do, when cats see a bird on the screen, they don't really recognize that it's a bird. Instead, they see a moving small object that must be caught, and that's what keeps them entertained.
The video quickly gained popularity on the internet, attracting animal lovers from across the platform, and it has so far has received more than 3.6 million views and 563,000 likes.
One user, waters_jenna, commented: "The fact that he's playing Elder Scrolls Online too. a keeper." And Theresamq said: "Whatever keeps the cat off the keyboard." Naomie Ross added: "Cat and husband look alike."
Alchiap wrote: "you won life." And Garb said: "Mine kept checking the security cam to see if the cat was sitting in the window so we could go around back and look at him from outside."
Another user, Little_hotchip, commented: "How do I manifest this? Asking for myself." And User8292947 said: "This is so wholesome I literally just teared up." Danielle added: "My husband does bird ones lol."
Lexianaiviv20 wrote: "He is the bestest Cat Papi ever!! He has his priorities straight." And Kristin Morgan added: "There's somebody for everybody. Feels so good to find that match."
Newsweek reached out to July.all.year for comment. We could not verify the details of the case.
Do you have funny and adorable videos or pictures of your pet you want to share? Send them to life@newsweek.com with some details about your best friend and they could appear in our Pet of the Week lineup.