Man in Santa Hat Steals Electric Wheelchair, Leaving Victim Stranded in Public Toilet for an Hour: Police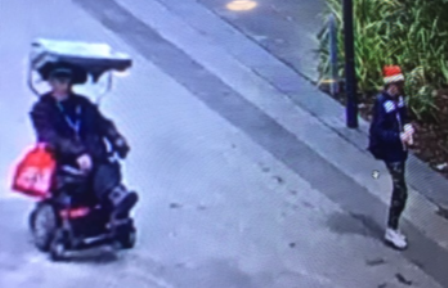 A man was arrested in Australia today after allegedly stealing a man's wheelchair while wearing a Santa hat—leaving the victim stranded in a toilet.
Leading senior constable Natalie Dean said in a release today that a 39-year-old Seddon man was detained by police and charged with the theft, which happened in Melbourne yesterday. The man has been bailed and will appear before Melbourne Magistrates Court on 25 March 2019.
Police said the suspect had struck up a conversation with the 54-year-old wheelchair-using man at Flinders Street railway station at around 11 a.m. The offender, officials said, had assisted the man to a public toilet before allegedly stealing his electric wheelchair.
The victim, of St. Albans, was left stranded in the toilet for about an hour until a passerby came to his aid. The suspect was last seen traveling east in the wheelchair toward Batman Avenue.
The offender was initially described as Caucasian in appearance, aged 20 to 24-years-old. He was wearing a Santa hat, black jumper, camouflage pants and white sneakers, police said.
Victoria Police released images of the suspect. Pictures posted to the department's website and social media pages showed the man in the wheelchair beside the suspect.
No names have been released by local law enforcement officials. The wheelchair was located at the corner of Wellington Parade and Jolimont Road in East Melbourne yesterday evening.
It's not the first time Christmas-themed crooks have partaken in criminal cosplay.
On Christmas Day last year, a Florida man wearing the Santa-themed headwear was recorded on surveillance gear stealing a baby Jesus figurine from a church nativity scene. The religious statue was valued at approximately $3,000, according to the Sanford Police Department. Four days earlier, the same man allegedly used a knife to cut the heads off nine of the figures.
In November last year, police appealed for witnesses after a man in Countryside City, Illinois, was accused of stealing packages from a victim's front porch while donning a Santa hat.
A similar crime was reported to have occurred last year in California between late November and early December. A man—wearing a Santa hat and scarf—was caught on camera breaking into homes and stealing cash and jewelry before fleeing with a getaway driver in a dark sedan.