California Man With 'White Privilege' Credit Card Accused of Planning to Bomb Democrats
A suspected far-right extremist in California who was carrying a "white privilege" mock credit card has been charged with possessing pipe bombs and police have accused him of threatening to bomb Democratic lawmakers.
Ian Benjamin Rogers, 43, of Napa, was arrested on January 15 and charged in Napa County state criminal court with illegal firearm charges on Tuesday. He was charged with possessing five pipe bombs that were unregistered destructive devices. Law enforcement officers and agents found them in his work's office on the day he was arrested.
A large weapon safe, which contained several guns and the five bombs, was found at Rogers' work office. Officials identified other materials at the scene that could be used to manufacture destructive devices, including black powder, pipes, endcaps, and manuals, including The Anarchist Cookbook, U.S. Army Improvised Munitions Handbook, and Homemade C-4 A Recipe for Survival.
Rogers' home was also searched by officers. At least 49 guns were seized at the Napa man's home and business along with thousands of rounds of ammunition.
Officers found a sticker on Rogers' vehicle window that is commonly used by the "Three Percenters," a paramilitary group who ascribes to extreme anti-government, pro-gun beliefs.
The "three percent" refers to the belief that only three percent of the American colonists fought against the British during the American Revolution in the 1700s. Many ex- and current servicemen and police officers are members of the anti-establishment group, which was founded in 2008 when Democratic President Barack Obama was in power.
Officials found a mock credit card bearing the message "white privilege card trumps everything" in Rogers' possession, with the figures "0045" repeated four times in the card number, referencing Donald Trump, the 45th U.S. President.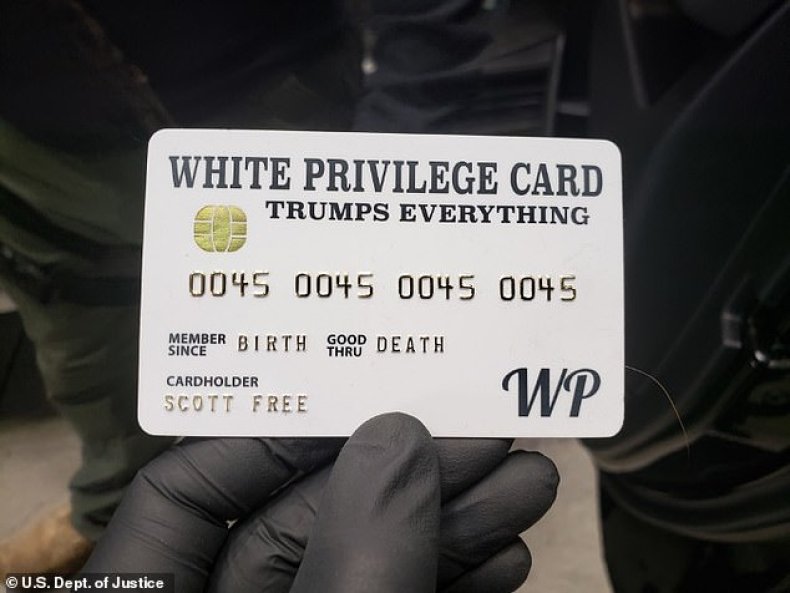 "I know that many extreme anti-government militias are populated by white supremacists," wrote Stephanie Minor, FBI special agent, in the statement issued by the Department of Justice. She said she believed the "0045" numbers were a reference to Trump.
In a court filing, investigators said Rogers claimed he had the pipe bombs for entertainment, but text messages recovered from his phone indicate the explosives were not going to be used for that purpose.
One said: "We can attack Twitter or the democrats you pick" while another read "I think we can attack either easily." A later message said: "I want to blow up a democrat building bad" and other messages indicated Rogers wanted to target the Sacramento Capitol building, where California Governor Gavin Newsom's offices are based.
The United States Attorney's Office Special Prosecutions Section is prosecuting the case, as a result of an investigation by the FBI, the Napa County Sheriff's Office, and the Napa Special Investigations Bureau.
"We allege that Ian Benjamin Rogers possessed homemade pipe bombs and the materials to make more," U.S. Attorney David L. Anderson said in a statement on Thursday. "We draw a bright line between lawlessness and our constitutional freedoms. We will prosecute illegal weapons stockpiles regardless of the motivation of the offender."
Rogers is being held in state custody in lieu of a $5 million bail as he awaits a preliminary hearing. Prosecutors plan to seek Rogers' appearance in federal court, but the date has not yet been set. If convicted, Rogers could face up to 10 years in prison and a fine of $250,000.
His text messages also indicated that he believed the unfounded claim that former U.S. President Donald Trump won the November 2020 presidential election.
Jess Raphael, Rogers' attorney, said that his client had a drinking problem and was an avid Trump supporter. He added that Rogers was full of "bluster and bandwagoning" after the Capitol Building riot in Washington, D.C. on January 6.
"He's a real adherent of President Trump. He's a true believer," Raphael told the San Francisco Chronicle. "When President Trump says they stole the election, he says they stole the election. Basically, whatever the president said, he parroted.
"He was president and half of the country believed the guy. They believed the lies. He was just like tens of millions of other Americans," Raphael said.