Man Who Allegedly Chased Woman Naked Through Woods Says It Was Misunderstanding
A man who allegedly pursued a female hiker through the Sam Houston National Forest in the nude claims that he was only naked because he had to defecate, according to The Houston Chronicle.
The man, identified as 53-year-old Scott Alexander Stephens, has been charged with disorderly conduct. If convicted, he could potentially be on the hook for a significant amount of money. Such Class C misdemeanors, per the Texas penal code, are punishable by a fine of up to $500.
The victim called the Montgomery County sheriff's office on Friday evening to report that a naked man was chasing her on Lone Star Hiking Trail's Trailhead No. 3 in Sam Houston. Located 50 miles away from the city that partially shares its name, the forest spans 163,037 acres, according to the Forest Service of the United States Department of Agriculture.
When deputies arrived to take the woman's statement, she told a patrol sergeant that she had seen the man emerge from a nearby stand of trees and begin to walk in her direction. The man did appear to have an article of clothing draped over his forearm, she said, but she didn't stick around long enough to identify it. Instead, she took off running, believing that the man was chasing her, though she admitted to the sergeant that she did not look back to confirm her suspicions.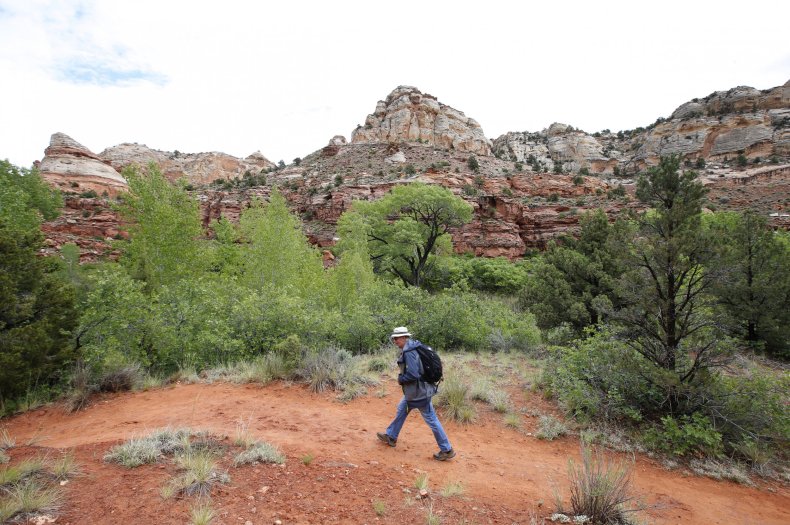 While deputies were speaking with the woman, a shirtless man exited the trail head. When detained and questioned, he admitted that he had stripped naked at one point to obey the call of nature. However, he said, he had not seen anyone else in the forest.
Stephens was arrested in Montgomery County over the weekend and booked into the Montgomery County Jail, according to KHOU. The county lies three hours south of Dallas.
In light of the incident, Montgomery County reiterated the importance of hiking in groups and notifying friends or family of your planned route beforehand, according to KHOU. In addition, the county recommends packing heavy and making sure you have multiple copies of maps and other navigation guides with you at all times.
Similar incidents have occurred in Texas before. In February, a naked man wielding a baseball bat broke into a home in Spring while the members of the resident family were out, according to WFXT. Last July, a naked man who was racing after a female driver's car on a street in El Paso died after police officers hit him with a stun gun, according to KHOU.