Man Who Ate Garden Slug Eight Years Ago Dies From Rat Lungworm
A man in Australia has died from rat lungworm caused by a garden slug he ate for a dare eight years earlier.
Sam Ballard, who was a promising rugby player, died at the age of 27 after developing a series of complications from the disease.
Ballard was 19 in 2010 when he and some friends were drinking wine with his friends in a garden. "We were sitting over here having a bit of a red wine appreciation night, trying to act as grown up and a slug came crawling across here," his friend Jimmy Galvin told news.com.au.
"The conversation came up, you know. 'Should I eat it?' And off Sam went. Bang. That's how it happened."
Over the following days, Ballard's legs began to hurt and he worried the slug could be the cause. After visiting the doctor, he was told he had rat lungworm, or Angiostrongyliasis. This is a disease that affects the brain and spinal cord. It is caused by a roundworm parasite that, in adult form, is normally only found in rodents. However, an infected rodent can pass on the larvae through their feces, with slugs and snails sometimes becoming infected if they eat the larvae.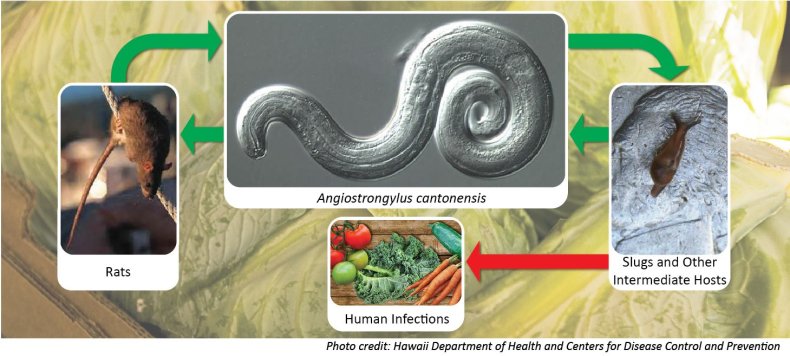 According to the CDC, most cases of rat lungworm resolve over time without need for treatment. However, in some cases serious complications can arise, leading to brain damage and death.
In Ballard's case, he contracted eosinophilic meningoencephalitis, a type of meningitis caused by rat lungworm. He fell into a coma that lasted over a year. When he woke up, doctors discovered he had suffered from brain injury.
Over the following years, Ballard's friends and family tried to help his recovery through physiotherapy but the impact of the disease continued. His case was put under the spotlight last October when the family announced the disability benefit Ballard received was being cut. After campaigning, the government's decision was reversed.
Lisa Wilkinson, who presents the Australian TV show The Sunday Project, announced Ballard's death: "We have some sad news for you now," she said. "Earlier this year we brought you the story of Sam Ballard who, on a dare from his mates, ate a slug. He contracted rat lung disease with devastating effects.
"His friends have stuck by him ever since. On Friday, Sam passed away, surrounded by his family and loyal, loving mates. His last words to his mum: 'I love you.'"
Cases of rat lungworm becoming fatal are rare. In the U.S., the disease is most often found in Hawaii, with few cases reported in the continental states. However, in 1993 a boy from New Orleans got infected after eating a snail for a dare. He fell ill a few weeks later—symptoms included muscle aches, stiff neck, vomiting, a headache and a slight fever. After two weeks his symptoms went away without treatment.
To avoid rat lungworm, the CDC advises not eating raw or undercooked slugs, snails, frogs and shrimp or prawns. "If you handle snails or slugs, wear gloves and wash your hands," it advises. "Always remember to thoroughly wash fresh produce. When travelling in areas where the parasite is common, avoid eating uncooked vegetables."
This story has been updated to include more information on rat lungworm.