Darryl Jones, 30, was out on parole when he allegedly attacked a young Orthodox Jewish family in lower Manhattan on Wednesday evening.
A couple and their 1-year-old son were slashed near Battery Park in what is being investigated as a possible hate crime. Authorities told local TV affiliate CBS2 the victims were walking down the street when Jones, who was reportedly talking to himself, started swinging a knife.
The 22-year-old man was slashed on the head, the 23-year-old woman on the lip and the toddler on the chin. The family, who were visiting from Belgium, declined medical attention.
Jones was arrested at the scene. He has 12 prior convictions and was recently released on parole in February after serving nine years for charges that included attempted murder. He is on parole until 2026.
Jones has been charged with three counts of assault, assault on a person less than 7 years old, three counts of criminal possession of a weapon and criminal possession of a controlled substance.
He was released from state prison earlier this month in connection with an August 2011 attack and robbery in which police say he kicked and hit a 50-year-old man before pushing him down the stairs. The victim suffered a broken eye socket and three broken ribs.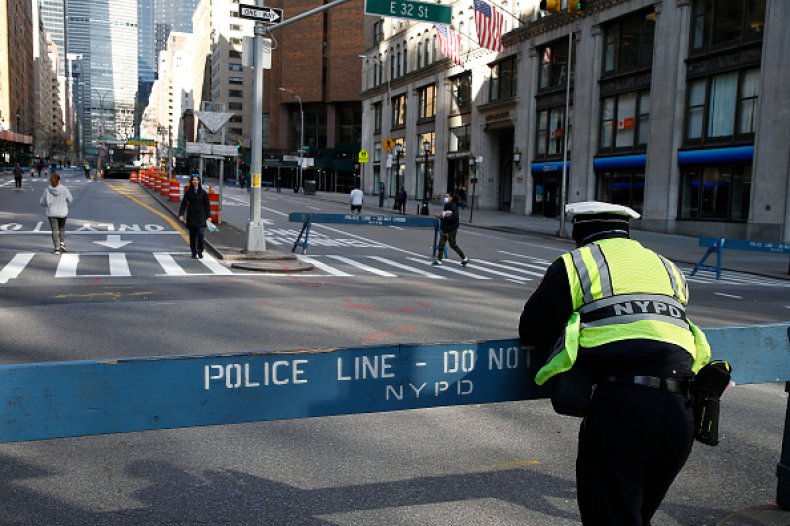 A day before the attack on the Hasidic family, police arrested 38-year-old Brandon Elliot in connection with another suspected hate crime.
Elliot, who was homeless, was arrested for stomping on a 65-year-old Asian-American woman in New York City on Monday—an attack that went viral after it was caught on surveillance footage. He was also on parole at the time of his arrest, for a murder he committed in 2002.
Elliot was charged with two counts of assault as a hate crime and one count each of attempted assault as a hate crime, assault and attempted assault.
In 2002, he was convicted of stabbing his mother. He was released from prison in November 2019 and is on lifetime parole, according to NBC News. Police previously told Newsweek he had been arrested in 2002 and charged with robbery.
Officials told CBS2 that many of the suspects in the recent random attacks and hate crimes in the city are homeless, mentally ill or recently incarcerated.
"The parole system in New York state does not work. It takes people coming out of prison, dumps them in New York City with no plan, no housing, no job, no mental health support," Mayor Bill de Blasio said.
But the state Department of Corrections disputed the mayor's claim, saying he was "clearly not informed," and telling CBS2 that each person released from prison is provided an "individualized treatment plan."
There are roughly 1,500 state parolees living in shelters across New York City.
Newsweek reached out to the New York Police Department for comment but did not hear back before publication.