Man Who Bumped Into Member of Biker Club in Bar Brutally Attacked
A man is recuperating after an alleged attack by motorcycle club members left him bruised and battered.
Police said the incident occurred Saturday at a bar in Carleton, Michigan, located south of Detroit and involved "several men assaulting one victim." The victim is from Carleton.
The Carleton Police Department, relaying information provided by witnesses, told Newsweek that patrons at The Wolf's Den saw the reported unnamed victim, 35, exiting the bar through the front door. On his way out, the victim reportedly bumped into another customer by accident.
The customer who was bumped into was a biker wearing the colors of the Iron Coffins Motorcycle Club. The club started in 1966 in Toledo, Ohio, and has at least 14 chapters across Michigan – including in Monroe and southwest Detroit.
Witnesses said that after he bumped into one of the members of the Iron Coffins, the victim reportedly decided to leave the Wolf's Den through a side door to avoid any confrontation with motorcycle club members. That was when several members reportedly "came after" the victim.
A photo of Iron Coffins group members released by police shows six members inside the bar.
"The victim was able to fend off the first attacker and attempted to fend off the second attacker when several more club members joined in," police said.
The attack on the victim, who police said previously suffered from seizures, resulted in a head wound that required 28 staples.
When asked if the incident occurred inside or outside the bar, or whether any surveillance footage exists of the alleged altercation, police declined to comment due to the incident being part of an active investigation.
A Facebook post published Monday by the Carleton Police Department stated that all individuals who allegedly participated in the assault had been identified. Police did not say how they were identified.
Click On Detroit reported that authorities want to interview them before getting prosecutors involved in a case review.
Police also said there were no officers inside their station when the assault happened, according to a report by FOX 2 Detroit, due to all of its officers being out on patrol.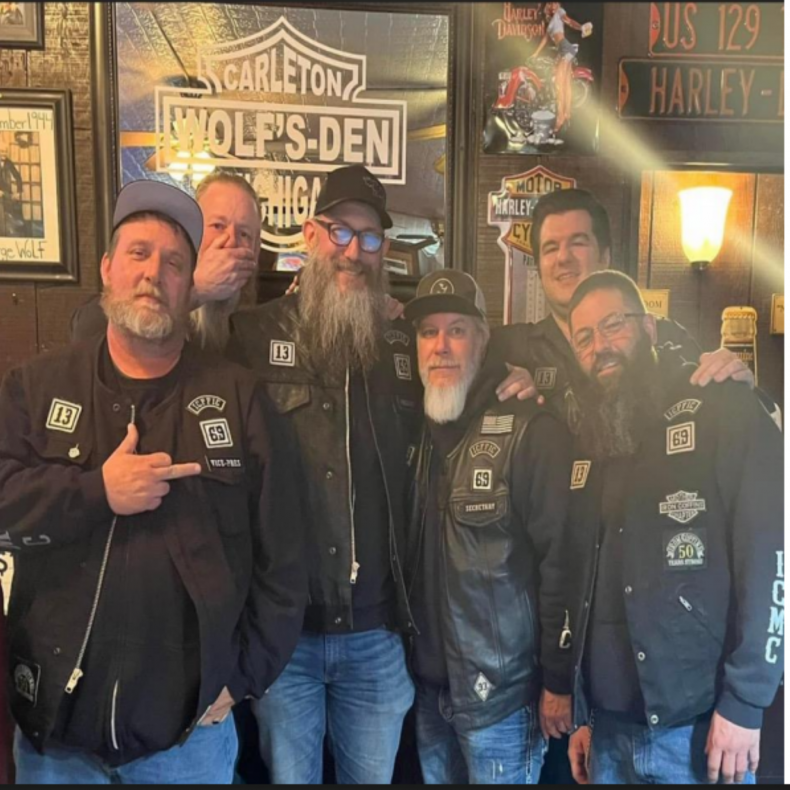 "The gentleman who's got the stitches is a really nice kid," bar owner Mike Wolf told FOX 2. "He doesn't cause any problems; he's a good kid and we don't really know what happened."
A bar patron who reportedly witnessed the event called it "an isolated incident" that happens at "any bar anywhere in this country."
Anyone with information regarding the incident or members of the Iron Coffins seen in the photo is asked to call Carleton Police at (734) 654-6717.