Man Who Called AOC 'Big Booty Latina' Defends 'Teasing' to Rep. Greene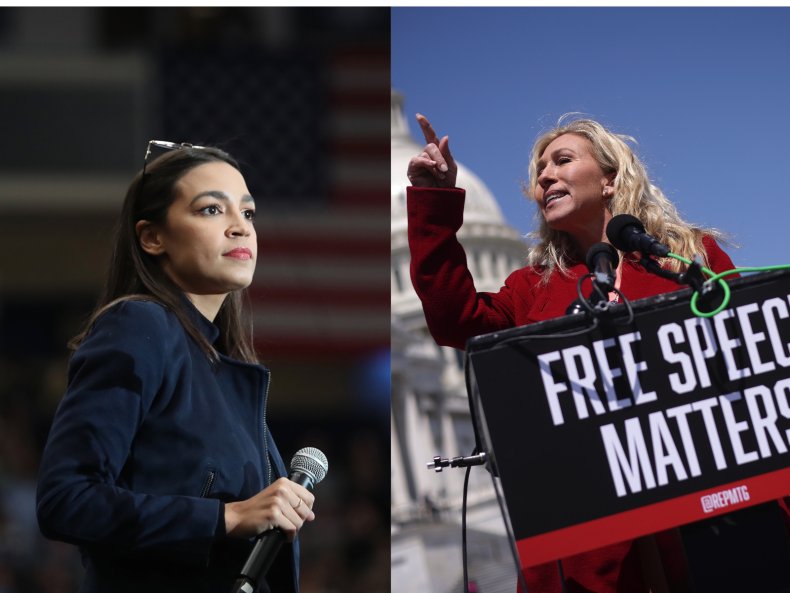 The man who called Representative Alexandria Ocasio-Cortez a "big booty Latina" earlier this week has defended his heckling of the New York Democrat in an interview with Republican Representative Marjorie Taylor Greene of Georgia.
In a video that has since gone viral, Ocasio-Cortez was confronted by social media personality and self-described "professional troll" Alex Stein on the U.S. Capitol steps Wednesday. Stein called the congresswoman his "favorite big booty Latina" before shouting other sexual and racial comments while alleging that she "wants to kill babies." Ocasio-Cortez later denounced the incident as "deeply disgusting" on Twitter and blasted Stein for "seeking extremist fame."
Stein insisted that his confrontation with the congresswoman was only "teasing" during a Thursday interview with Greene, Ocasio-Cortez's ideological opposite and one of her biggest critics. He claimed that a New York City bodega worker being charged with murder in the fatal stabbing of a man, allegedly occurring in self-defense, was evidence that Ocasio-Cortez was engaging in "hypocrisy" for allegedly suggesting that his comments made him a "pervert."
"It's sad that you can go to jail just for defending yourself, in her own district," Stein said during the MTG:Live interview. "And she doesn't do anything about that bodega owner. But she comes and complains and does makeup tutorials and says, you know, I'm a pervert or I'm sexist. So, I'm just trying to call it the hypocrisy that she doesn't really care about her own constituents."
Stein went on to falsely claim that Vice President Kamala Harris encouraged those protesting the murder of George Floyd in 2020 to "burn down" cities and had her own "bail fund" to help those who had been violent get released from jail.
He also suggested that his confrontation and the sexual and racial remarks that he shouted at Ocasio-Cortez were justified because she encouraged protesters to "confront" Supreme Court Justice Brett Kavanaugh after he was nominated by former President Donald Trump.
"[2020 was] literally the greatest summer ever—George Floyd, RIP, I think he's two years sober now," said Stein. "A good thing about George Floyd is that they literally burnt down multiple cities and Kamala Harris had a bail fund and paid for these people to get out of jail ... And she just supported 'oh, go burn down these cities.'"
"These politicians, just like AOC, she said 'oh, go confront Kavanaugh,'" he added. "Yet, when she gets confronted, she melts down."
Greene and Stein then mocked a 2020 Ocasio-Cortez social media post that encouraged protesters to "protest safely" by wearing specific clothing and bringing certain items to protests.
They suggested that the "heat resistant gloves" that the post urged were needed for burning down cities, protection from closely associating with "Satan" or God "light[ing] your sign on fire" when protesting in favor of "more baby murder."
Newsweek has reached out to the office of Ocasio-Cortez for comment.