Man Who Carried Nancy Pelosi's Lectern During Capitol Riot Gets 75 Days
Adam Johnson, the Florida man who carried House Speaker Nancy Pelosi's lectern through the Capitol on January 6, 2021, has been sentenced to 75 days in prison for his actions during the riot, NBC News reported.
Johnson pleaded guilty in November to one count of entering or remaining in a restricted building, and his attorneys argued that if he had taken a different piece of furniture from the building that didn't belong to the Speaker of the House, prison time wouldn't be a consideration. He will receive credit for some prison time already served, and was also fined $5,000.
In previous court documents, the prosecution recommended that Johnson be sentenced to 90 days in prison, along with the same fine, as well as requirements to pay $500 in restitution and serve 60 hours of community service.
Johnson said in court Friday that he did not intend to harm Pelosi, and said he has cooperated with authorities since his arrest and is "ashamed" for his role in the riot, NBC News reported.
His attorneys argued that Johnson spending time in prison would have a negative effect on his five children, whom he primarily cares for while his wife works.
"As he stands before the Court today, he deeply regrets his participation in the breach of the U.S. Capitol on January 6, 2021. The damage and violence inflicted on that date by others is contrary to everything he believes in," court documents read.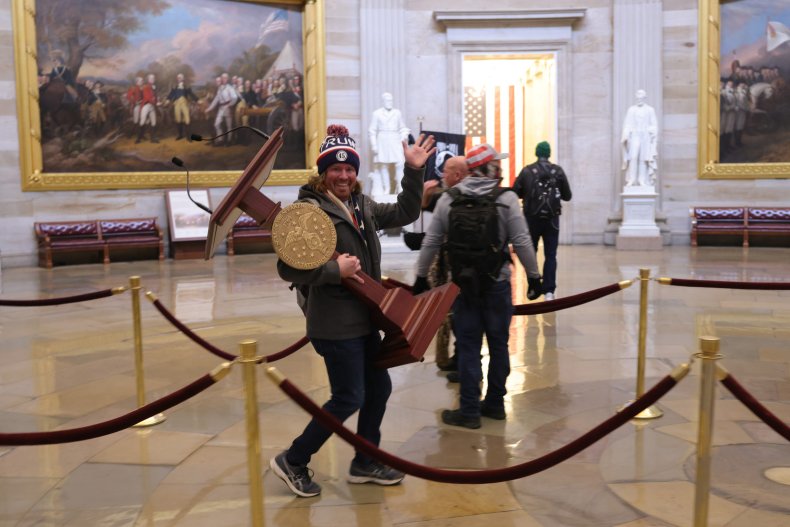 However, U.S. District Court Judge Reggie Walton said Friday that Johnson made "a mockery" of the serious events that took place in the Capitol that day by taking Pelosi's lectern simply because he thought it would make for a "good prop" for a picture, which is the reasoning Johnson has given previously for why he took it.
"We're on a dangerous slide in America," Walton said in court, according to NBC News. He also asked how Johnson believes he can describe himself as a positive role model for his children after acting the way he did on January 6.
Johnson also allegedly told other rioters who were trying to break into the House chamber that a nearby bust of George Washington would make a "great battering ram," court documents show.
Nearly 750 people have been arrested in connection with the Capitol riot, more than 200 of which have pleaded guilty and about 40 have received prison time, including a woman sentenced by Walton this week who was given 45 days in prison and a $5,000 fine.
Update 2/25/22, 12:08 p.m. ET: This story has been updated with additional information and context.