Man Who Faked Injury to Skip Airport Security Lines Sparks Heated Debate
A man revealed in a now-viral video that he recently faked an injury to bypass long airport security lines.
The video, posted to TikTok on June 21 by Wolf Jenkins (@WolfJenko), shows Jenkins being escorted through the airport in a wheelchair. It has amassed over 1 million views and hundreds of comments from viewers who couldn't agree if the stunt was genius or insensitive.
In the United States, airlines are required to provide free assistance to passengers with a disability, according to the U.S. Department of Transportation (DOT). This assistance includes:
Guiding the passenger from the terminal entrance, through security and to the gate;
Assisting the passenger from their plane seat, through the airport and to the gate of their connecting flight, if applicable; and
Helping a passenger from their seat to baggage claim.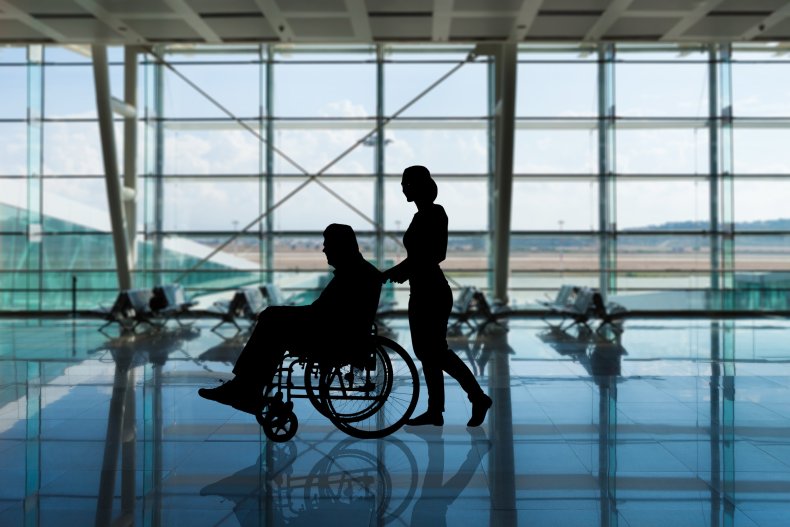 To receive assistance, passengers should make reservations as early as possible—preferably when booking their flights—and self-identify as the passengers needing assistance once they've arrived at the airport, DOT advised.
The European Union also provides guided wheelchair assistance; however, it is the responsibility of the airport to provide this service, not the airlines themselves, according to WheelchairTravel.org.
In his video, Jenkins—who was reportedly flying from Turkey to the U.K.—receives wheelchair service after "hurting [his] leg."
As part of the guided assistance, Jenkins bypasses a two-hour wait at security, is escorted on and off his flight and receives an entire row to himself on the plane. At the end of his video, Jenkins spins around in the airport-provided wheelchair and then walks off, laughing.
"Amazing what taking one sock off can achieve," he wrote in the post's caption.
Speaking to Deadline, Jenkins said he came up with the idea to fake an injury upon seeing the airport's security line.
"I saw people in wheelchairs being pushed through so my friend waited in the queue and I went outside and took off my shoe and sock," he said. "I then limped back towards the door and a member of staff asked me if I needed assistance so I said I had twisted my ankle at the hotel just before getting into my taxi...It was all just a way to get through and make sure we didn't miss our flight."
Jenkins also said that at one point, he told the crew he could walk "if necessary," but they told him not to worry about it.
Some commenters loved the video and said they wanted to try the "trick" the next time they traveled.
"Deffo using this trick," Natasha said.
"TAKE THIS DOWN—I want us this trick so don't be giving others this idea," Siobhan Donovan123 exclaimed.
"Well played sir, well played," Ggreg Mmechan added.
Others, however, didn't see the humor in the stunt.
"For everyone saying, 'it's good,' I'm a wheelchair user and it's humiliating being pushed up the aisle of a plane when people are seated. [E]ven though I see the funny side think of the people who need it that are left waiting while you're having a jolly," Jade Maunder wrote.
Nicole Giles echoed the sentiment, saying: "This really isn't funny, there are some of us that really actually need this!!!"
Emma added: "Wow, new low."
Newsweek has reached out to Wolf Jenkins for comment.
Earlier this month, airport officials in North Carolina seized 23 pounds of cocaine hidden inside a passenger's electric wheelchair.
In April, a disabled woman posting to Twitter said JetBlue left her wheelchair on the tarmac for over an hour and ultimately broke it.
And in November, it was reported that a British man with cerebral palsy was thrown off a holiday flight because his wheelchair was "too heavy."