Man Who Killed 1, Injured 3 at CA Synagogue to 'Save White People' Gets Life in Prison
A California man was sentenced to life in federal prison plus an additional 30 years for perpetrating a 2019 mass shooting at a synagogue in order to "save white people," the U.S. Department of Justice (DOJ) said Tuesday.
John T. Earnest, 22, had pleaded guilty this past September to a 113-count indictment of federal hate crime charges for the shooting, including weapons and arson charges related to a separate anti-Muslim crime.
Earnest had previously been sentenced to life in prison on state charges related to the shooting after reaching a deal in that case to avoid the death penalty. While the judge ordered the state and federal charges to run concurrently, Earnest will serve the entirety of his sentence in federal prison, denying a defense attorney's request for a state prison stay.
Prosecutors said that on April 27, 2019, the last day of Passover, Earnest drove to the Chabad of Poway Synagogue in the San Diego suburb of the same name. He was armed with a fully loaded assault rifle and at least 50 additional rounds of ammunition, according to court documents.
The assault rifle had been legally bought just one day before the attack, according to court documents.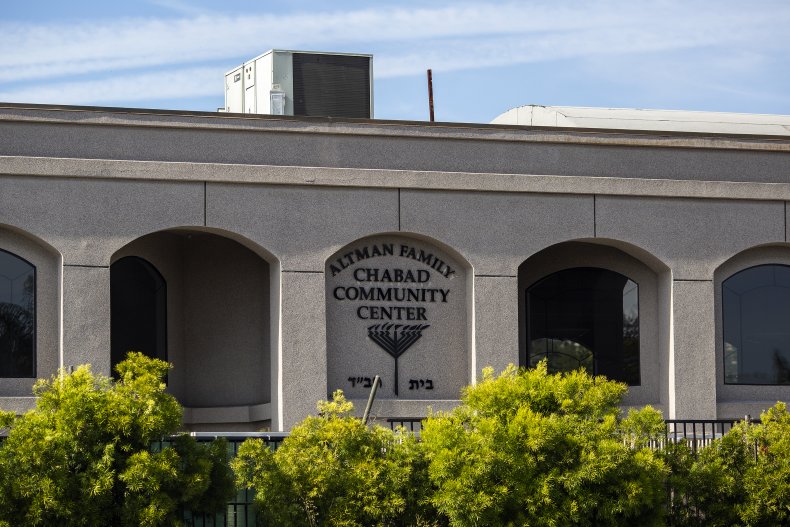 Earnest opened fire on worshippers in the synagogue, killing a 60-year-old woman, Lori Gilbert-Kaye, and injuring three others. The wounded included an 8-year-old girl as well as Rabbi Yisroel Goldstein, who was leading prayer services that day.
Earnest had reportedly been inspired by similar religious-based shootings in Pittsburgh, Pennsylvania, and Christchurch, New Zealand. Soon after the attack was complete, Earnest called 911 to report his crime, saying that he had been trying to save white people.
"I'm defending our nation against the Jewish people, who are trying to destroy all white people," he had told the dispatcher.
In addition to the synagogue shooting, Earnest had also pleaded guilty to attempting to set fire to the Dar-ul-Arqam mosque in Escondido in March 2019, reportedly because he also hated Muslims in addition to Jews. While nobody was injured, Earnest's admission led to the arson charges that were included in the federal indictment.
After the shooting occurred, Earnest's parents released a statement saying that their son's actions were a "terrifying mystery." However, prosecutors found that Earnest had frequented online chatrooms in which he spewed many "anti-Semitic and anti-Muslim statements, including expressing a desire to kill people because of their Jewish faith, and regret that he could not kill more," according to the DOJ.
"All people in this country should be able to freely exercise their religion without fear of being attacked," said Attorney General Merrick Garland after the sentencing. "This defendant's horrific crime was an assault on fundamental principles of our nation. The Justice Department is steadfast in its commitment to confronting unlawful acts of hate and to holding perpetrators of hate-fueled violence accountable."
Earnest's attack marks the latest in a string of antisemitic incidents that have been seen in the U.S. over the past few years. The Jewish advocacy group the Anti-Defamation League (ADL) has recorded at least 41 antisemitic events this December alone, according to data from their website.
The ADL told Newsweek in a statement that "ADL San Diego welcomes the federal sentencing of Poway Chabad synagogue shooter, John T. Earnest. This sentence is another step to securing some semblance of justice for the late Lori Gilbert-Kaye, her family, friends, loved ones, the three victims who were wounded, the Poway Chabad congregation, and the surrounding Jewish community, whose lives were forever changed by the actions of a man filled with antisemitic hatred.
"We are grateful to local, state, and federal law enforcement for this sentence. We continue to stand with Lori's family and the Jewish community against antisemitism and hate of all kinds."
Update (12/28/2021, 9:30 p.m. ET): This story has been updated with a statement from the ADL.