Man Who Killed Seattle Protester Charged With Homicide, Reckless Driving
Dawit Kelete, the 27-year-old Black driver who killed a racial justice protester in Seattle with his vehicle in the early morning hours of July 4, has been charged with vehicular assault, vehicular homicide and reckless driving.
"The investigation, which is being handled by the State Patrol and the FBI, is ongoing. Additional charges may be added or amended," the King County Prosecuting Attorney's Office said in a statement released Wednesday evening.
Around 1:40 a.m. on Saturday, July 4, Kelete drove his white Jaguar vehicle the wrong way down an exit ramp to enter Interstate 5, a section of highway that police had shut down for protesters demonstrating on the road.
Kelete swerved his vehicle around a barricade of vehicles and plowed into 24-year-old protester Summer Taylor and 32-year-old protester Diaz Love. Both Taylor and Love use they/them pronouns. Taylor died of their injuries later that day.
Love remained in the hospital with serious injuries. Love had been live-streaming the protest on Facebook for almost two hours before Kelete's vehicle struck them, abruptly ending their recording.
Kelete was stopped when another protester got into their car, chased him on the freeway and eventually blocked him by pulling their vehicle in front of his car. Authorities said they didn't consider mental impairment a factor in Kelete's actions.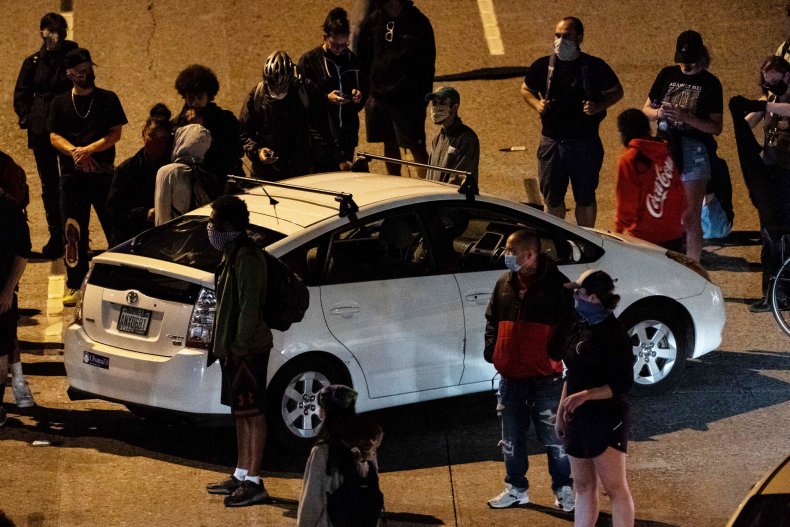 Kelete's lawyer, John Henry Browne, said the crash wasn't intentional but was a "horrible, horrible accident," adding, "There's absolutely nothing political about this case whatsoever. My client is in tears. He's very remorseful. He feels tremendous guilt."
Mr. Kelete's arraignment, where he's expected to enter a plea, is scheduled for 8:30 a.m. on July 22 in the King County Courthouse. His bail is set for $1.2 million.
On June 5, Love said on Facebook that they are in a stable condition, but remained "in a lot of pain." They will need a wheelchair while learning to walk again. More than $70,000 has been raised online for costs associated with their housing, newly needed wheelchair and physical rehabilitation.
" I cannot believe Summer was murdered," Love wrote. "If they thought this murder would make us back down, they are very wrong. Very wrong."
"My [Facebook] is filled with death threats, Love continued, "that and only being able to use one hand has me going slow. I deeply appreciate and feel all the love y'all are sending me." Love has been contacted for additional comment."
Urban Animal, the veterinary care clinic in Seattle where Taylor worked, wrote on Instagram that they were "a positive force of nature" who brought joy to others.