The Man Who Loved Ferguson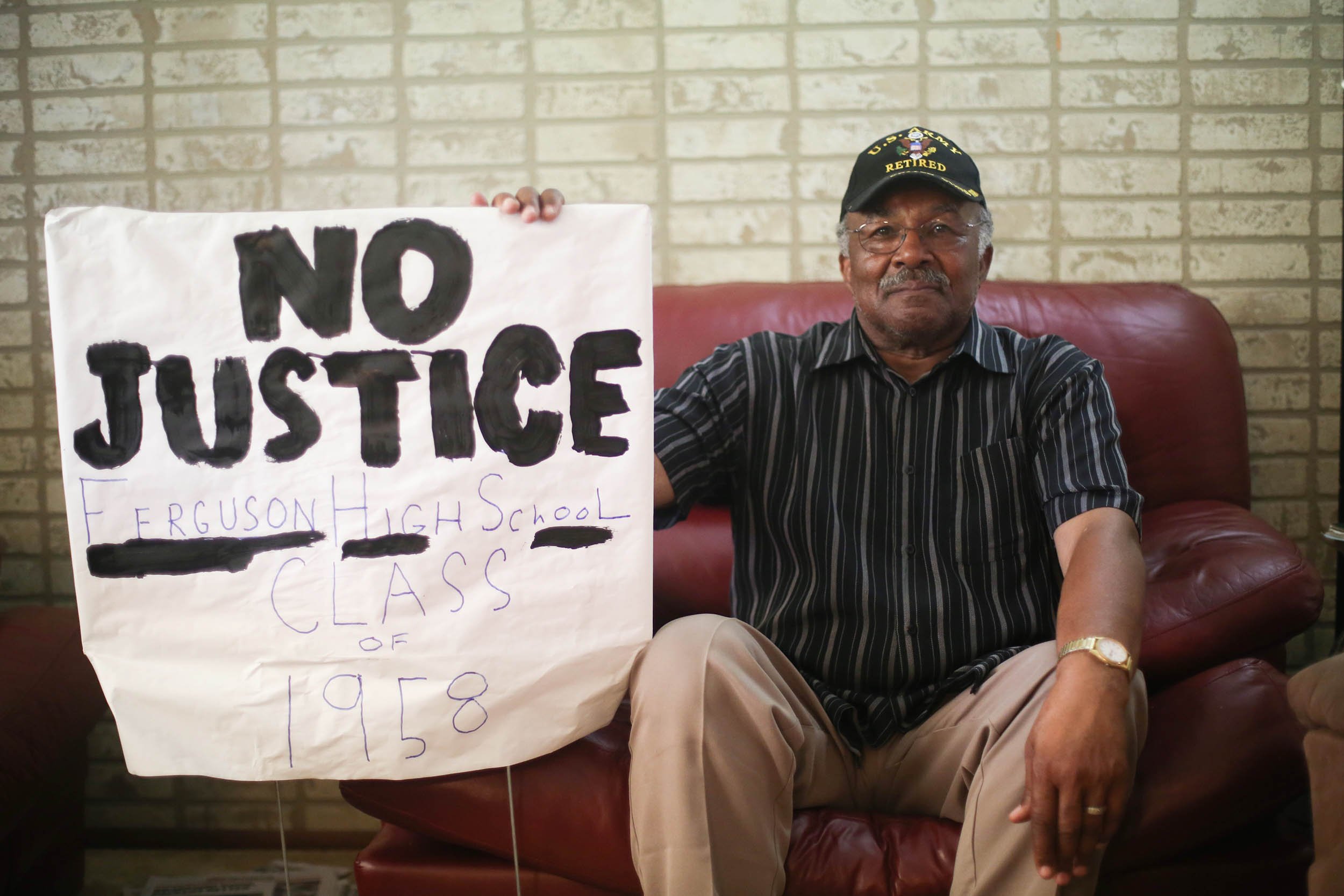 There were always rattlesnakes in the cotton fields. Seventy years on, Walter Rice still remembers the ominous sound of their approach. Once, he looked down and thought he was a goner, but his sister killed the looming serpent with a hoe. He laughs about it now, but back then, it was "not no fun," Rice says of picking cotton: the sun, the snakes, the bodily aches. In the morning, he also cleaned chicken coops. That wasn't fun, either. But there were 13 children to feed in the house in Coatopa, Alabama. His mother worked as a maid. His father worked in Birmingham's steel mills. And so, from the age of 5, Walter picked cotton.
Today, Walter Rice is 75. Today, Walter Rice is standing on South Florissant Road, across from the police station in Ferguson, Missouri, where protests over the killing of teenager Michael Brown by Officer Darren Wilson are going into their second week and, like a hurricane moving up the Eastern Seaboard, gathering force and fury.
Maybe you've seen him on TV, when a camera pans over the daytime protesters in the town center. Rice is the one wearing a black "Vietnam Veteran" baseball cap and waving a large American flag back and forth through the syrupy Missouri air. He may have been holding a sign that says "No Justice," a sign that also identifies him as having graduated from Ferguson High School in 1958. Earlier this week, he was parading around in a T-shirt that urged people to vote and make the town's leadership more representative of the town's residents: i.e., a lot less white. On Monday, Rice estimated that he walked 20 miles in the relentless heat of a Midwestern August. He wanted to tell the journalist from New York his story, but first he wanted to wash his face.
"I don't have too much of a voice," he warned, having spent the whole day protesting. And yet there were things he wanted to say.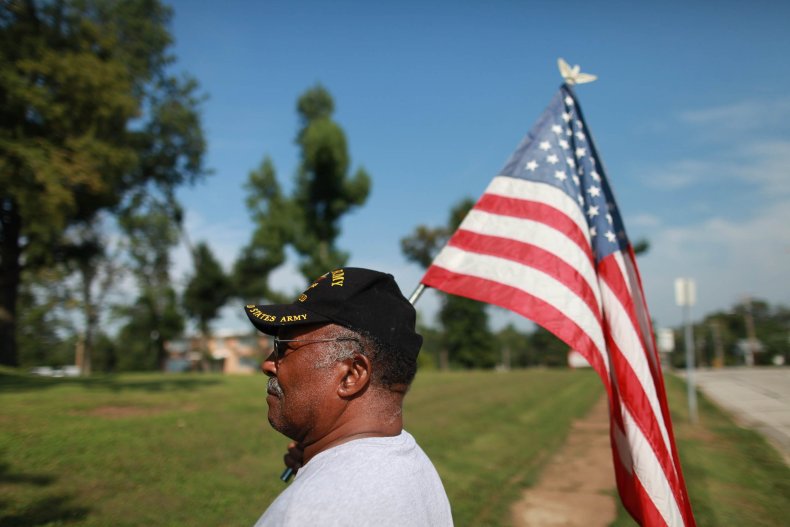 Do a little math: If Rice graduated high school in 1958, he probably started high school in 1954, the year of Brown v. Board of Education. He was a junior when the Little Rock Nine tried to integrate Central High and federal troops had to be summoned to keep the racist hordes at bay. Ferguson High School was not as bad as that, but it wasn't easy, either.
Others back then may have embraced resistance; Rice embraced acceptance. "I wasn't a fighter," he explains, adding that he was identified in his yearbook as a "happy guy with a winning way." He is proud of that and says he endeavored to remain that same happy guy as an adult. But today, Rice is a fighter of sorts, though he isn't waging his battle with Molotov cocktails. He told me that the officer who shot "Big Mike," as he calls the slain teen, was "a mad dog." And yet Rice disapproves of the violence that followed Brown's shooting, righteous as the underlying anger may be. He wants people to cast their displeasure into the ballot box, not through the window of a convenience store: "Change got to be done through a vote."
As if anticipating the charge that he is too accommodating to the whites who run this town, Rice confides that "a lot of people say I'm naive." He doesn't have an answer for that. But though the world may be full of rattlesnakes, he refuses to live in a state of perpetual combat with all the malicious forces that beset a black man in Missouri.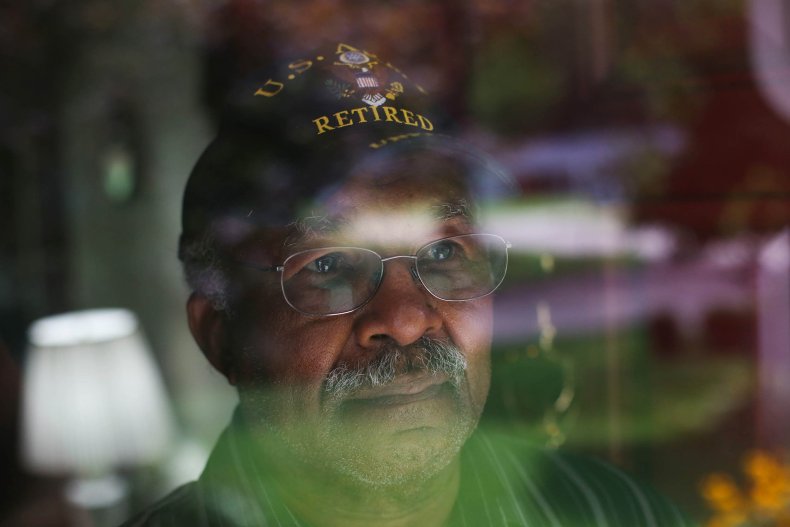 In 1948, when Rice was 10 years old, his family moved to Kinloch, Missouri, an exclusively black suburb that bordered then-white Ferguson (today, Kinloch is all but abandoned, with maybe a couple of hundred residents, while Ferguson is mostly black). Rice worked for a white grocer, cleaning the glass display cases where people thrust fingers at desired cuts of meat. His father worked at the Universal Match factory. They shared a house with another family, with just two or three rooms to call their own. His two sisters shared a bed; so did he and two brothers (the other siblings lived elsewhere). He remembers that house as a "rattrap," a term that had an all-too-literal meaning for Rice, whose feet were bitten by rodents while he slept. Sometimes, he showed up to school with bloody toes.
In 1954, Thurgood Marshall won the Brown case before the Supreme Court. Around that time, Rice's family got its first indoor toilet.
Rice says he does not remember much racism from his youth. He says his parents taught him from a young age that "we had a place." His goal was to rise gradually, inconspicuously. This was the way of Booker T. Washington, not W.E.B. Du Bois. Say what you will, but it worked. Rice graduated high school with a 1.1 GPA. He is unashamed of that fact, proud that he graduated at all. Of the 21 blacks who started high school in his class of 300, only two others did.
Rice kept working in grocery stores, hoping to become a butcher: He figured the impending integration of Local 88, the meat-cutters' union, could assure him a comfortable job and a decent life. But then Vietnam became more than just a distant nuisance, and Rice was drafted into the Army in 1962. He was trained as an electronics expert in Germany and worked at MacDill Air Force Base in Tampa, Florida. In 1972, he was sent to Vietnam for nine months to retrieve electronic equipment. He recalls "rockets all the time" and is reluctant to say much more. He was awarded a bronze star, but doesn't want to reveal for what, other than that it involved "hostilities."
After leaving the Army in 1982, Walter Rice did not move to a beach cabana on the Florida Panhandle or a ranch house abutting a Phoenix golf course. "I love Ferguson," he says. So he came back there, went to Florissant Valley Community College to learn to "speak proper English" and started working for the Defense Mapping Agency, which he did until 2002. In all, Rice spent nearly 40 years toiling in the service of his nation and is as proud of its flag as the most rabid Tea Party acolyte.
Blackness does not define Rice, yet he is not ignorant of history. An avid genealogist, he has visited 14 states in search of his familial origins. He has traced them as far back as a plantation in Greene County, Alabama, and a slave named Jenny and her son, whose name was Leech. His grandfather, Rice says, was born two days after the end of the Civil War. He recently had a DNA test, too, which told him that he is 87% African-American, but also a little bit Native American and a little bit Swedish. In other words, he is an American.
Rice, who had major heart surgery in 2000, was not looking for a fight in the summer of 2014. He has his garden to tend to, his history to work on. He was not looking to revisit the racial grievances that he had seemingly transcended so long ago. But the killing of Brown has left Rice rattled, driving him out into the streets to protest, along with Nation of Islam true believers from St. Louis and Occupy Wall Street activists from Chicago, although neither group would appear to be his natural allies.
"We screwed up," Rice says of what he sees around him today. It is a condemnation that seems to include white and black residents of Ferguson alike: the whites for abusing their power, the blacks for not wielding theirs until it was too late.
"I'm down there because I want peace," says Rice of his long days of protest on Ferguson's main strip. All that walking in all that heat cannot be good for his repaired heart. But until Ferguson is made right, he will keep waving his flag.
"Ain't no grave can hold this body down," he says, paraphrasing the spiritual that once rose from the cotton fields of the South, where he knew rattlesnakes lurked, yet where he went because he knew he had to.
"I don't fear nobody, nothing," says Walter Rice. "I just don't have that fear."