Garret Miller, Man Who Posted Selfie at Capitol Riot 'to Incriminate Myself a Little,' Arrested
Texas resident Garret Miller, who posted a picture of himself participating in the January riot at the U.S. Capitol on social media, was arrested by authorities on Friday.
Lawmakers were forced to shelter in place during the riot which interrupted the Congressional confirmation of President Joe Biden's victory in the Electoral College. Five individuals died in connection with the riot which was carried out by supporters of then-President Donald Trump. Many members of the mob broadcast their activities on social media, including Miller.
According to an affidavit from the Federal Bureau of Investigation, Miller posted a 14-second-long video taken inside the Capitol Rotunda that showed rioters waving flags. Miller captioned the video, "From inside congress."
Miller also posted a selfie of himself inside the Rotunda to his Facebook page.
"After MILLER posted the selfie above showing him inside the U.S. Capitol building, an individual on Facebook commented, 'bro you got in?! Nice!,' to which MILLER replied, 'just wanted to incriminate myself a little lol,'" the affidavit read.
On his Twitter feed, Miller refuted claims by a commenter that members of the mob were actually "paid infiltrators" and not "Patriots."
"Nah, we stormed it," Miller replied. "We where gentle. We where unarmed. We know what had to be done."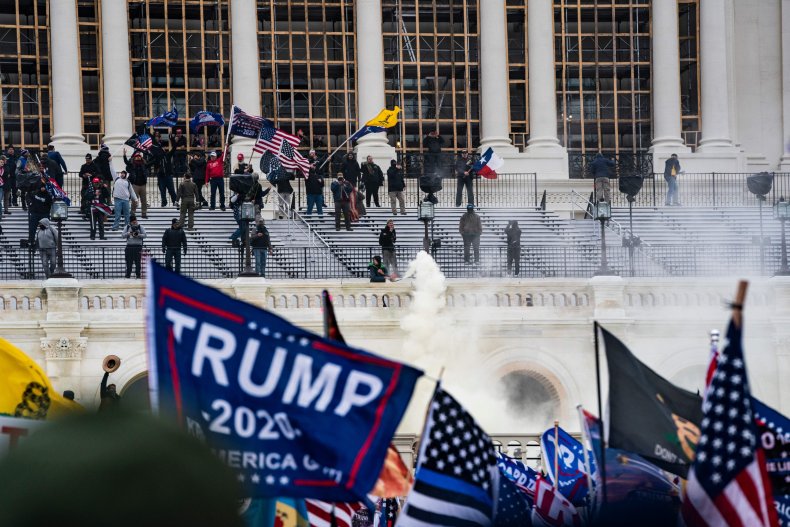 When New York Representative Alexandria Ocasio-Cortez tweeted "Impeach" during the riot, Miller responded by writing, "Assassinate AOC."
Miller telegraphed his appearance at the Capitol in the days before the riot. In a January 2 Facebook post, Miller wrote that he was "about to drive across the country for this trump shit. Some crazy shit going to happen this week."
Authorities were able to identify Miller after obtaining a search warrant for his phone number, which was connected to his Facebook account. Agents were also able to verify Miller's address, connecting it to Miller's ownership of a vehicle parked in the driveway.
Miller faces charges of knowingly entering or remaining in any restricted buildings or grounds without lawful authority, violent entry and disorderly conduct on Capitol grounds, obstructing or impeding any official proceeding and certain acts during civil disorder. Miller is expected to appear at a detention hearing on Monday.
Newsweek reached out to the FBI for further comment.
In a statement published Friday by the Dallas News, Miller's attorney Clint Broden said that Miller "takes responsibility for his actions" at the Capitol and "wants to move forward and put this behind him. He has the support of his family and his comments reflect misguided political hyperbole that will not be repeated."
More than 100 individuals have been arrested in connection with the riot while investigations into the identities of other people observed at the riot remain ongoing.