Man Who Punched Asian Woman in Chinatown Was Arrested 17 Times Before
The man who punched a 55-year-old Asian woman in an unprovoked attack in New York City's Chinatown had reportedly been arrested 17 times before the Monday incident, officials said.
Alexander Wright, who was arrested shortly after the attack, was charged with one count of assault as a hate crime, assault and criminal possession of a controlled substance in connection to the incident that took place in broad daylight outside of a restaurant on Bayard Street.
In 2020, the suspect was arrested eight times, according to authorities.
"[Wright] lives in a shelter, arrested eight times in the last year, randomly assaulting people, setting fires. The guy that was arrested on Friday setting fires. What are we doing in society, we're releasing these people right back onto the street?" New York Police Department Commissioner Dermot Shea said, WCBS-TV reported on Wednesday.
The vicious attack was caught on surveillance video and widely shared on social media after New York State Assemblymember Yuh-Line Niou tweeted the clip, which a constituent had sent to her.
The video shows a woman walking down the sidewalk before a man in an orange hoodie sucker-punches her in the face. The woman's head whips back and her cap falls off as she collapses to the ground. Several bystanders are seen gathering around her to check on her.
Police arrested the attacker shortly after, identifying 48-year-old Wright as the assailant. He is currently undergoing mental evaluation at Bellevue Hospital.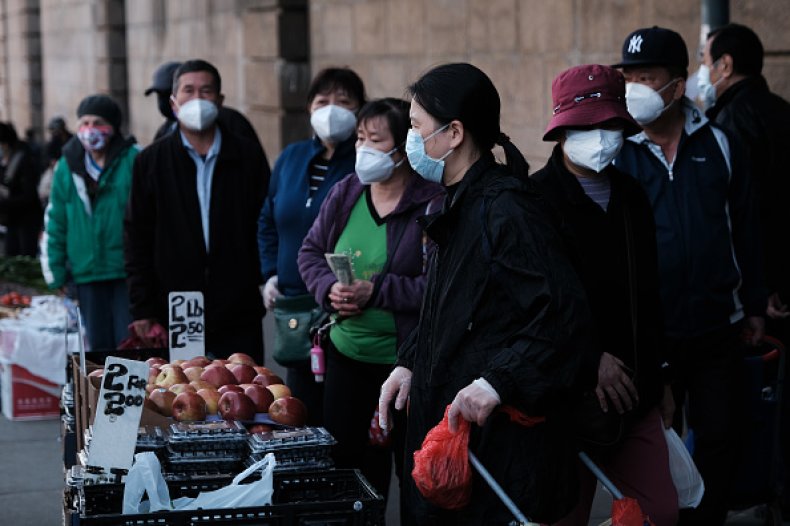 During a Wednesday press conference, mayoral candidate Andrew Yang criticized the city's handling of perpetuators.
"New York City has failed this woman. New York City has failed all of us," Yang said. "Alexander Wright should not have been on our streets. Some crimes are unforeseeable. This was completely foreseeable. Alex Wright had been arrested 17 times—8 times in the last year alone."
In New York City, police have investigated 42 attacks on Asian Americans during the first quarter of this year—a 223 percent increase from the same time last year, according to a report from the Center for the Study of Hate and Extremism at California State University, San Bernardino.
The NYPD has also created an Asian Hate Crime Task Force to address the rising violence.
But Yang emphasized that these attacks are not only racially motivated, but the result of a system that allows former criminals back into society with little help.
"For anyone watching this, who thinks this is an Asian issue, it is not only an Asian issue... This was not someone who was only victimizing Asian Americans, he was victimizing New Yorkers," Yang said on Wednesday.