Man Who Raped and Murdered Multiple Children Executed After Case Incited National Outrage
A self-confessed serial killer has been executed in Pakistan after his admission of multiple child murders sparked national outrage.
Mohammed Imran, 24, was hanged in the eastern city of Lahore early Wednesday, the Associated Press reported. The death sentence was carried out at the Kot Lakhpat prison after Pakistan's highest court rejected calls for a public execution.
His crimes were brought to light after the rape and murder of 7-year-old Zainab Ansari. The child's body was discovered in a garbage dump in the city of Kasur in the eastern province of Punjab on January 9, five days after she went missing while traveling to a nearby home for Quranic studies.
Ansari's death was one of a string of brutal child murders that took place in the local area over the past two years, the BBC reported. The killings—of which police said there had been around 12—prompted numerous public protests and riots calling on police to arrest anyone responsible and demanding greater protections for children and women.
Ansari's case caught the nation's attention and a photograph of the smiling child went viral, helping to rally Pakistanis, who pressured authorities to arrest and punish her murderer.
Relatives tracked down CCTV footage showing Ansari's last moments. The video showed the girl being led away by an unidentified man, and was widely shared by social media users in Pakistan in the hope of tracking down the culprit.
An autopsy indicated that Zainab had suffered brutal violence before she was strangled. Multiple injuries were found on her body and face while one of the bones in her neck had been fractured.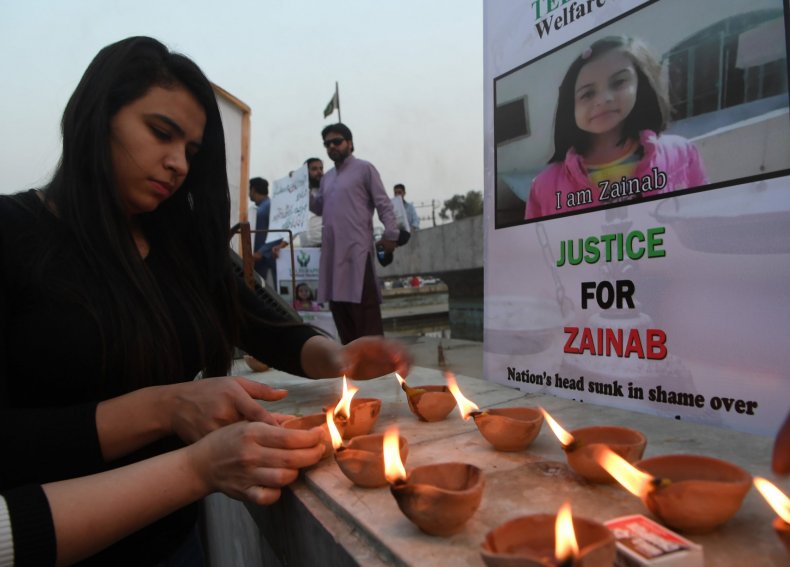 Imran was detained around two weeks later after a DNA test linked him to the crime. He eventually confessed to the killing and later admitted murdering seven other children.
He was convicted and his death sentence was upheld by appeals courts. Just before the execution, President Arif Alvi rejected a plea for clemency.
"Imran was taken to the gallows just before dawn and he has been hanged with a rope in the presence of magistrate and a doctor," local police official Mohammad Afzal told AP.
The murderer was executed in front of Ansari's father, Mohammed Amin Ansari. The mourning parent had asked for Imran to be hanged publicly as a warning to other would-be criminals, but his request was turned down.
Nonetheless, Ansari—who was on a pilgrimage to Saudi Arabia with his wife when his daughter went missing—thanked the police and judiciary for bringing Zainab's killer to justice. "My daughter will not come back, but I am satisfied that we got justice," he said.
According to the BBC, he also told reporters, "I have seen his awe-inspiring end with my own eyes."