Man Who Recorded Himself Kicking, Slitting Puppy's Throat on Social Media Pleads Guilty: 'I'm Cold Hearted'
A 19-year-old man pleaded guilty Thursday after posing a video of himself beating and slitting the throat of his puppy.
Angel Ramos-Corrales faces up to seven years in prison for the federal charges. The U.S. Attorney's Office brought Ramos-Corrales up on a felony count of animal crush. Animal crushing is the act of purposefully and intentionally torturing animals, according to the plea agreement. This federal crime often includes filming the abuse and distributing it online.
"[The] defendant purposely impaled his pet dog, a living non-human mammal, and subjected the dog to serious bodily injury inside defendant's residence in the City of
Riverside," the plea agreement stated.
Ramos-Corrales posted videos of the abuse to his Instagram and Snapchat accounts on Feb. 13. In the videos, he was seen inflicting several injuries to his four-to-six month-old chihuahua, Canelo. The puppy sustained skull and rib fractures, which made the dog fall face-first in the video, according to the U.S. District Attorney's Office.
In another video, Ramos-Corrales slit the dog's throat causing Canelo to bleed significantly before falling unconscious. Ramos-Corrales then stood over his pet, kicked him repeatedly and said "I'm cold-hearted," according to the Press Enterprise. The plea agreement included a detailed list of profanities and phrases used by Ramos-Corrales, which were also heard on the video. Viewers on social media called the Riverside Police Department in California to report the videos.
Riverside police responded to the complaints and went to Ramos-Corrales' home. When they arrived on the scene, Ramos-Corrales had bloodstains on his clothes and lacerations on his hands. His roommate was home at the time and had locked himself in his room after he saw Canelo rolled up into a rug and heard Ramos-Corrales shouting, the U.S. District Attorney's Office said.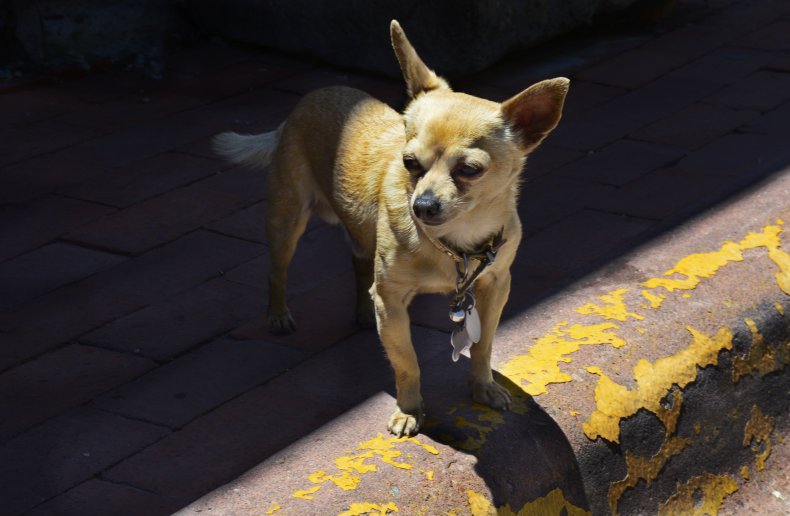 Despite Ramos-Corrales' recorded claims that he had killed his pet, Canelo was still alive when police arrived and arrested him. The puppy was taken to a veterinarian where he was later euthanized that night due to the nature and severity of his injuries, the U.S. District Attorney's Office said.
Ramos-Corrales had purchased the puppy four months prior through Craigslist. He said he did not recall what he had done to Canelo at the time of his arrest because he was intoxicated, the Press Enterprise reported.
The sentencing hearing for Ramos-Corrales is scheduled for Aug. 16 and he will be sentenced by U.S. District Judge John F. Walter.
Newsweek reached out for comment to Ramos-Corrales' lawyer but did not hear back before publication.