Jordan Hunt: Man Arrested for Kicking Anti-abortion Protester Has History of Alleged Attacks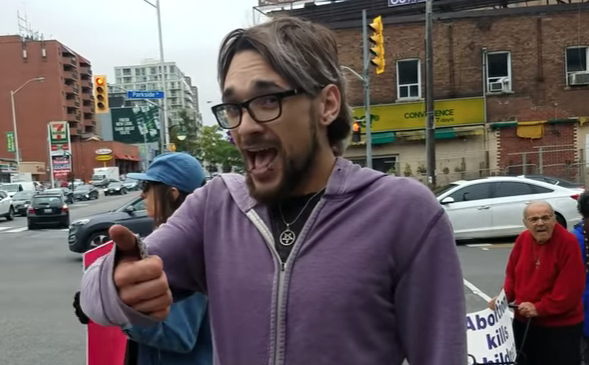 Toronto Police have arrested and charged Jordan Hunt—the man accused of roundhouse kicking an anti-abortion activist two weeks ago.
Hunt surrendered to police on Saturday night, a week after the incident allegedly took place. Hunt was charged with eight counts of assault and seven counts of mischief, according to the Toronto Police Service. Hunt is accused of kicking the anti-abortion protest's organizer—Marie-Claire Bissonnette—in the shoulder on September 23.
The police report alleges that Hunt approached the group, vandalizing their signs before being approached by Bissonnette. Video of the interaction shows the moment Hunt prepares to launch the kick. He can be heard afterward saying he meant to kick Bissonnette's phone. Bissonnette can be heard yelling for people to call the police.
The police statement also alleged that Hunt was involved in a similar incident in August. While riding on a bicycle, Hunt allegedly approached a group of activists in Toronto and tried to take away one of their signs. When the protestors fought back, Hunt pushed one of the women into a pole. He then fled the scene.
Police have charged Hunt with one count of assault for his actions in August—bringing the total assault charge count to nine. The September incident took place near High Park-Swansea. The August incident took place at the intersection of Dufferin St and Dundas St West.
Speaking to the Toronto Sun last week, 27-year-old Bissonnette said she did not see the physical attack coming. "He kicked me in the shoulder, my phone went flying," Bissonnette said. "I start shouting for someone to call police and before he runs away, he goes up to me and I had a ribbon on my jacket indicating [I was] the leader, he tore it off my chest.
"When he began to pose and you can see in the video that he positions himself for this, I guess it didn't register because it was very sudden. You would expect someone to start yelling in a loud voice or be very aggressive before they would go and physically assault someone."
Hunt has since lost his job as a hairdresser at Noble Studio 101. The salon released a statement on October 4 via Instagram. "It has been brought to our attention that Jordan Hunt has been caught on camera assaulting an innocent bystander at a pro life rally," Noble Studio 101 said. "We don't condone his actions and he has been let go. We believe that everyone has a right to an opinion and the right to voice their opinion without fear or physical violence."