Syria Crisis: The Man Who Stares At Boats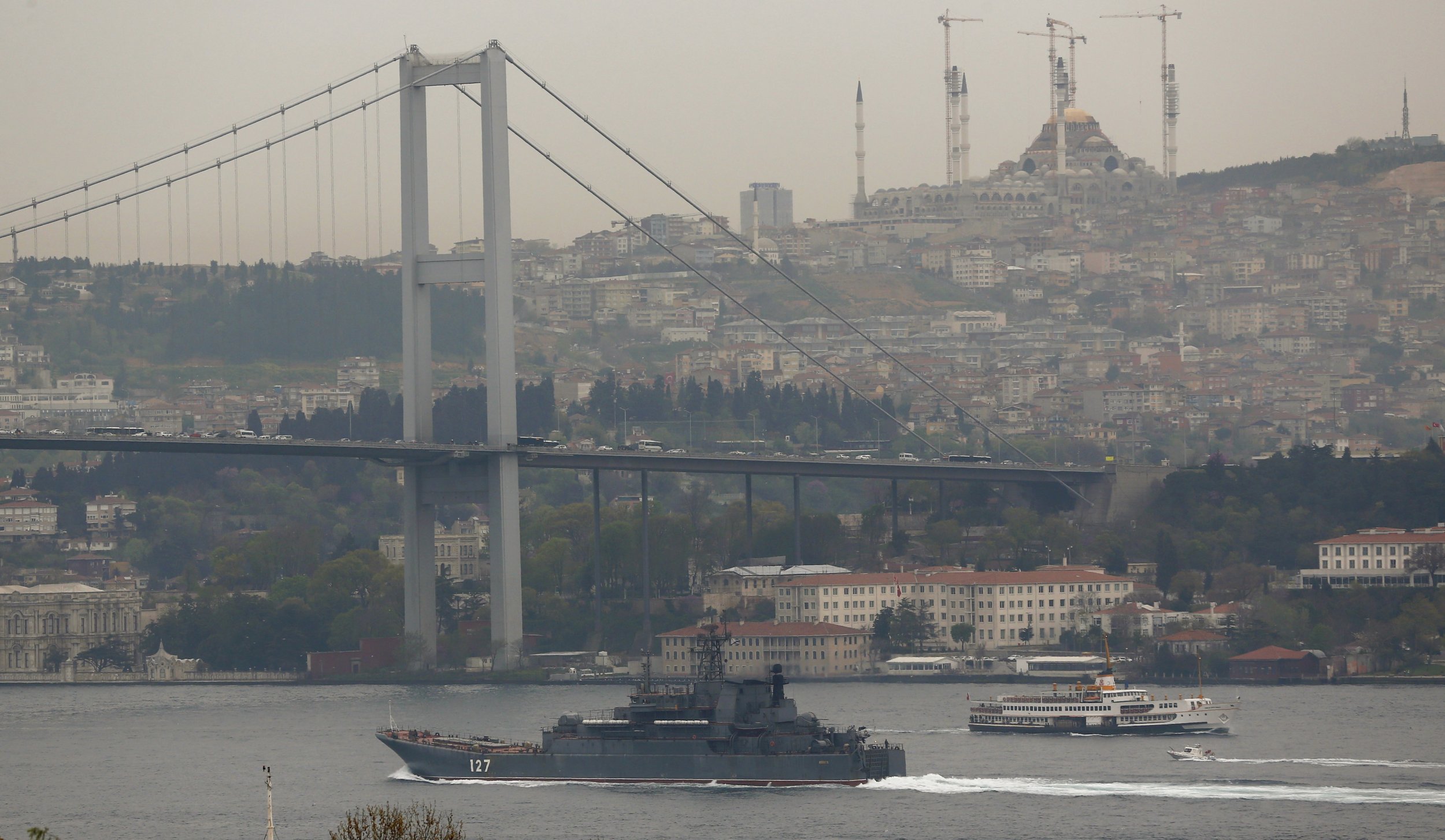 The Bosphorus, the small corridor of water splitting Europe from Asia has inspired the imaginations of everyone from Ancient Greek strategists to Cold War spy novelists. To this day the world's narrowest international strait, located in the centre of Istanbul, Europe's most populous city, is a tough route to cross unnoticed. But if you're seeking passage from the Black Sea to the vast Mediterranean, it is the only route.
One man, Devrim Yaylali, 45, has observed the comings and goings of the Bosphorus almost every day for eight years. This means, at one point or another, nearly every cruise ship, Russian frigate or merchant vessel to sail through Istanbul passed in front of his eyes—and more importantly—in front of his camera lens. He then writes about each one, posting them online on his blog Bosphorus Naval News.
"I started observing ships in the Bosphorus when I was a teenager and I began taking photos for myself in 1987," Yaylali Yaylali tells Newsweek. "At the start of the internet I published photos about the Turkish navy. Eight years ago I found it dull so I started to write about every ship that I saw in the Bosphorus on my blog and then merged all the pictures I took."
Since the Syrian Civil War began in 2011, interest in Yaylali's posts has increased, especially his coverage of Russian military ships.
"Because of my hobby I have been able to help with chronicling something that has become useful to experts," he says. "I have been a kind of special correspondent. My information is comprehensive and I get it online much faster than other sources."
Through a combination of his own photography, publicly accessible seafront webcams and websites which receive signals from any ship's transponders calling to port, he has compiled an impressive database of maritime traffic through Istanbul.
"This is not classified information. The Turkish Foreign Ministry knows every ship that crosses the Bosphorus but it publishes the information in bulk, only a few times a year. If they have not published anything in a while and an academic is writing about Russia's ships going to Syria or the Mediterranean, they cannot wait," he says. "It will be too late for an academic who needs this information quickly. What I do is post the image and what information I can provide online, instantly."
"I don't really wait for the ships at the strait every day, of course," Yaylali laughs. "And I am not the only one doing this. I have help. I have a day job, we all do." Yaylali and four of his friends, two architects, one college vice-dean and an international relations expert run his blog.
Their collective blogging has earned them over 1,000 daily visitors, despite the website's specialist nature, which now has a special tab, chronicling Russian ships' passage.
"It was around the end of 2012 when I started focusing on Russian vessels," he says. "I realised that I had been spotting a lot of Russian ships passing through Turkish straits and I thought wouldn't it be interesting to start a list."
Russia's murky involvement in Syria has repeatedly been called into question and its naval presence in the Mediterranean is viewed now more suspiciously than ever. Since announcing a drawdown on its forces in Syria last month, reports have estimated that Russia is still sending a steady stream of naval cargo to Syria and the Kremlin confirmed that Russian special operation troops are on the ground.
"As far as what I have seen in 2015, the Russians have sent a number of large landing ships and over the last year they chartered a number of civilian ships, probably around four or five, especially used for bringing reinforcements from Russia to Syria," Yaylali says. "The height of activity for military ships was still 2015."
These reports coupled with Moscow's recent admission that Russia has deployed troops as well as airmen in Syria, hint at a much larger Russian engagement on the ground than the Kremlin was initially willing to admit. But Yaylali refuses to play analyst, insisting what he does is merely observation.
Despite the political significance of his hobby, Yaylali does not think his own views are relevant. What fuels his hobby is his love of staring at boats.
"I'm just passionate about ships," he says. "I have been since I was a teenager. And there are many people all over the world who do what I do." He admits his wife is less excited about his naval obsession but he feels "blessed" with how supportive she is.
According to Yaylali, bloggers such as him make it harder for militaries to "fool the people". His figures show that over 60 Russian military vessels have crossed through Turkish waters annually since 2013, with the highest number recorded last year—74. Yaylali says he has seen no noticeable slowdown of this transit since Russia declared a major drawdown of its deployments in Syria. Over 20 vessels have already made the same journey in the first three months of this year.
Recently, he says he has noticed the Russian navy trying Soviet-era tactics to hide its tracks on the way to the Mediterranean. Captains try to pass off ships Moscow has diverted from deployments elsewhere, as new units are sent through the Bosphorus. That practice is designed to stifle attempts to estimate the strength of Russian naval deployments.
"Before in Soviet times every time a ship went from the Black Sea to the Baltic Sea for example the Russians changed its identification number. They stopped doing it for a long time but they are doing that again now. That leads me to believe that they have not changed the number of frontline warships in the Black Sea but they are trying to make it seem like they have. "
"These tactics used to be good but now anyone can take a photo of the ship and post it online. It is easy to recognize ships that way," he says. "There is so much information online nowadays."
Yaylali does not try to guess at Russia's larger plan in Syria and says he has "difficulty understanding the Russian mentality and the way of thinking of their commanders." However his figures appear to cast further doubt on the transparency of Russia's operations in Syria.
Ironically, Yaylali does not sail. "No, no I am not a sailor. I love the sea. I like to swim. I like to dive. I would like to own a boat but I don't… not yet. Maybe one day. "