Man Who Thought He Won $25 on $5 Scratch Off Actually Hit $250k Prize, Shocks Family
An Ellenboro, North Carolina man was shocked to learn he was the top prize winner of a $5 scratch-off ticket, initially thinking he only won $25.
"It took me a while to realize I actually won something after the shock wore off," Danny Sims told North Carolina Education Lottery officials. "I was so excited I had tears in my eyes."
Sims purchased his winning 20X The Cash ticket from a Key Largo Food Mart.
According to the North Carolina Education Lottery, the game first launched in February 2021. There were 14 top prize tickets released and four of them remain. The next highest prize is $10,000, followed by $2,000.
Val Denton, the communications director for the North Carolina Education Lottery, told Newsweek that the game will continue until the top prizes are claimed. Once all of the $250,000 tickets have been won, the game will end.
Sims told officials he thought he won $25, but the realization of winning the top prize gradually hit him.
"I just froze and thought, 'Oh my God,'" he said. "I thought it couldn't be real. It was so hard to believe."
Jonathan LaRowe, the public relations specialist, told Newsweek that he met with Sims when he traveled to Raleigh to claim his prize. Those who win a prize of $100,000 or more are required to claim their winnings at the North Carolina Education Lottery headquarters.
"He was someone who seemed like it hadn't sunk in just yet, he was a little bit emotions," LaRowe said. "He was almost trying to process it."
When Sims told his family, who enjoy playing jokes on one another, they did not believe him.
"We are pranksters," Sims said. "We are always pranking each other so they thought I was just messing with them."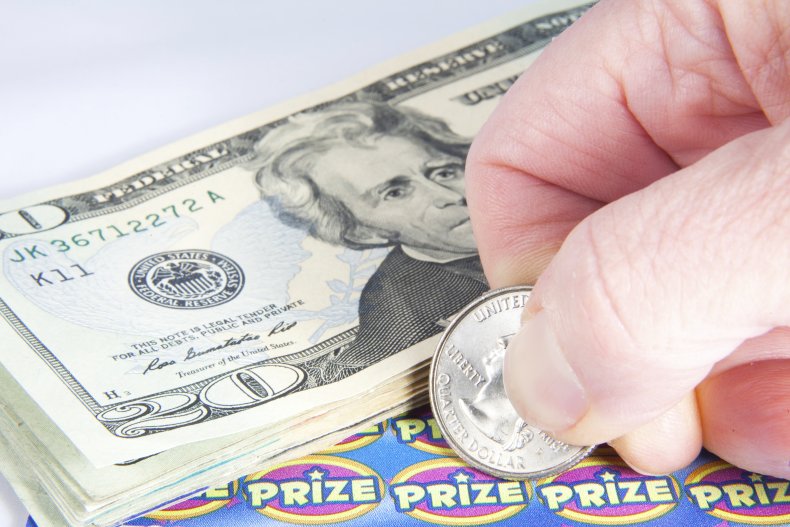 Lottery proceeds go toward public education throughout North Carolina. More than $729 million was put toward pre-k programs, construction projects for schools and college scholarships and grants for students with financial needs.
"Money raised by lottery scholarships, based on financial need, help students cover the costs of attending a state university or community college in North Carolina," officials with the North Carolina Education Lottery said. "Last year, 22,267 students received a lottery scholarship."
Proceeds have also helped cover salaries for school staff and have gone toward school transportation.
Sims, who took home $177,526 after state and federal tax, told officials he planned to use the money to pay some bills and to help pay for his stepfather's house.
Newsweek previously reported that a Michigan woman purchased a lottery ticket after her mother suggested she do so and won $1.6 million.