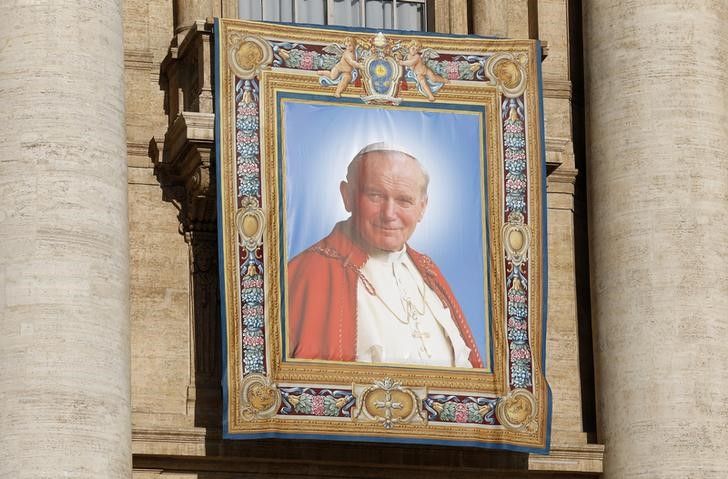 Mehmet Ali Ağca spent three decades behind bars for attempting to assassinate Pope John Paul II on May 13, 1981. On Saturday, Ağca, 56 years old, made a pilgrimage to the Vatican, the very place where he tried to take the former Pope's life 33 years ago, to place white roses on Pope John Paul II's tomb.
"A thousands thanks holiness. This is a miracle that goes on," Ağca said in Italian. "The mystery of Fatima goes on. Long live Jesus Christ!"
Ağca, 23 at the time, shot Pope John Paul II twice at close range while the pope was travelling in an open car through St. Peter's Square in the Vatican City. He was arrested immediately following the attack, which left the late Pope in critical condition.
The assassination attempt prompted the Vatican to add glass to the vehicle used to transport the pope during public visits, nicknamed the "Popemobile." Pope Francis said this year it is his preference not to use the bulletproof vehicle because it distances him from people.
Pope John Paul II served as head of the Roman Catholic Church from 1978 until his death in 2005, at age 84, following complications from a urinary infection.
Only a few days after being shot, he publicly forgave Ağca, who is of Turkish descent, for attempting to kill him, and went to visit him in the Roman prison where he had been sentenced for the assassination attempt and the 1979 murder of Turkish journalist Abdi İpekçi. Ağca was originally sentenced for life following the assassination attempt, but was pardoned in 2000 by Italy and extradited to Turkey, where he was held in prison until his release in 2010.
It's still unclear why Ağca attempted to assassinate the pope; originally, he testified that he had been on a solo mission. Later on, he said that the attack had been planned by Soviet and Bulgarian secret services. A 2006 investigation led by an Italian parliamentary commission corroborates said claim; the investigative team said the attack had been orchestrated by former Soviet Union leaders "beyond a reasonable doubt." At the time, Ağca was associated with the Grey Wolves, a right-wing Turkish nationalist group. He was sought by Turkish police for various crimes, including armed robbery, when he attempted to murder the Pope.
On Saturday, Ağca told authorities that he arrived at the Vatican intending to pay his last respects to the former Pope. "I felt the need to make the gesture," Ağca told police, according to Italian media reports. He was then authorized to visit the tomb, where he was filmed by Italian news agency ADNKronos. There he hovered over Pope John Paul II's tomb inside Saint Peter's Basilica for several minutes in silence, then placed two dozen white roses on his grave, according to Vatican deputy spokesman Father Ciro Benedettini.
Ağca told police that he hoped to meet the current pontiff, Pope Francis, during his stay, but his request was denied by the Vatican. He had requested a meeting with Francis when the Pope visited Turkey last month, but his request wasn't granted then either, according to AFP. Spokesman Federico Lombardi told Italian paper La Repubblica that putting flowers on John Paul II's tomb was "enough."