Updated | A recently released graphic video showing the deaths of Green Berets defending against an ambush from purported Islamic State militant group (ISIS) fighters in Niger shows not only the harsh realities of war but also its complexities, according to a researcher who helped uncover the grisly tape.
Mohammed Mahmoud Abu al-Maali, a Mauritanian author and expert on jihadi groups in West Africa, tweeted a blurry screenshot of what appeared to be a wounded or dead U.S. soldier on January 24. Accompanying the tweet, he explained that he had obtained footage showing the infamous October 4 attack claimed only days earlier by ISIS.
Related: U.S. soldiers killed in Niger seen battling ISIS in new video of their last moments alive
Maali told Newsweek that the tape had been acquired by the Mauritanian outlet he worked for, Agence Nouakchott d'information. That same day, the Pentagon's Africa Command confirmed it was probing Maali's posts, which appeared in Arabic and French. News of the video spread and circulated among journalists, as The Washington Post reported, but ISIS did not begin circulating the video until Monday. In a new interview, Maali revealed why his agency chose not to publish it.
"The agency received the video but did not publish it out of respect for the feelings of the families of the slain American soldiers, whose faces are shown," Maali said.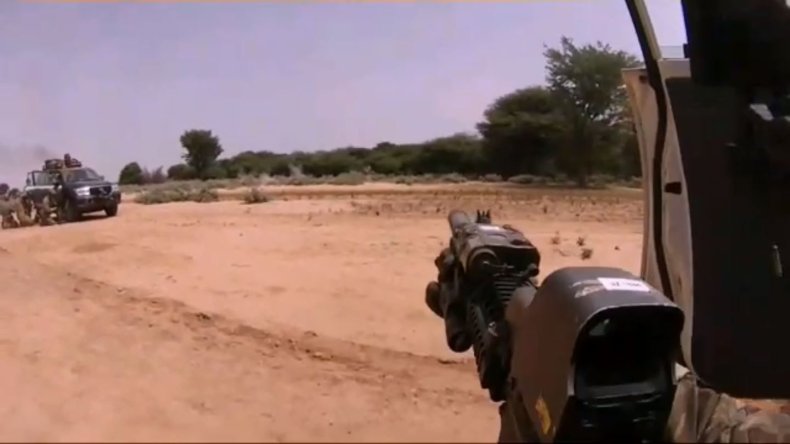 Maali said he believed that The New York Times also possessed a copy and that his agency received the video through "many contacts from different areas, but we are not distributors of Islamic State material." Analyzing the greater implications of U.S. Army Special Forces operating on the restive Niger-Mali border, he said the footage showed the growing role the U.S. was playing in a region already fraught with instability.
"The American military presence was supposed to be limited to the training and rehabilitation of the armies of the region. But the exposure of American forces to the ambush during the month of October in the town of Tongo Tongo on the border between Mali and Niger, while carrying out the elements of a combat mission, revealed that the U.S. presence in the region has become part of the war there, as did the presence of dozens of American drones in Niger," Maali told Newsweek.
Once ISIS released the video and it became public, Newsweek obtained the clip Monday from one of many pro-ISIS accounts sharing it and chose to publish a 27-second excerpt that did not feature any injury to or death of U.S. personnel, nor the ISIS propaganda music the jihadis had edited over the sounds of combat. Jack Murphy, an editor at special operations forces news site SOFREP, explained why his team chose to publish a roughly five-minute, censored version of the battle footage, which ISIS obtained from cameras embedded on the equipment of the slain troops.
The original ISIS video is over nine minutes in length and opens with a typical jihadi call to arms, as well as scenes of West African militants pledging allegiance to ISIS, a brief shot of ISIS leader Abu Bakr al-Baghdadi's infamous June 2014 speech from Iraq's second city of Mosul, and still images of U.S. soldiers both alive and dead.
After showing a first-person perspective of the U.S. team's desperate attempt to flee a surprise assault by up to 50 militants associated with ISIS in the Greater Sahara near the border village of Tongo Tongo, the jihadis show off the bodies of two dead U.S. soldiers. That day, four U.S. personnel were killed and two more wounded, while Nigerien forces suffered five dead and eight wounded.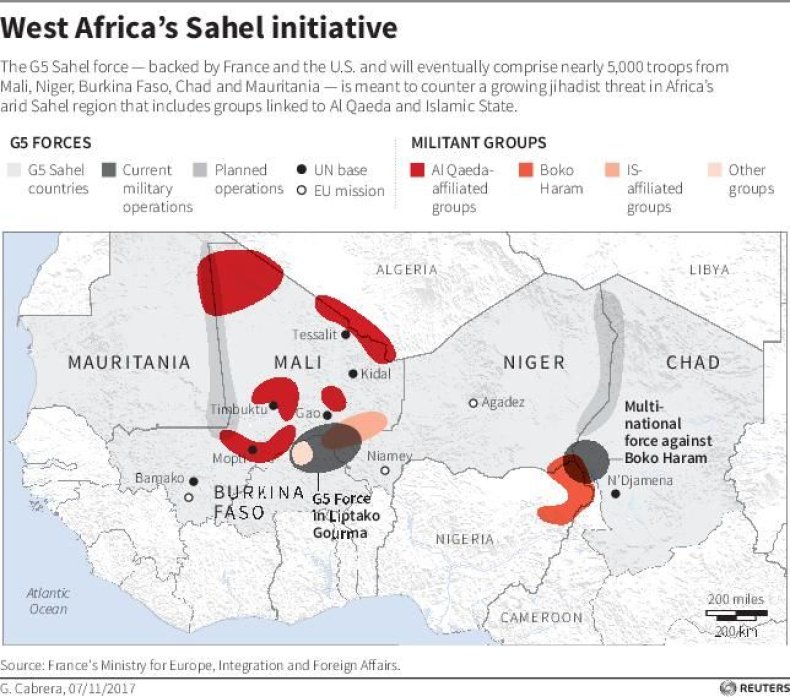 The attack sparked a public debate about the U.S. military's quiet yet expanding role in Africa, especially the Sahel region where ISIS has traditionally been overpowered by Al-Qaeda allies such as Al-Qaeda in the Islamic Maghreb, Ansar al-Dine and Al-Mourabitoun. Highlighting the difficulty of tackling such a mission, Marine Corps General Thomas Waldhauser, commander of U.S. Africa Command (AFRICOM), told the House Armed Services Committee on Tuesday that the U.S. strategy incorporated more than just military action and worked "by, with and through" local partners to tackle groups such as Al-Qaeda, ISIS and Nigeria's Boko Haram.
"Our mission statement deliberately highlights the importance of 'with partners,'" Waldhauser said. "In reality, very few, if any, of the challenges on the African continent can be resolved through the use of military force."
"AFRICOM's first strategic tenet underscores that our military activities are designed to support and enable U.S. diplomatic and development efforts," he added. "We can create time and space for governments to establish effective and accountable governance while fostering conditions for economies to develop."
AFRICOM further defended its mission in an email sent to Newsweek.
"U.S. Africa Command does not conduct any operations without the consent of, and in direct, full coordination with, the host nation, most often at their individual request. These efforts are in partnership with the respective host government and reflect the commitment and desires of African partners for stability and security within the region," a spokesperson said.
"One of our core missions at AFRICOM remain that of helping our partners strengthen defense capabilities. Specifically in West Africa, U.S. Department of Defense personnel are there as part of an international effort, led by 4,000 French troops, to defeat terrorists in West Africa," the spokesperson continued.
Maali, however, argued that Washington's efforts to quell Islamist insurgency in the region may have actually exacerbated the issue.
He has authored at least two books on the complex dynamics of the jihadi groups in the region, including The Rivalry Between Al-Qaeda and the Islamic State in the Sahel and Sahara in 2017 and Al-Qaeda and Its Allies in Azawad in 2014, both published by the Al Jazeera Center for Studies. He also authored a 2012 report titled "Al-Qaeda and Its Allies in the Sahel and the Sahara," published by the same research center.
West Africa fighters affiliated with ISIS, a global brand that grew out of a coalition including Al-Qaeda in Iraq in the aftermath of the 2003 U.S. invasion of Iraq, were mostly concentrated in northeastern Mali, according to Maali. They consisted of various Nigerien tribal fighters and were recently joined by a mostly Arab tribal faction from northwestern Mali that split from the Al-Qaeda-affiliated Jama'a Nusrat ul-Islam wa al-Muslimin, according to Maali.
The majority-Tuareg Azawad National Liberation Movement has also fought both the Malian government and Al-Qaeda affiliates for control of northern Mali.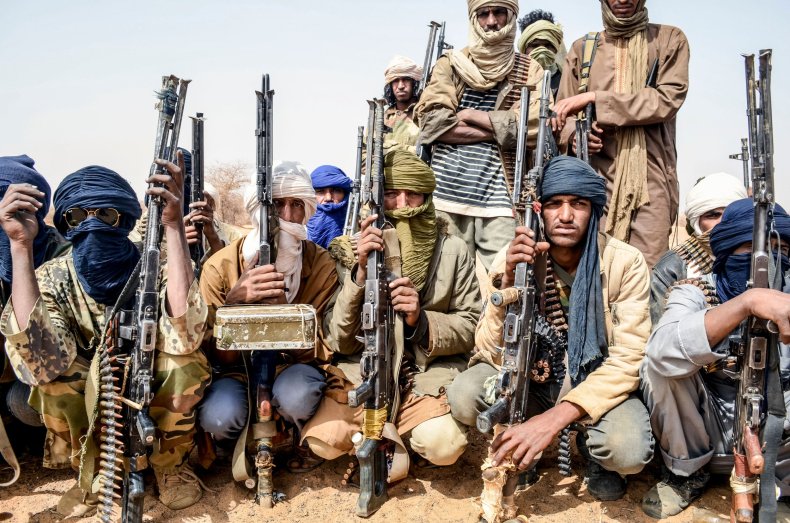 ISIS also became active in Libya after a military intervention by NATO supported a rebel uprising against longtime Libyan leader Muammar el-Qaddafi in 2011. The violent civil war between rival factions competing for power allowed ISIS to take hold in the city of Sirte, where they were expelled by U.S.-backed Libyan forces in 2016. Maali said the remaining militants fled south and were linked to ISIS elements in Mali and Niger, where Washington was set to become more involved than ever, threatening to drag the U.S. into another prolonged conflict abroad.
"This American presence is expected to further complicate the situation, as did the French presence, which began in early 2013 and was aimed at eradicating militant groups in northern Mali," Maali said. "After five years of confrontation, the result was the birth of more militant groups in the region and the spread of violence south toward central Mali."
He added, "Moreover, the American experience in Iraq and Afghanistan has proven that foreign intervention is always a cause of more tension and instability rather than bringing security and stability."
This article has been updated to include statements made by AFRICOM commander Thomas Waldhauser during his testimony Tuesday to the House Armed Services Committee and a statement sent by an AFRICOM spokesperson to Newsweek.