The Man Who Voted Against Banning Psychologists From National Security Interrogations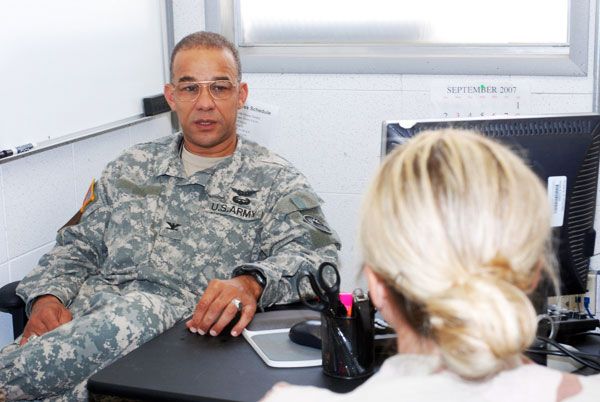 Updated | When the American Psychological Association (APA) voted 156-1 last week to ban psychologists from participating in national security interrogations, the lone dissenter was retired Colonel Larry James, a former chief psychologist at Guantanamo Bay and Abu Ghraib. He is also one of the people who inspired the vote in the first place.
"Gosh, I get it. Abuse, human rights, no torture—who's going to disagree with that?" James said in the APA debate before the vote. "But I'm worried about second-, third-order effects, unintended consequences. So I need to know: Does international law supersede U.S. law? Because if the answer to that is yes, this has dire negative consequences for all federal employees, particularly in the VA and the department of homeland defense."
The APA's 123rd annual convention in Toronto was its first since a damning report found that its leadership collaborated with the Pentagon and CIA in the Bush administration's post-9/11 interrogation programs, which groups such as the International Red Cross say included torture. The report said, among other things, that the APA's ethics director bolstered the program's credibility by keeping the organization's ethics policies in line with the Defense Department's interrogation goals.
James, who did not respond to Newsweek's request for comment, allegedly advised and participated in some of the very interrogations that the APA voted to ban. In 2010, the Harvard Law School International Human Rights Clinic filed two ethical complaints against James for his work at the prison facilities, one in each of the two states he's licensed to practice—Louisiana and Ohio. The complaint alleges that during his tenure at Guantanamo in 2003, "boys and men were threatened with rape and death for themselves and their family members; sexually, culturally, and religiously humiliated; forced naked; deprived of sleep; subjected to sensory deprivation, over-stimulation, and extreme isolation; short-shackled into stress positions for hours; and physically assaulted."
In 2009, Harvard Law Professor Bill Quigley and Deborah Popowski, then a fellow at the Harvard Law School Human Rights Program, described an incident involving James at Guantanamo:
Col. Larry James watched behind a one-way mirror in a U.S. prison camp while an interrogator and three prison guards wrestled a screaming, near-naked man on the floor.

The prisoner had been forced into pink women's panties, lipstick and a wig; the men then pinned the prisoner to the floor in an effort "to outfit him with the matching pink nightgown." As he recounts in his memoir, "Fixing Hell," Dr. James initially chose not to respond. He "opened [his] thermos, poured a cup of coffee, and watched the episode play out, hoping it would take a better turn and not wanting to interfere without good reason."
James says he eventually intervened, though he never reported the incident, according to Quigley and Popowski. They also say this makes James complicit in activities that constituted war crimes. In 2008, James said in an interview with a member of the military's public affairs team, "I am proud to say that I have not seen a guard or interrogator abuse anyone in any shape or form.... These young men and women go out of their way well beyond the call of duty to make sure that detainees are treated safely and humanely at all times."
Though James was the only dissenter in the APA's vote last week, he wasn't the sole representative to take issue with the resolution; six abstained from voting. Dan Aalbers, an instructor in psychology at Sierra Nevada College and one of the resolution's authors, said prior to the vote, "there was a line of people at the microphone." Aalbers presumes they were in line to add last-minute amendments that would soften the bill.
APA votes are usually anonymous, but this one wasn't; each member had to publicly say "yay" or "nay." Dr. Jeanne LeBlanc, the APA representative who called for the roll call vote, says she has received a cascade of hate mail since Friday. Many messages have also trickled in from fellow APA representatives saying they felt coerced into their vote, implying there may have been more people coming out against the resolution had the vote not been so public.
The new policy condemns torture as defined by the U.N. It also states that psychologists "shall not conduct, supervise, be in the presence of, or otherwise assist any national security interrogations for any military or intelligence entities, including private contractors working on their behalf, nor advise on conditions of confinement insofar as these might facilitate such an interrogation."
Some APA members fear the new policy will not be incorporated into the APA's ethics code, making the vote largely symbolic. "Behind closed doors," said Aalbers, "the ethics committee can decide that it does not want to make this policy part of the ethics code."
The recent report on the APA's involvement in the Bush-era interrogation program suggests that the deputy ethics director, Lindsay Childress-Beatty, helped support past policy. After military psychologists argued for the use of psychological stressors such as sleep deprivation and withholding food in 2002, Childress-Beatty wrote that they "may not be cruel, unusual, inhuman, degrading treatment or torture depending upon factors such as the situational context, length of time used, and intensity," according to the report.
"That was one line in a lengthy memo," Childress-Beatty tells Newsweek in an emailed statement. "It was not supporting any APA policy or attempting to state what policy should be, nor was it an endorsement of using such techniques."
Regardless of what happens next, Steven Reisner, an APA representative, says the resolution's passage is a positive step. And James's lone dissenting vote, Reisner adds, is a clear sign that APA's involvement in national security interrogations "was not the will of psychology" but rather "the desire of a very small group of psychologists who personally were involved in those operations."
Correction: This article originally incorrectly stated Lindsay Childress-Beatty's title as chair of the ethics committee. She is deputy ethics director.
Update: This article has been updated to reflect a comment from Lindsay Childress-Beatty.