Akbar Rogers, whose controversial arrest went viral this past December, said the contrast between how officers treated him and a mass shooter highlights the problem with how officers view people based on their race.
Freeport, New York, officers punched, tased and shouted expletives at Rogers while making the arrest, which ended with Rogers being charged with assaulting the officers. Six months later, George Floyd's death in Minneapolis police custody put Rogers' arrest back in the spotlight, but attorneys on either side of the case disagree on whether the altercation constitutes police brutality.
A Change.org petition calling for an investigation and the arrest of the Freeport officers gathered more than 9,500 signatures. State Assemblywoman Michaelle C. Solages told Newsweek that officers "crossed the line" and said it was "extremely difficult" to understand how Rogers wasn't considered a victim of assault.
Comparing his experience with the seven officers involved in his arrest with the police's apprehension of mass shooter Dylann Roof, Rogers told Newsweek it "absolutely" shows the differences in how officers view white people and people of color.
"You have white kids in schools all across the country that shot them up, or a deranged white supremacist, they walk out unscathed," Rogers said. "Nothing on their bodies. But I come out here with a fractured wrist, dislocated shoulder, abrasions, lumps on my head. It's crazy."
Video footage of officers arresting Roof, who was found guilty of killing nine worshippers in 2015 after opening fire in an African American Church in Charleston, South Carolina, showed officers calmly taking him into custody. Officers treated Roof the way a person under arrest should be treated, Rogers' attorney, Randy Zelin, head of the criminal law practice at Wilk Auslander LLP, told Newsweek, because someone who's presumed innocent should be shown respect and dignity.
But, he said, that didn't happen with his client, which shows the "systemic racism that is so pervasive" through police departments.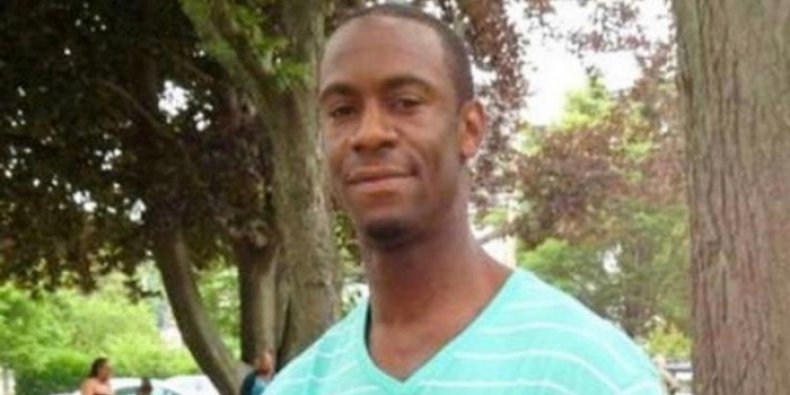 Rogers said there's a disconnect between officers and communities, where Black people are looked at "like animals" and treated "with a little disgust."
"It's been like this for decades," he said, adding that the sad part is that Black people got so used to being treated poorly that they just dealt with it. That's changing now, though, because people got "tired of it," he said.
"There's a lot of good people in blue, and it's the sour ones that taint the badge," Rogers said. "It's going to take some time with the community and mending the trust with civilians, because right now a lot of people don't trust the police."
William Petrillo, an attorney for the officers, told Newsweek his clients have an "excellent relationship" with community members and "care very much" for the people they serve to protect.
Petrillo denied that Rogers' arrest was a case of brutality. He said police were confronted with a "violently resisting subject" who was wanted for assaulting a pregnant woman and led police on a high-speed car chase that endangered the community.
Rogers admitted in December that he fled from the police but said by the time officers caught up with him, he had surrendered.
"I thought I was close to death. I just felt multiple bodies coming onto my back, the wind just blew out of my body.... I was screaming out for help, that they were killing me, and they just didn't care," Rogers said.
Solages criticized the officers for pummeling Rogers "into submission" while verbally harassing him and said the interaction didn't reflect the law enforcement ideal of police professionalism. Based on what she saw in the video, Solages said, the resisting arrest and assault charges should "definitely be dismissed."
"The fact that these felony assault charges and resisting arrest charges are still pending—even in the face of the undisputed evidence—only shows the tone deafness and systemic injustices that permeate through our criminal justice system," Solages said. "It is time to end the unjust war on Black Americans."
Rogers filed a $25 million lawsuit against the Freeport Police Department, and on Monday people gathered at Freeport Village Hall to call for the officers to be held accountable in his case. They demanded that the officers be terminated or placed on unpaid leave and for Nassau County District Attorney Madeline Singas to fully drop the charges against Rogers. Zelin told Newsweek that justice means dropping the charges against his client.
Miriam Sholder, deputy communications director for the district attorney's office, told Newsweek that Singas was "troubled" by what she saw and heard in the video of Rogers' arrest. She launched an investigation in December, bringing in an out-of-state expert to review the altercation. That investigation was conducted, and Sholder said an announcement about the findings and anticipated action is expected soon.