Man Who Waved Confederate Flag at Removal of KKK Founder's Remains Under Investigation
The man who was captured on camera using racist insults against Shelby County Commissioner Tami Sawyer in Tennessee is now under investigation by police.
The Memphis Police Department confirmed to WREG Memphis Thursday that the man seen in the video waving a confederate flag is under investigation as crews continued the process of moving the remains of KKK founder and Confederate General, Nathan Bedford Forrest from their spot in a Memphis park to their new home in a confederate museum.
The man is a member of the Confederate 901 group and was there as a volunteer with the group hired to move Forrest's remains. He has since been identified as George "K-Rack" Johnson and has been accused of covering up a Black Lives Matter mural with bricks, singing "Dixie," and using misogynistic insults at Sawyer.
"I thought it was very unacceptable. As stated, and reported, that gentleman was asked to leave the premises and asked not to return to the worksite," said Shelby County Commissioner Van Turner. Threatening a sitting elected official and singing 'Dixie' is not keeping the peace," Turner said. "What we're doing, is we're asking for peace."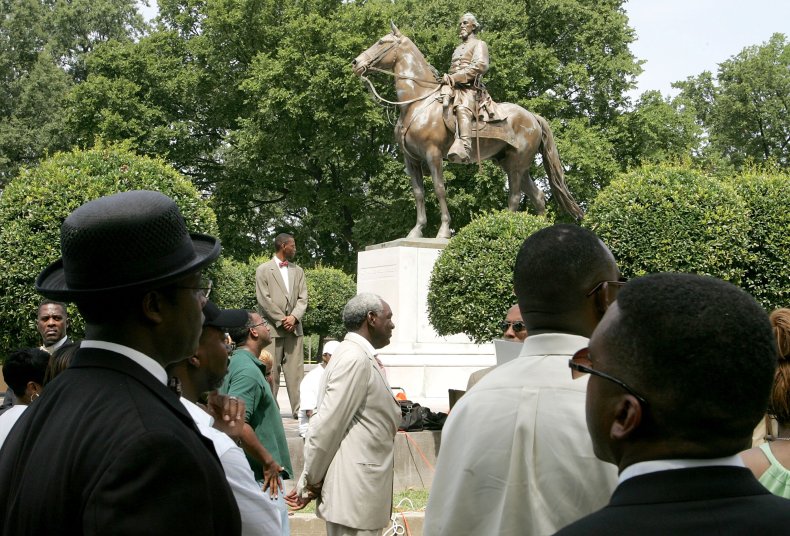 Sawyer had reported receiving multiple racist threats via social media and email since the video of Johnson aired. Sawyer said in a press conference Thursday that her attempts to report the threats weren't originally taken seriously. When she tried to report the threats on Wednesday, she said, she was told to call back Thursday. And when she called back on Thursday, she was told to call a different number, she said.
However, Sawyer said that as of Thursday afternoon Interim Police Director James Ryall had stepped in and assured her the threats are now being taken seriously and that the online threats are being investigated as well as Johnson. Shelby County Sheriff Floyd Bonner has also provided Sawyer with a security detail. Sawyer thanked the Sheriff during the press conference.
The removal of the former slave trader and Confederate general's remains comes after a long legal battle between the Sons of Confederate Veterans and Memphis Greenspace, which is headed by Commissioner Turner. The site in the park has also hosted many Black Lives Matter protests calling for the statue and remains to be removed.
"We wanted him gone, and they wanted him, so the deal was made," Turner said. "You end the litigation, you get to keep [the statue]. Our deal is you can't have it in Memphis or Shelby County."
Both the statue and remains will be moved to the National Confederate Museum in Columbia, Tennessee. A Juneteenth celebration is being planned to take place June 19 at the former burial site.
Newsweek reached out to Commissioner Tami Sawyer for comment.