Man Who Witnessed Ashli Babbitt Shooting During Jan. 6 Riot Pleads Guilty
Thomas Baranyi, a New Jersey man who witnessed Ashli Babbitt being shot by a U.S. Capitol police officer during the capitol riot on Jan. 6, pleaded guilty Thursday to a single charge of entering and remaining in a restricted building.
Baranyi gave an interview to local TV after the breach on U.S. Capitol grounds, saying he stood next to Babbitt as she was shot and killed inside the Capitol, according to the statement of offense. He said police and Secret Service told people to get out of the way, but she didn't and "as we kind of raced up to try to grab people and pull them back, they shot her in the neck, and she fell back on me."
"It could have been me, but she went in first," he said, the statement shows.
The plea agreement details that Baranyi pleaded guilty to one count of entering and remaining in a restricted building, which violates Title 18 of the U.S. Code. In exchange, Baranyi will cooperate with law enforcement and have an interview with them before his sentencing about the events surrounding and on Jan. 6.
He faces up to one year in prison, a $100,000 fine, and up to a year of supervised release, according to the plea agreement.
He had four counts originally charged against him, including disorderly and disruptive conduct in a restricted building or grounds, disorderly conduct in a Capitol building, and parading, demonstrating, and picketing in a Capitol building, according to the Department of Justice. He had originally pleaded not guilty.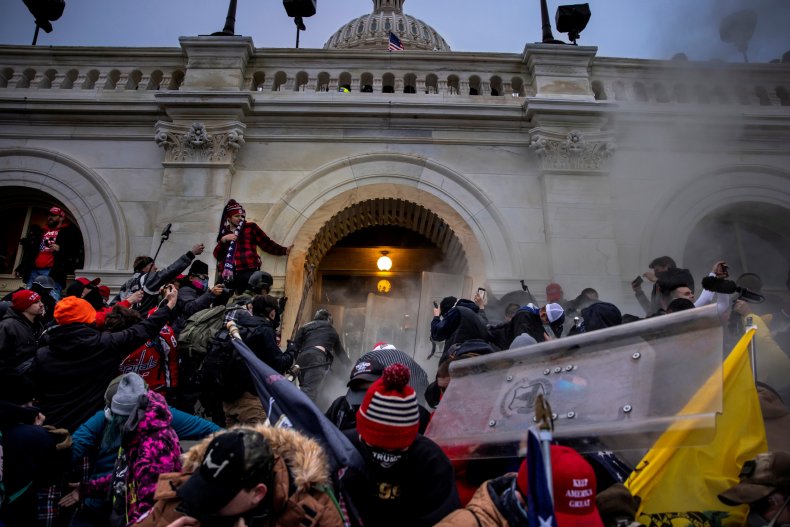 Baranyi, 30, answered several questions from the judge during his plea hearing Thursday and his lawyer with, "Yes sir" or "Yes ma'am," NJ.com reported. He gave no detailed statements.
In the interview where Baranyi said he was by Babbitt when he was shot, he also tells the interviewer of what he did during the Capitol riot.
"We tore through the scaffolding, through flash bangs and tear gas, and blitzed our way in through all the chambers just trying to get into Congress or whoever we could get in to and tell them that we need some kind of investigation into this," Baranyi said, according to the statement of offense.
Video footage reviewed by Cassidy Vreeland, an FBI agent, also puts Baranyi in the capitol the day of the riot, according to an affidavit.
The U.S. Capitol Police officer who shot Babbit, Michael Byrd, was cleared of any wrongdoing in the shooting by both the U.S. Attorney's Office for the District of Columbia and the U.S. Capitol Police, The Associated Press reported. The U.S. Attorney's office concluded Byrd acted in self-defense of himself and the defense of members of Congress.
Baranyi is scheduled for sentencing in May, according to NJ.com.