Man Claims Part of Africa to Make Daughter a Princess, Fight the NSA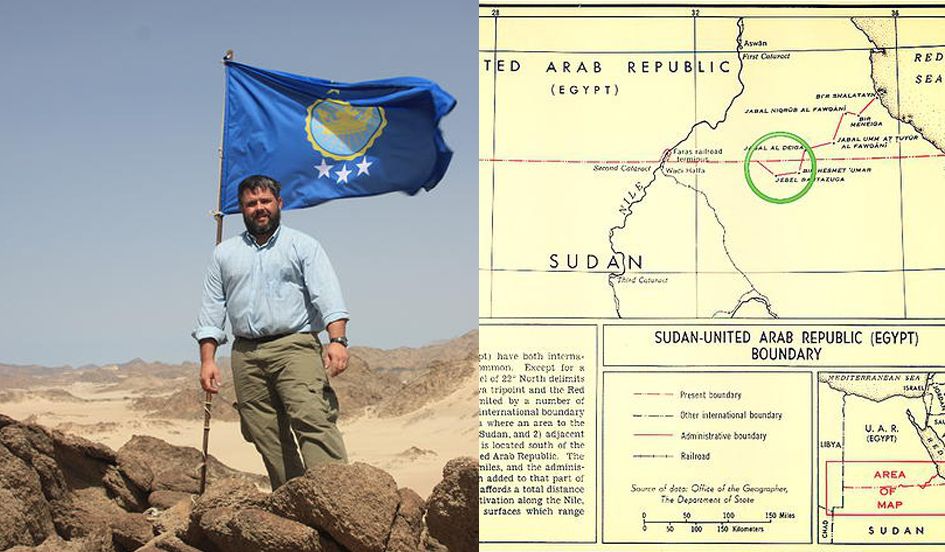 Yesterday, we reported the story of Jeremiah Heaton's trip to Africa with some skepticism after we were unable to find an independent source to verify his journey. Heaton has since sent Newsweek a copy of his passport visa stamp and airline ticket. The story has been corrected to reflect this and other information provided by Heaton.
When news broke last week that some dude from Virginia said he'd traveled to Africa and planted a flag on a piece of unclaimed land so he could declare himself king and his daughter a princess, not many people took it seriously.
But Jeremiah Heaton seems to be very serious. He talks in lofty terms about using the land for agricultural research to help feed the hungry, creating a haven for online privacy with a server farm, and applying for U.N. observer status. Never mind that he has no financial plan to do all this—he is confident donors will be lining up to join the project.
It all started when his daughter, Emily, was playing in her room over the winter. She turned to her dad and said, "Daddy, will I ever be a real princess?"
"As a parent, you don't want to tell a child no, and clearly it meant a lot to her to think that she would be, so I told her, 'Absolutely, you'll be a real princess one day,'" Heaton told Newsweek in a phone interview.
Heaton, who is also father to Justin and Caleb, went online and searched for somewhere "in this very late stage of the game here on Earth...a piece of ground that is not claimed." Antarctica was the first stop—about a third of the continent isn't claimed—but an international treaty prevents any international takeover. He also looked in the Pacific Ocean, but all land there has been claimed.
Then Heaton, who owns a mining safety company, came across the Latin termterra nullius, or land belonging to no one. He says Bir Tawil—a 795-square-mile sliver of unclaimed land—was the only piece of ground that wasn't claimed by anyone, and since 1902, neither Egypt nor Sudan, the two countries it straddles, has laid claim to it.
While we searched for an independent source to verify that Heaton actually traveled to northeast Africa, we came up short. However, Heaton told Newsweek that his travel itinerary was as follows: Charlotte, North Carolina, to Munich, then Cairo to Hurghada, Egypt, followed by a trip south to Marsa Alam. He also sent Newsweek a copy of his Egyptian visa stamp in his passport and his airline ticket stub.
"This is the dusty corner of the Earth that nobody wanted," Heaton says. There's no oil, no water, no gold or diamonds to speak of. There's also no population, and it's too far out for Bedouins to roam. For Heaton, this represented an opportunity for a clean slate, and he says he has named the land the Kingdom of North Sudan.
Heaton unsuccessfully ran for Congress twice—an experience he says will help him as he adjusts to his new, decidedly un-American position as a monarch. He says he abided by international law in mounting the expedition to the region to stake his claim with a blue flag featuring four stars and a yellow princess crown on a backdrop the color of the sky. He says he plans to retain dual citizenship, adding that the ultimate benchmark for recognition of the Kingdom of North Sudan will be if the U.S., his "home country," asks him to resign his citizenship. OK, then.
Heaton wants to turn his newly acquired land into a testing ground for agricultural science and renewable technology to feed the hungry on his adopted continent. This will be funded by "the love and generosity of the people of the world," he says.
"Even though I am a government, I'm a very different kind of government," Heaton says. "As strange as it is to say this, I'm a very humble king with very humble origins who really believes instead of using my position to show off a lavish lifestyle in the way that some other monarchs do, that serve no real purpose in the world, I intend to use my position to really push for real world changes. And that's what I want the legacy to be from this."
The fact that Bir Tawil is in the middle of the desert with little natural resources doesn't deter Heaton. "If we can take the North Sudan region and turn it into an agricultural hub, and we can overcome the drought that is there, and we can do it in a water-wise, energy-wise way, we can make an advancement in that arena, which has not been done."
But there are other issues the Kingdom of North Sudan—the national slogan is "Science for the Service of All"—will take on. He says food security is one of the pillars of the country's human rights (even though no humans actually live there yet, or have for quite some time). The others are energy efficiency, digital freedom and financial freedom. The first two are what the children are interested in, Heaton says, while the last two are his projects.
"As a dad and as a king, I get to have a say-so in some things," Heaton says. He says he's designed a currency similar to Bitcoin, with plans to bring it online soon. The nation's quest for digital freedom has been informed by U.S. snooping on its citizens and neighbors; Heaton wants the country to be a haven for online privacy. His website features a quote from Edward Snowden.
"My goal is to create a server farm within the nation that is free from all outside influences," Heaton says. You'll also be able to store information in a private manner, and all conversations can be had in a public forum without the need for any form of censorship. "Having that ability is something that the world needs because our digital rights are under attack from all sides."
Heaton says he's not naive enough to think that building a nation from scratch will be without pain and pitfalls. And when his plan was first reported last week in Virginia's Bristol Herald Courier, commentators quickly labeled him a colonialist, a term he rejects.
"To understand the term colonialism, you have to understand the definition. The definition is when one nation takes over another nation or region for reasons that are economic, or exploitation of the population. Well, I fit none of those categories. I don't represent the United States of America in any sort of capacity except for being a citizen. The area in Africa is not a country and has no population. There really isn't a definition for what I'm doing."
And for those critical comments about Heaton being a white man going to Africa, he has this to say: "I see no race, I see no gender, I see love. I see starving children, and hunger knows no race, hunger knows no creed."
He continues, "I know my heart is in the right place, and my children's hearts are in the right place, and the outcomes will be positive. I'm not a country taking over another country."
The nation's next steps include gaining recognition from surrounding governments and gaining United Nations observer status, which Heaton says he has applied for. (Newsweek could not confirm this.) The "base of operations" will remain in the United States for now. But building a nation from scratch will be a "very interesting, long and undoubtedly arduous process," he says.