Man With World's Longest Fingernails Cuts Them Off After 66 Years, Sells Them To Museum
A man with fingernails longer than a bus finally cut them off during a "nail clipping ceremony" in New York earlier this week after 66 years of growing them out.
Shridhar Chillal, 82, from Pune, India, holds the Guinness World Record for the longest fingernails on one hand.
He was first inspired to grow out nails on his left hand in 1952, when he was 16 years old, after a teacher berated him for accidentally breaking one of hers. According to Chillal, the teacher warned him about the level of care required to grow out nails and said he would never understand unless he experienced it for himself, reported The Guardian.
In November 2014, Chillal's fingernails were measured in Pune City, Maharashtra, to have a combined length of 29.8 feet, with his thumb being the longest at 77.9 inches, according to Guinness World Records.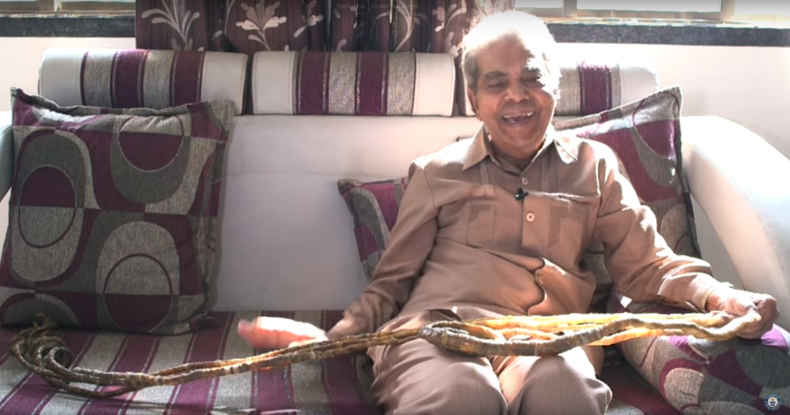 Chillal recently travelled from India to New York City to have his nails removed for a museum display at Ripley's Believe It Or Not. A nail technician performed the surgery armed with power tools at a ceremony in the Times Square Ripley's museum on Wednesday. It is not known how much Chillal was compensated for his extraordinary nails.
"Ripley's is privileged to display this truly unique and one-of-a-kind exhibit. Mr. Chillal dedicated his life to something truly remarkable and Ripley's is the perfect home to honor his legacy," said Suzanne Smagala-Potts, a Ripley's representative. "While he may have cut his fingernails, his nails will be forever memorialized inside Ripley's Believe It or Not! Times Square."
Chillal's decision to finally let go of his 66-year-old nails could have been influenced by the level of care required to maintain them. "I can't move much, so every half an hour or so I wake up and move my hand to the other side of the bed," he told Guinness World Records.
He admitted there were also perks to having the world's longest nails that he will miss. "I never have to wait in a queue," he said.
While Chillal holds the world record for longest fingernails on one hand, the current record for longest nails on both hands goes to Ayanna Williams of Houston, Texas, reported HuffPost.
According to the 2018 edition of Guinness World Records, released late last year, Williams' nails were measured at 18 feet and 10.9 inches. She had grown them out for over 20 years before earning the title.
Before Williams, Christine Walton held the title from 2011 with nails measured at 19 feet and nine inches until she cut them off.