Man Wrestles Alligator Outside Home, Credits Watching Steve Irwin Shows
A Texas dad had his own hero moment when he managed to wrestle an alligator in his front yard after his daughter spotted the reptile. The restaurant owner said he knew what to do thanks to his love for a certain Australian crocodile hunter.
Mike Trinh of Missouri City, Texas shared his epic battle with the gator on Facebook, explaining that he initially thought his daughter's cry for help was a sneaky ploy to avoid going to school.
"It's my youngest daughter's first day in middle school. As she's about to go to the car, she runs back saying there's an alligator at the front door," he said. "I'm thinking she's playing. 'Stop it you're going to school.'"
Lo and behold, when Trinh stepped outside there really was an alligator outside. While most would panic and head back indoors, Trinh said his love for the late Steve Irwin meant he knew exactly what to do.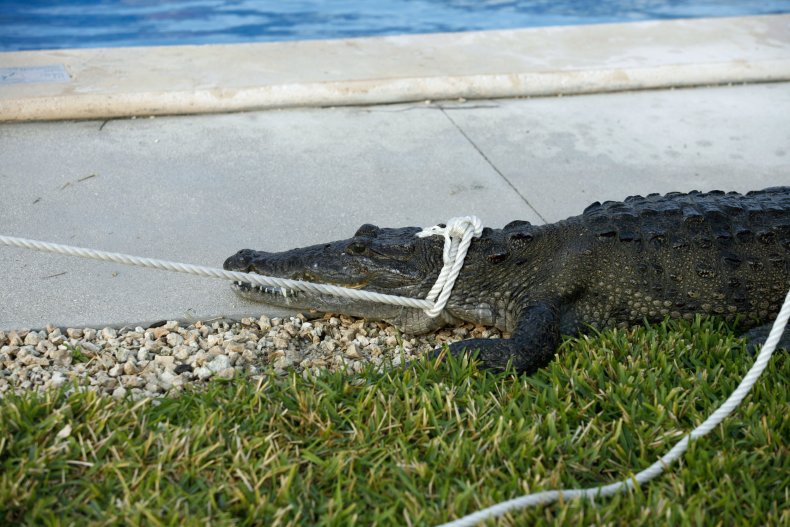 "All my years watching Steve Irwin, I figured I can deal with any wildlife, as long as it ain't a stingray," he wrote.
Trinh described Irwin as one of his "heroes" to ABC13, adding that he's watched him since he was a kid.
Texas Parks and Wildlife advises local citizens to only contact officials after a few days of spotting an alligator, if it has not yet moved along on its own.
"In spring and summer, alligators are moving to breed and find new habitat. Most of the alligators moving around are smaller ones that have been pushed out of their normal habitat by larger alligators. Usually, these smaller alligators will move further on in a week or two," it reports.
They do however advise citizens to ask for help if the alligator has become a "nuisance". An alligator is considered a nuisance "if it leaves the banks of the water body to spend time near homes, livestock pens, or other structures."
Trinh threw a towel over the reptile's head in a bid to calm it down. Videos showed him throwing various towels over it, with one even being caught in the gator's mouth.
He left the alligator with a towel over its head while he completed the school run and dealt with the aftermath on his return.
"Once I came back, I secure the towels, pin it's [sic] head, knee on its head, mount on its back for 4 points, and held its jaw shut. I had my daughter help me tie up the mouth, then I tied up its legs," Trinh wrote online.
Images shared by the father showed him sitting atop the tied-up alligator, in his own Steve Irwin moment.
Trinh said he called the Fort Bend County Sheriff's Office which passed him on to the Missouri County Police Department and then the Texas Parks and Wildlife Department. He was ultimately put in contact with a local game warden but took things into his own hands when no one arrived.
In a moment not quite as Steve Irwin-like as his wrestling, Trinh joked that his restaurant served alligator bites and this one might be next.
When it actually came to it, however, Trinh took a far more wildlife-friendly approach and loaded the alligator onto the back of his truck before releasing it at a nearby pond.
Newsweek has reached out to Mike Trinh for comment.